NJPAC and Jazz Standard present an online evening with multiple GRAMMY® Award-winning jazz composer and bandleader Maria Schneider on Tuesday, November 10 at 7:30 p.m. EST (1:30 am for European night owls).  The event is free on Facebook.
She'll discuss and share tracks from her 2020 double-LP release Data Lords. Maria will be joined by jazz saxophonist Donny McCaslin, who has been a mainstay in Maria's orchestra and who defined the visionary fusion of David Bowie's final studio recording, Blackstar.
Recently Maria was featured on the cover of the Jazz In Europe magazine and in the piece she discussed in detail the story behind the album. Below is an excerpt from the article: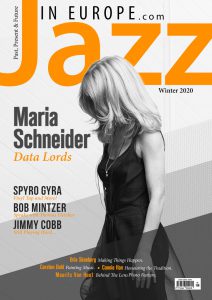 Over the years Maria has immersed herself in advocating for the rights of creators but also looking at issues concerned with user privacy and the usage by large tech companies of the data they collect from their users. Maria has been very outspoken about these issues and I urge readers to take a look at her blog posts published on her website www.mariaschneider.com. To say that she has ruffled a few feathers is an understatement, Maria shared that after the release of one of her blog posts titled "Like a Wood Chipper on Steroids – How YouTube Strips the Metadata of Creators" she suddenly found that her google search ranking had all but disappeared overnight. Over time Maria started calling these large Tech Companies Data Lords and this term became the title of a piece commissioned by the United States Library of Congress in 2016.
It was Maria's original concept to do the new album around this theme. "Music mirrors life, or at least it does for me and, this is where my life is at the moment" stated Maria. She went on to say "All this started coming out in my writing. Of course, there's Data Lords but I've also written a piece called Sputnik that's inspired by the new space race, not by governments but the corporations who are launching satellites that are constantly collecting god knows what data on us. I'd also written another piece called "Don't Be Evil", this was Google's motto for years!"
While Maria was writing these pieces she also found inspiration from other non-tech related sources. She relayed the story of meeting a potter by the name of Jack Troy and discovering a piece he had created. "It was like an orb with a stone inside. I looked at this thing and said – what is that? He replied "pick it up and shake it", so I did and you could hear this little stone rolling around inside of it. He told me the piece is called Ishino Sasayaki and means the "Song Inside the Stone". I bought this piece from him, put it on my piano at home and out came this piece called "Stone Song". It's a very whimsical piece. I'd also written a piece inspired by a Japanese Zen Garden I once visited titled Sanzenin. Also, some time ago I'd written music for a project with soprano Dawn Upshaw. The project was based on the poetry of Ted Kooser. One of those pieces was on my last album and I've re-arranged two more of these for this album.
I had all this material to draw from and it was all so disparate that I didn't know what to do with it, how to tie all this together. A friend of mine I met through ArtistShare suggested I do two albums and then I thought – wait a minute! What this album is really about is the polarity of our lives. The polarity of being sucked in by the Data Lords and losing the connection with each other." Tying this all together, Maria explained that she decided to do a double album that is, in fact, two separate albums that represent this polarity.
For more information on tonight's stream visit the NJPAC Website.
Last modified: November 22, 2020