As I've probably written in every single article, music is an incredible journey that can take us in unexpected places. Normally we discuss Jazz here but in this case, "Music" is the right word or more specifically "Human music". Mauro Labellarte is one of the most special persons I have ever met. He shows us all his humanity, personality, and generosity in this hard Coronavirus era. And resilience! I met Mauro for the first time in Gubbio, a small medieval town in Umbria (Italy). It was a sunny and cold morning the week before Christmas, in 2018. The year before he founded his cultural company called Labilia
After a life producing and organizing events for more than 5 million people. His famous collaboration with Pope Giovanni Paolo II brought him to Cologne, Rio De Janeiro, Toronto. And now in his city Civitanova Marche with the slogan: "Culture changes shape!".  Last December, he was working on his first productions in the Blues environment and I was looking for an agent. A pretty business-oriented meeting don't you think? The truth is that we never really talked about business, at least in terms of how people usually intend it. There was immediately a clear strong empathy between us and even though we didn't work together (still) a friendship was born.
I recently spoke with Mauro to seek information about him and his family and as part of the conversation, unavoidably, we switched to his business status. At this point, I proposed an interview because I really believe that Labilia is offering much more than a service and can be such an inspiring model.  So…as I said Labilia was founded in 2017: "I wanted to create a space where different people can meet, a place to implement the vision of the human being. During my experience in the world of the arts, I met a huge number of persons with an incredible human and artistic thickness, often underestimated because of multiple reasons. Being a manager I know that sometimes certain aspects are more important than talent itself, like selling well a product or politics for example. I simply wanted to give visibility and a voice to these human beings."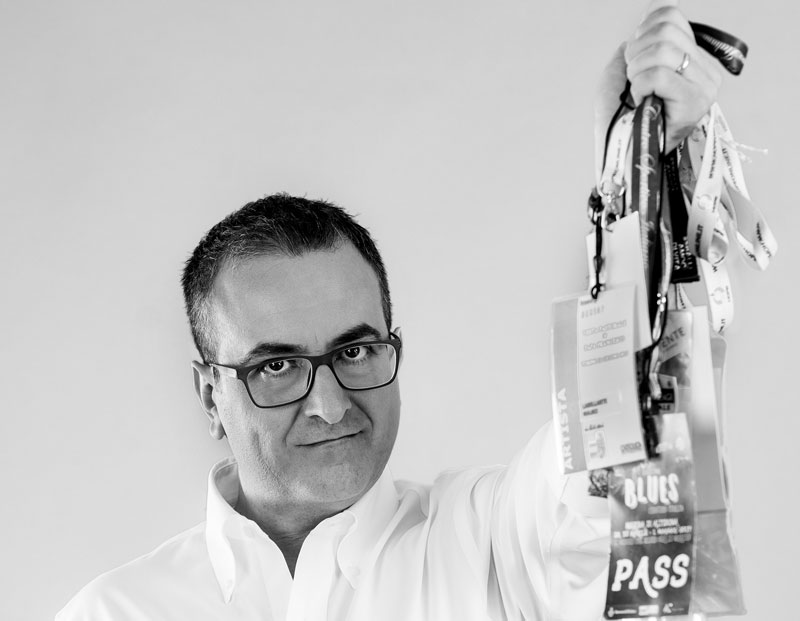 Labilia is not just a musical company; it's more than this. It's a family, it's a team, it's a model where Mauro Labellarte invested all his energies and resources. Let's stay with music for a while. When I met him for the first time he was producing some album under the masterly guide of, the artistic director Maurizio Pugno.  Producing in a sort of old way which means signing the artists and paying the expenses, risking simply because he believes in a vision. Initially, I got a bit confused about the ratio but it was my fault not underpinning the entire picture: "I created a Collective composed by various artists who can alternate in the various projects. They can do that because they know every single note, chord, or other aspects of each other. They have to know the single detail of every show we are building." Pretty unselfish for a musician (and I'm smiling saying that)…"We have chosen a line; in our case, we are talking about Blues even if recently Labilia is making some raid in Jazz. But it's not enough today. An artist has to manage how to stay on stage, how to move, and eventually how to speech. So me and Romeo Schiavone (executive manager and expert of non-verbal language) put the guys in front of a mirror to work on this. We want to be professional and we want to build a perfect show to offer to the audience"
I wonder how many Jazz musicians think in these terms…
One of the productions touched me a lot as I chatted with Mauro. Specifically, BAR which is nothing in 5/4 or 11/4 but it's an acronym for Blues against Racism. Mauro says "Racism is a social phenomenon still very present in the world. We see it in Italy with the immigrants". And it's another wonderful example of cooperation, in this case with Filomeno Lopes, writer, and journalist from Guinea Bissau who I love to define as an expert of peace. "Here the Blues meets Filomeno's narration to fight racism trying to develop a sense of peace. We noticed, for instance, that during a debate sometimes the climax goes overheat. When it happens Filomeno uses to sing something or in general, he performs something. It can be dancing. After this, the situation tends to be more relaxed. It's our purpose with BAR, sensitize a strong theme helped by the music".
But Labilia is not just that. In fact, both Mauro and his company have an important role in science. He says: "Actually all around the world scientists work spilling out the vision of the science communicating it in a practical way". That's the sense of his festival (Fermhamente in Fermo, Marche, the next October). Labilia is the Italian official partner of STEAM, an innovative method to combine Science, Technology, Engineering, and Mathematics with the Arts: "It's pretty much our goal and our philosophy, especially if I think of the new generations. It's a Workshop Experience to explain something complex through the arts and in a concrete manner. Explaining physics with dance for example. And once again with musicians by my side"
So, culture to help and to feed spirits. Personally I think it's important to have a social vision, especially in Italy and especially in the Coronavirus era. It is really tough to be a business owner at this moment and believe me…in this country. His answer didn't surprise me: " There is low respect here for people working in the future environment. I don't want to use the word business because it shouldn't be like that. My first problem, often, is related to the people's understanding of our activity and the message we want to share. And this is really closely connected to what I was saying before. Culture can't be strictly business because acting this way we lost its social function which is to help people to improve, to grow up. If we just think to make money or to sell a product that's just entertainment and we will fall down. I feel somehow like a modern Hero and it's not funny".
As I said it was a pretty long conversation and it's simply impossible to write down everything. I want to finish this article with an argument that I really care about. Resilience! We all have to be resilient in these moments, especially looking at the future. So Mauro…how much you feel resilient? He smiles: "I confess that during the lockdown, the first week, I literally spent the large part of my time under the bed. I invested all my resources in this project and it's frustrating. But I am resilient, I feel resilient. We definitely have to take all of this from a different perspective finding new solutions. We have to manage a new form of crises and we have to create opportunities in the difficulties. I still deeply believe I can make it!" Like for a sports player, like for a resilient person, greatness is measured with the intangibles. Capacities that can't be seen, can't be touched but stand right there in the spirit to make a difference. And Mauro's last sentence testifies this and identifies his personality: "I strongly believe I still can make a difference looking at the future living the present".
Writer: Simone Gubbiotti
Last modified: September 9, 2020