Canadian vocalist Micah Barnes released his new single "When In Rome" from his coming album "Vegas Breeze" last week. Micah enjoys a strong following in his native Canada and seeing the single rocket to the number one spot on the Canadian iTunes Jazz Charts on the day of release is evidence of this. This is, in fact, a one-two punch as the first single from the album "That's Life" did exactly the same.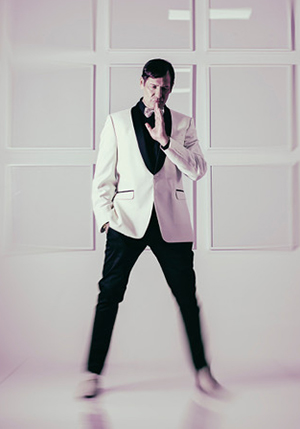 Barnes calls himself a "Modern Day Crooner" and his coming album seeks to pay tribute to the genre by featuring the more obscure repertoire by greats such as Sammy Davis Jr, Peggy Lee, Tony Bennet, Nat King Cole, Mel Torme, and Lena Horne, transporting listener back to Sin City's yesteryear of legendary showrooms and iconic entertainers working 'the strip.'
Barnes stated that "Finding the songs for Vegas Breeze has been a gas, It meant hours and hours of enjoyment, discovering lesser-known material of the classic showroom era. It was an interesting time for songcraft in that most of the 'hit parade' was generated from Broadway and Hollywood," he continues, adding that most songs from musical scores enjoyed status as mainstays on the charts. "It's not a generalization to say that meant a more sophisticated sense of lyric and melodic structure in that pre-rock n' roll period."
Speaking further about the material to be included on the album, set for release in March this year, he said "With the first single being Frank Sinatra's classic, 'That's Life', I knew it was important to look beyond the Rat Pack tunes for the rest of the collection. I went deep diving through the repertoire of other Las Vegas entertainers."
Born in Vienna and raised in Canada, Barnes has enjoyed an interesting career so far first cutting his teeth in the cabarets and jazz clubs of his home town Toronto while still a teenager, before joining the cappella vocal group The Nylons in 1989. For those younger readers, The Nylons were renowned for their worldwide number one hit "The Lion Sleeps Tonight". As a member of The Nylons, Micah was introduced to the global music scene with a busy concert, TV and Media schedule. Touring throughout Europe, Asia and North America fans around the world were introduced to Micah's rich soulful baritone voice. Post Nylons, Micah launched a busy solo career touring the U.S.A. with his club hit "Welcome To My Head" and a return to a jazz-oriented style of his earlier years resulting in a series of critically acclaimed recordings including his most recent album "New York Stories".
This latest single, "When In Rome", takes the classic Cy Coleman and Carolyn Leigh song originally recorded by Peggy Lee in 1964 and covered by other greats such as Tony Bennet and Barbra Streisand giving it a Bossa Nova feel and adding a great string arrangement by Don Breithaupt. Speaking about the song Barnes said, "I see this song as a real 'swingers anthem', so I decided to give it a sexy, breezy, Bossa Nova feel with strings for that 'International playboy' approach, after all, 'When In Rome' is essentially a very smart and sophisticated 'cheating' song."
Accompanying the release of the single is the video Barnes shot on location in Rome. "For the video, we got very lucky indeed," said Barnes speaking of the opportunity to shoot in the song's subject city itself — Rome! He continued, "So for three days I pretended I was Marcello Mastroianni in La Dolce Vita, sweltering in a suit as we shot in the scorching Italian sunshine."
With the video recorded in Rome, I was interested to know if Micah had any plans for touring the album in Europe. "I'm busy at the moment with North American tour dates in support of the upcoming album but I have been getting tons of requests from Nylons fans who still follow me wanting me to come over and play Europe again which has been very heart-warming indeed. My management team is currently working on European dates. It's still a bit early to let the cat out of the bag however we should have an announcement soon!"
Micah Barnes "When in Rome" is currently available for download on iTunes and all the usual streaming platforms. The full album "Vegas Breeze" is scheduled for release in March.
Editors Note: You can hear When In Rome on the Jazz In Europe "New Release" and "Latin Jazz & Bossa Nova Lounge" Spotify playlist.
Last modified: January 30, 2020