Today it's exactly 61 years ago that Sonny Rollins released his legendary album Saxophone Colossus. Featuring 5 tracks, two of penned by Rollins himself, the album presented Rollins unique take on three standards, "St Thomas", "You Don't Know What Love Is" and the classic Kurt Weill track "Mack The Knife". This last track is presented on the album under the name "Moritat".
To mark this occasion US based tenor player Mike Casey has released a video of his version of "Mack The Knife" recorded on his album "Live At The Side Door".
Three years ago, noted jazz videographer Bret Primack (The Jazz Video Guy) selected Mike (then a student at the Jackie McLean Institute of Jazz) as one of 10 winners of the 'Sonny Rollins Meets his fans' contest.
As a winner, Casey was given the chance to video chat with Sonny! As fate would have it, Sonny and Mike met in person a year later at the University of Hartford when Rollins was awarded an honorary doctorate. Casey stated this was "an experience I'll never forget!"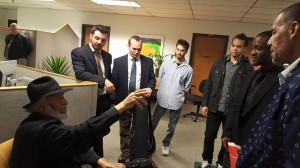 Casey went on to say: "Fast forward about 6 months, to recording my debut album "Live at The Side Door". I knew I had to record Mack The Knife as an ode to the experience of communicating and meeting Sonny Rollins; one of my musical heroes. This series of events truly felt like coming 'full circle', as the first jazz album I recall listening to was Sonny Rollins' Tenor Madness, and I formed my trio in 2013 after being inspired by his ground breaking pianoless trio albums Freedom Suite and Way Out West."
Below is a the video of Mike Casey speaking with Sonny Rollins.
Mike's album "Live At The Side Door"Is available is available at iTunes and Amazon. Buy links can be found here on his website.
 Images by Airen Miller, Gordon Polatnick & Chorus Photography
Last modified: August 2, 2018