This year marks the 100th anniversary of the birth of Nat King Cole, easily one of America's most iconic African American musicians of his time. While largely known for his popular hits in the 1950s including "Too Young", "Mona Lisa" and of course the Irving Gordon classic "Unforgettable" many fans are unaware of his early work and the impact his artistry had on a generation of jazz musicians.


Editors Note: This article is an abridged version of the article that appears in the Autumn 2019 edition of the Jazz In Europe Magazine. The Magazine is available here.

Cole himself spoke rarely, if at all, about his early career yet the body of work he created prior to moving to Capitol Records in 1943 is extensive and some would say best represents his legacy as a jazz musician. Unfortunately, this part of Nat King Cole's discography has remained largely undocumented and what has been released is incomplete and often issued on sub-standard productions.
With the coming release on Resonance Records (See our article with Zev Feldman – Ed) of Hittin' the Ramp: The Early Years (1936-1943) this is about to change. This seven CD (ten LP) set presents the entire recordings made by Nat King Cole prior to his move to Capitol in one boxed set, all fully remastered and presented in the highest quality packaging we have come to expect from Resonance releases. The project has been produced in collaboration with the Nat King Cole estate and includes an extensive booklet with interviews and statements by Johnny Mathis, Tony Bennett, Quincy Jones, Harry Belafonte, Freddy Cole and highly detailed liner notes written by author Will Friedwald, the "Go-To Guy" when it comes to Nat King Cole. I recently had the opportunity to speak with Will about this project and his coming biography of Nat King Cole.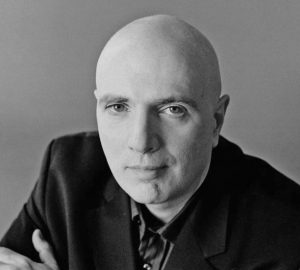 Will has been "Working the Nat King Cole Beat" for over thirty years and during this period has played an integral part in the production of numerous boxed sets of recordings by Nat King Cole. Among these are the famous Mosaic Records boxed set of the Nat King Cole Trio, two sets for Bear Family Records, mostly covering his music from the 1950s and 60s, and a four-CD set for Capitol Records.
In addition, Will has completed a new book looking at the work of Nat King Cole titled "Straighten Up And Fly Right: The Life And Music Of Nat King Cole." The book will be published by Oxford University Press and be on the shelves in May 2020.
I was curious to find out a little more about Will's coming book. There have been several books written about Nat King Cole over the years, some better than the others, however, it is not untouched territory. I asked Will how his book differs from those currently on the market. "This is the first new book on Nat in a long time and it is the only one that discusses his music in detail. There's also a lot of new information about his personal life however, the main focus is the music and that's never been written about before." Being somewhat familiar with Will's previous books I can imagine this will be a highly in-depth and enlightening read.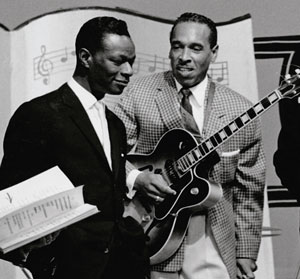 At this point in our discussion, I wanted to change tack a little and speak about the early career and impact Nat King Cole had on the music world as a whole and in particular the Jazz genre. As Will rightly pointed out, "Many people believe his career started in 1943 when he started recording for Capitol Records, but actually, the move to Capitol is about two or three chapters into his career. First of all, when Nat started working as a professional musician at the age of fifteen he led his own Big Band in his native Chicago. He wrote all of the arrangements and many of the songs, he really was completely in charge of this band. The band was playing at a club in Chicago called the Café Panama, a black club in Bronzeville, where the band was so popular that Decca took notice and had them do a session at their Chicago studios in 1936. At this time Nat was only seventeen. It was a remarkable date and you can hear the true beginnings of Nat as a piano player. Right after that, they had an offer to go on the road with an all-new production of "Shuffle Along", the famous all-black Broadway Show written by Noble Sissle and Eubie Blake.
As the story famously goes, they got as far as Los Angeles when somebody made off with the band's payroll. Nat always told the story that due to these events he was forced to stay in Los Angeles. The truth is, Nat could have gone back to Chicago any time but I think he had a real sense that Los Angeles was a whole new area for jazz and that there was a new opportunity for him there. He decided to stay and within a few months had put together the Nat King Cole Trio."
There have been many stories regarding the trio's name however the most accurate is that the trio's bass player at the time, Wesley Prince reminded Nat of the Nursery-rhyme Old King Cole and his Fiddlers Three. Nat was always aware of branding so decided to adopt the name.
The trio began working at Swanee Inn on North La Brea Boulevard in Hollywood and became immediately popular appealing to both the black and white audience, something quite unusual at that time in the United States considering the music world was still strictly segregated in the 1930s and 40s. After about a year, they caught the ear of a Radio Transcription company and within the space of a few months, the trio had produced a huge catalogue of radio music. These recordings allowed the music of the trio to reach a large audience and proved to be hugely popular with listeners.
I was interested to know what Will believed the secret of this success was. "Well, it turned out Nat was not only a brilliant jazz piano player and vocalist but also an amazing arranger. Nat just had this instant knack for arranging a song and knowing a good song from a bad one. This is one of the distinguishing aspects of his career, the ability to know what songs would resonate with an audience."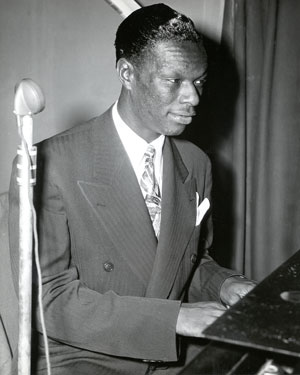 Throughout the history of Jazz, there have been countless artists who shaped the development of the genre. Will spoke quite passionately about where he believed Nat King Cole fitted into this. "I always say, when we look at Jazz and the Great American Songbook and particularly how those two are intrinsically interrelated it seems to me that there are only three people that stand out above the crowd and they are Frank Sinatra, Ella Fitzgerald and Nat King Cole. Of course, we can look further afield and talk about Bing Crosby, Billy Holiday, Sarah Vaughan or to the more modern vocalists of the era such as Tony Bennett, Mel Torme, Betty Carter but if you had to boil it down to three people it would definitely be those three. I think Nat, in particular, had the most impact, not just on black singers but also soul singers even though you wouldn't consider him a soul singer in the manner of Ray Charles, Sam Cook or James Brown and yet he had an incredible impact on all of those people. I think it's very telling that in 1953 after Nat had died the first major tribute album was from Marvin Gay. I think that shows that Nat's legacy is such an ineffable part of the fabric of modern music and that's not even talking about Nat as a piano player.
When looking at Nat King Cole as a piano player there is no doubt he was one of the great piano players of his generation however, the majority of people still only know him as a vocalist. The fact is Nat King Cole was first and foremost a jazz pianist and contrary to popular opinion, never gave up playing the piano.
No matter how you look at it, there is no denying that Nat King Cole was one of the most influential artists of his time. To finish off, Will relayed a story that Norman Granz used to tell. This anecdote recalls a party in Los Angeles round 1940 and present at the event was Jimmy Rowles, Nat King Cole, Art Tatum and Count Basie. The story goes that Art Tatum played as did Nat. At one point Norman Granze turned to Basie and said "Bill, don't you want to play?" Basie answered, "What, me play after Tatum and Nat Cole! I'd rather die first."


Jazz In Europe Magazine – Autumn 2019 Edition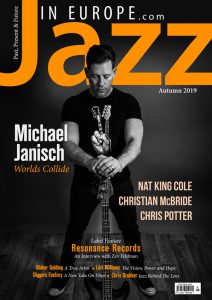 This article is an abridged version of the full interview that appears in the Autumn 2019 edition of the Jazz In Europe print magazine. Also included in this edition are interviews with Michael Janisch, Chris Potter, Christian McBride, Binker Golding and Lori Williams.
We have a label feature on Resonance Records, Zev Feldman speaks about the label, it's history and their new Nat King Cole "Hittin' The Ramp" project. We also have a great article on the Diggers Factory, an innovative French company offering a great service to indie artists wanting to release vinyl.
This editions photo feature focuses on New Jersey based photographer Chris Drukker. You can purchase a copy of the magazine here.

Test by: Jan Veldman | Photos by: Courtsey of Resonance Records, Photo Will Friedwald by Michal Lionstar.
Last modified: January 31, 2020