Michel Camilo's awards fill a whole page on his website. He has won four Grammys and been nominated for a further five. An Emmy winner, honoured by the Mayor of New York City as 'outstanding Dominican-American' and awarded the Knight of the Heraldic Order of Christopher Columbus by the Dominican government. His extensive work in education has seen him tutoring Esperanza Spalding and Hiromi. He has played with Dizzy Gillespie, George Benson, Herbie Hancock, Jaco Pastorius, Michel Petrucciani, Chucho Valdes to name a very small few. An artist whose technical brilliance is mind-blowing. His energy and passion is hugely infectious and his artistry inspirational.

Editors Note: This article is an abridged version of the article that appears in the Summer 2019 edition of the Jazz In Europe Magazine. The Magazine is available here. 


June 2019 sees the release of his 25th album 'Essence' which explores the development of his 40-year career and the four elements that are embedded in his work – fire, air, water and earth. It was an absolute thrill for me to talk to him about his music and we began by discussing how he sees those four elements translate into his music and what this 25th album means to him.
MC: "The fire links to the energy in my music and you know, I symbolize the fire with the energy. For me, they go together. Because even if it's controlled energy, in a ballad or something, still there is an intensity that is always present in my music and it's part of my personality too. I'm honest with myself and all my music has that kind of energy. It's an internal fire and a creative spirit. In fact, that is why I revisited that track with this album – 'On Fire' – I'm so happy with how it turned out. Everyone on the album understood the concept and gave their very best. Everybody shines, you know! Which is what I wanted. I saved this particular project to be my landmark album, my 25th album. It's retrospective but at the same time, it is looking towards the future. Time flies!
And you know, thank God we can still be creative and full of energy with that inner fire and at the same time, sharing it with all my guys, my friends. That's what this album is all about – it's the essence of my music, my style, things that I've worked on for many years – the language I've developed, my grooves, the way I interact with my guys. It's also a dialogue between my rhythm section and the horn players, all the interaction and how we create and how we keep each other's ideas and how they come together as a unit"
The album is incredible and exudes passion and energy, which Michel himself, also exudes just by talking about his music – he literally sounds like he is on fire. This album includes some tracks with specific references and dedications to some great artists. For the track 'Liquid Crystal', for example, Michel wanted a 'Miles Davis vibe' and we discussed what this vibe actually means to him.
MC: "Liquid Crystal, the title already implies the water element, it flows, but it flows within a groove and also flows and transforms itself, like a crystal. Multicolour, multi-dimensional. It's very interesting because it's based on an ostinato on the Bass but it also transcends that ostinato. An ostinato is based on two modal centres which are a third apart but still the song goes into a lot of places and the harmonies are superimposed and well, it goes very far – you'll see. This song is like a mini suite in itself"
Another track 'Repercussions' is dedicated to Art Blakely and we talked about how Art Blakely pulled Michel out of the audience to play with him during the incredible New York Jazz scene back in the eighties.
MC: "Out of the whole repertoire of the new album, there's only one straight ahead song, which I dedicated to Art Blakely. He was also a friend of mine and I met him when I was up and coming in the club Mikell's in New York. It wasn't just a club, it was very nurturing. Chaka Kahn used to sing there, David Sanborn played there and George Benson used to hang out there. It was very open. It was a really, really, great place. Art used to play there with the Jazz Messengers when he was in town. That's where he played with Wynton Marsalis, Branford Marsalis, James Williams – all those guys, everyone was going there. The night I saw him, Woody Shaw was playing with him and Kenny Garrett was also there. It was special that night because Art pulled me out of the audience and I sat in with him. It was a lot of fun. It was kind of terrifying, ha, but I was already starting to tour with my trio and he knew that I was busy. Art got a kick out of having the young talents sit in with him – and God Bless him for that. We all need that at some point in our careers. So, I wrote a song called 'Repercussions' dedicated to him. The band are killing on it"
Michel has incredible chemistry with all his musicians and this is overwhelmingly evident in his live performances and his recordings. The musicianship is out of this world and we discussed the importance of chemistry, discipline and freedom.
MC: "I wrote this music originally for a trio, but I always thought of the trio as a mini-orchestra and now, well let's put it this way – we just blew it out, in a big way with a big sound. I demand a lot from them and I'm actually very picky. I demand it to sound really, really tight – and they love that, when someone asks of them so much and I challenge them in a big way. That's what makes it interesting for them and everyone loves growing. It's a different thing when everyone is struggling together and it's so satisfying when it all comes together. You should have seen the guys at the recording sessions – they were even taking selfies, they were so proud to be part of this session – it was really great comradery. Michael Dease, who is an incredible trombone player and showcased on the album in three solos – which are masterful – he sent me a beautiful note and I think he posted it on social media! Sharel Cassity – a killer soloist- I put her in a very tough spot when I gave her a solo in 'On Fire', but she delivered. That's beautiful when that happens. Also, the great work of Ricky Rodriguez on Bass. He keeps a solid groove foundation for the whole band as he was able to contribute and create fresh rhythmic counterpoint and harmonic interaction on every track."
So how did the album actually evolve?
MC: "Originally, this repertoire we used in a concert in Germany, the Klavier Festival Ruhr, a piano festival that I go to every year. I'm going this year and in fact, they are giving me the festival prize! It's an amazing festival that goes on for a month and a half. So I went two years ago and I was collaborating with the WDR big band and this is where I premiered these charts first. So that was like the first stage. And after that, we came away with some recordings from the actual concert and we started polishing the charts and choosing what we would do and how we would evolve it into a recording project – and this is the result. I even thought of calling the album 'Evolution' at some point because of how these charts, starting as trio repertoire, have evolved. It's like a dream come true for me. All my friends were asking me when the next big band album would happen and the fans all over the world – I think they are going to be pleased."
Part of Michel's incredible sound is, of course, Latin driven. The passionate rhythms, grooves and percussive love in this new album, is key.
MC: "I must underline my tributes to the conga players in this album. I was a good friend of Mongo Santamaria and we were also neighbours for about 15 years. He was an incredible gentleman and a great artist. Many times we shared a spotlight at the Blue Note in New York and we shared a double bill. When I was ready to make my first American debut album, 'Michel Camilo', we had just completed a weeks engagement and at the very end of the week, in the dressing room, we just said why don't we play something together and surprise the fans? And we ended up just jamming, the two of us, congas and piano and we improvised a version of Blue Bossa. It worked out so nice. I dedicated 'Mongo's Blues' to him on this album. And the intro is a very special moment – the way I play the intro, these are my classical chops, I would say. It's a very tender moment and my touch on the piano, it's very impressionistic."
I asked Michel for some final thoughts on his album, what it means to him and what he would like his fans to feel when they listen to it.
MC: "I want my fans to feel joy! This album is a landmark. It celebrates the past but looks into the future and I feel thankful and thank God that he let me do something like this – sound the way I sound and to create all this music. I feel blessed in that way. My Dad is 103, going to be 104 in August, God Bless his soul. My mum is 95, but you know, the Camilo's, we live longer. So I plan to be around for a while"
Thank goodness.
Many years ago, a friend was staying with me before he set off backpacking around the world for a year. He literally had just one backpack. One of the items in his backpack was a CD holder. This was before the days of streaming and I was fascinated to see the music he had decided to take with him for his year of travelling. I found the thought of choosing a small amount of music horrifying. He had selected 10 CDs all of the same artist who I hadn't heard of. I asked about this artist and my friend looked at me, smiled and said 'just listen'. I was hooked after eight bars. While I was trying to write the introduction to this article, I struggled to find the right words to describe how Michel Camilo's music makes me feel, how it might make you, the reader, feel. Inspired. Yes. Excited. Yes. Amazed. Yes. But no words felt enough. My friend was right. Just listen.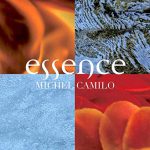 Michel Camilo's "Essence" is now available on the Resilience Music Alliance label. You can find purchase and streaming links here. More information is available on the labels Website.
More information and the tour dates can be found at Michel's artist website.
Last modified: April 29, 2020