On Friday the 9th of August Resilience Music Alliance will release of the debut album from acclaimed 17-year-old pianist/organist Matthew Whitaker!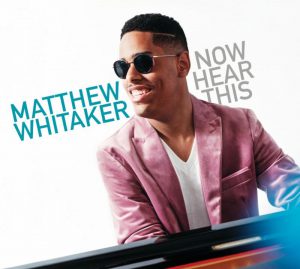 Having already appeared on the Today Show and The Ellen DeGeneres Show as well as receiving praise from Los Angeles Times and The New York Times, Whitaker is quite literally the inspiration that resilience can have on a person's life. Born in 2001 at 23-weeks premature, Whitaker lost his eyesight during the first 3 months of his life, due to the life-saving treatment he required at birth. Now, Whitaker has created a truly remarkable album combining original compositions and covers of songs that have influenced him throughout his life – supplementing his virtuoso piano skills with soulful Hammond organ and colouristic synthesizers.
Resilience Music Alliance President and co-founder Steven Ruchefsky said."Matthew Whitaker is a rarity. A shining light powered by incredible artistry, boundless energy and curiosity and above everything else humanity. In this time, and at any time, this beacon shouts for our attention. We are humbled to be but a part of the amazing team that will spread that light. Matthew is Resilience."
'Now Hear This' teams Whitaker with a stellar band featuring guitarist Dave Stryker, bassist Yunior Terry, drummer Ulysses Owens Jr., and percussionist Sammy Figueroa. Keyboard great Marc Cary and flutist Gabrielle Garo also make special guest appearances. The album was overseen by GRAMMY® Award-winning producer Brian Bacchus, who has worked closely with the likes of Gregory Porter, Norah Jones, Randy Weston and Sullivan Fortner, among others.
But it's Matthew Whitaker that commands the spotlight, evidencing a bold and confident sense of swing and a wide-ranging palette that spans straight-ahead jazz and hard bop to R&B and Latin influences. Supplementing his virtuoso piano skills with soulful Hammond organ and colouristic synthesizers, Whitaker leaves any "prodigy" stigma far behind on this stunner of an album.
Watch the USA TODAY feature on Matthew Whitaker.
'Now Hear This' is a perfect summation of Whitaker's evolution to date. Endorsed by both Yamaha and Hammond, he's enjoyed a remarkable career already, receiving the Harlem Stage Emerging Artist Award and the Herb Alpert Young Jazz Composers Award among other honours. His promise has only begun to be fulfilled as he prepares to enter Juilliard as a freshman this fall as the first blind undergraduate student to join Juilliard's Jazz Study program.
Release Date: 9 August 2019
Format: CD | Digital
Label: Resilience Music Alliance
Last modified: August 6, 2019