German Trombonist Adi Becker recently released his debut album as a band leader titled "Babbelou". The Album was recorded with the Grand Central Orchestra Cologne, which he founded in 2007 together with saxophonist Torsten Thomas and features guest appearances by Eric Marienthal, George Whitty and vocalist Jemma Endersby.
The recording includes seven original compositions by Becker, one by Torsten Thomas, and three covers from the pop world arranged by Becker: We've Only Just Begun, The Look Of Love and the Prince classic Purple Rain.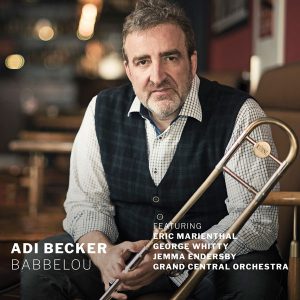 In a recent interview with Andrew Read on this platform, Adi stated that his goal was to produce an album that "would appeal to a wide audience" and this is certainly the case with Babbelou. The arrangements are largely conventional in nature yet perfectly crafted providing a well-balanced mix between improvisational and tutti passages. Performances throughout the album are excellent and the choice of repertoire works well delivering a consistent set with more than enough meat to keep the aficionados interested without limiting its appeal to a wider audience.
The album opens with Becker's Brazilian Dawn, a medium Latin arrangement with solo's from Becker himself and Torsten Thomas (Tenor sax). While perhaps not the most adventurous arrangement of the set the track has great energy and set's the tone for the rest of the album. Eric Marienthal makes his first appearance with Finns Funckout, the second track on the album. This track features an arrangement that immediately took me back to those great late 70's and early 80's albums by the Maynard Ferguson big band. On this track Marienthal lays down an amazing alto solo creating just the right amount of tension as the backgrounds build. I particularly enjoyed this track.
The first of the three covers presented on the album is the Roger Nichols and Paul Williams composition "We've Only Just Begun" and features vocals by Jemma Endersby. Originally made famous by the Carpenters, the track opens with a blues-tinged piano intro that sets the scene for Jemma Endersby's rubato vocal before introducing the groove. Becker takes this composition giving it a medium strait eights reading that just screams radio airplay.
One of my favourite tracks on the album is "Waltz For Luis". Written as a trombone feature this jazz waltz provides Becker with the perfect vehicle to stretch out as a soloist exploring the full range of the instrument. Another track of note is Becker's composition "Space Babes" featuring George Whitty (Keyboards) and Torston Tohmas (Tenor). This slow funk piece not only provides plenty of room for the soloists it is also a masterclass in how to build an arrangement.
In the press release accompanying the album, it describes the music as "Music that touches your mind and soul. Music that provides for relaxing conversation as well as stimulating the intellect. Music that grooves like the devil, compelling you to listen with its intelligent compositions. Music that serves up a solid big band sound and that celebrates finely-shaped melodies. Music that pays stylistic tribute to easy going jazz, as well as refining pop music pearls with its arrangements, and exploring musical depths…" I would agree wholeheartedly with this.
This album is not for those lovers of Big Band Swing or those looking for the cutting edge of Big Band composition however this was never the intention. Becker stated in the interview mentioned above that he "felt with a lot of Big Band Music these days the repertoire had become music for the head and not the soul." With Babbelou Adi Becker has produced an album that certainly has a soul and will definitely appeal to a wide audience. Mission Accomplished.
Track Listing:
1. Brazilian Dawn | 2. Finn's Funkout | 3. We've Only Just Begun | 4. With a Little Soul in My Heart | 5. Waltz for Luis | 6. Prozac or Nozac | 7. Babbelou | 8. The Look of Love | 9. Space Babes | 10. Moonlight Can Cause Strange Affections | 11. Purple Rain.
Line-up:
Adi Becker Arr/Comp, Trombone.
soloists:
Eric Marienthal, Altsax | George Whitty, Keyboards | Jemma Endersby, Vocals | Adi Becker, Trombone.
Big Band:
Grand Central Orchestra Cologne
Last modified: May 16, 2019