German trombonist Adi Becker has been intricately involved in both the German and international jazz scene as a soloist, conductor, arranger and composer for more than two decades. Over the years Adi has notched up an impressive list of credits as a sideman, however, this week marks a new phase in an already impressive career – the release of his first album as a leader. Titled "Babbelou" (Mons Records), the album sees Adi leading the Cologne's Grand Central Orchestra in a set of arrangements spanning multiple genre's. I recently had the pleasure of speaking with Adi to find out more about the project.


This article also appears in the Summer 2019 edition of the Jazz In Europe Magazine that is on sale now.



Adi Becker studied jazz music at Musikhochschule Köln and later the Musikhochschule Mannheim majoring as a trombonist and moreover as composer/arranger under Jiggs Whigham and Prof. Jürgen Friedrich. After graduating Adi joined the trombone section of the German "Big Band der Bundeswehr", a position that he still holds to this day. As well as holding the 2nd trombone chair Adi also is one of the bands active arrangers.  In addition to his work with the Big Band Adi has also toured and recorded with many international artists including Albert Mangelsdorff, Michael Brecker, Kenny Wheeler, Jeff Lorber, George Whitty, Eric Marienthal, Bob Mintzer, Bill Watrous, Dave Liebman and Hiram Bullock to name just a few. Not limited by Genre, Adi has also built a long list of credits in the Pop world including James Blunt, Pe Werner, Gregor Meyle and the German pop legend Heino.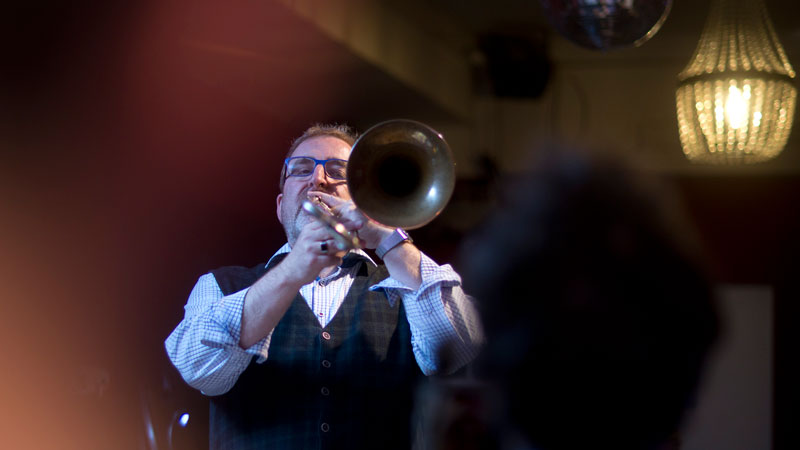 In 2007, together with saxophonist Torsten Thomas, he founded the Grand Central Orchestra. I asked Adi where the idea to form a new Big Band came from "We'll there were two main reasons and the main one was that my colleague Torsten Thomas had returned to Cologne after living in Amsterdam for some years. We'd worked together a great deal on other projects and decided that it would be a good thing to start our own big band. The other reason is we wanted to create a band that would give younger players the chance to play. We felt that this was necessary for the Cologne scene at the time."
The Grand Central Orchestra forms the basis for the new album "Babbelou". I was interested to find out why at this stage of his career he decided to release an album as a leader. "Well I've done a great deal working as a side-man however over the years I've started to focus more and more on composition and arrangement. I had many ideas about material and how I wanted to present it and thought now is the time to make an album under my own name."
In the press release for the album, it states "Music that touches your mind and soul. Music that provides for relaxing conversation as well as stimulating the intellect. Music that grooves like the devil, compelling you to listen with its intelligent compositions. Music that serves up a solid big band sound and that celebrates finely-shaped melodies. Music that pays stylistic tribute to easy going jazz, as well as refining pop music pearls with its arrangements, and exploring the musical depth." I asked Adi if he could elaborate on this. "Well, I wanted to make a big Band Album that would appeal to a wide audience. I felt with a lot of Big Band Music these days had become music for the head and not the soul. The Music needs to groove, people used to dance to Big Band music but these days it's become far too intellectual. I wanted the music to be technically interesting but also to groove, I wanted to pay respect to melody and I think we were able to do just this with the album."
The material on the album is rather eclectic in nature mixing original material with songs one may not expect to find on a modern Big Band Album. With such a mix of material you often run the risk of producing an album that could sound inconsistent as a whole. When I asked Adi if this was a conscious thought when selecting the material he replied "No this is not something I was worried about at all. While the compositions are varied I think it's the arrangements that tie the whole thing together."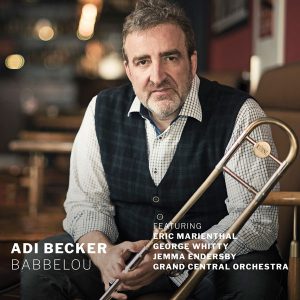 The album contains a number of guest soloists including vocalist British born Jemma Endersby, George Whitty and saxophonist Eric Marienthal. "I really wanted to have George and Eric on the album. I remember doing some small band gigs in the Cologne area with my Funk band and George was our guest. After we had finished these shows George and I did a performance together with the Big Band in Aachen (ed: Germany) and one of the arrangements we played was "Space Babes", It was the first time I had done this arrangement with George and the way he approached the tune was exactly what I had envisaged when I wrote it. When I decided to include this tune on the album it was logical to ask George to join us." said Adi.
Two tracks on the album feature Eric Marienthal. Adi first met Eric on a gig with Jeff Lorber a few years ago, he explained: "It just clicked immediately between the two of us, after the gig we were enjoying a beer and decided that it would be great to work together again." When he started to put together the material for the album Adi thought this would be the perfect opportunity to see if Eric was available. The Gods were smiling and Eric was not only available but thrilled to be able to take part in the recording. Adi went on to say that in November this year Eric will return to Europe for a number of concerts with the band.
With this album now complete and ready for release and concerts planned for November I was interested to know what's next for Adi Becker. "Well, we have a pretty heavy schedule with the Bundeswehr band including a new album we will be recording. I also have a number of projects that I'm currently doing the arrangements for and for the rest we'll just see what happens."
Adi Beckers "Babbelou" is now available on Mons Records. More information on Adi Becker and his projects can be found on his website.
Last modified: April 29, 2020