On his sixth album as a leader, Future Memories (featuring John Patitucci, Glenn Zaleski, Vitor Gonçalves, Daniel Dor & Andre Mehmari), Yotam Silberstein continues to offer up unequivocal proof that for jazz musicians, Israel has delivered some exceptional jazz musicians and Brooklyn continues to possess the optimal environment for maximum artistic growth. Silberstein's playing is also testimony that the art form of jazz guitar, brought into vivid existence by Kenny Burrell, Wes Montgomery, Grant Green and many others, is alive and evolving in the hands of this artist.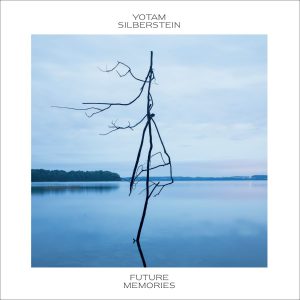 Following up his The Village album (jazz&people, 2016) may have seemed to be a daunting task however, Yotam, ever forward-looking, has immersed himself, into the music of Brazil, Argentina, Uruguay, Peru, Venezuela, and North Africa; developing real affinities with these cultures and traditions, to the point where they have been fully integrated into his own musical world. He stated, "I feel like all these new influences combined with my knowledge of jazz, blues, Israeli and Arabic music has merged into something very unique and beautiful." The result is his new album, Future Memories, available on the jazz&people label on March 15, 2019.
It is with musicians the guitarist regularly tours with whom he has chosen to record Future Memories, in which in addition to his own compositions are three pieces by two great Brazilian musicians, the mandolinist Hamilton de Holanda and Paulinho da Viola, master of the choro and heir to the tradition of Jacob do Bandolim and Pixinguinha. It should come as no surprise that Silberstein has added to his quartet a Brazilian, Vitor Gonçalves. This Carioca by adoption, who has worked with Maria Bethânia and Itiberê Zwarg (a longtime member of Hermeto Pascoal's group), settled in New York in 2012, where his twin talents as a pianist and accordionist have not gone unnoticed.
Gonçalves takes turns on keyboards on the album with Glenn Zaleski, one of the most remarkable pianists in NYC who has made his mark in Ravi Coltrane's quartet. The drummer, Daniel Dor, who came to prominence in the bassist Avishai Cohen's trio, stakes a claim as an invaluable first-call musician with his startling capacity to play odd meters, the various rhythmic underpinnings that are crucial to the success of Silberstein's music, and seemingly anything that his vibrant, inventive imagination can dream up, all with the utmost taste and flair, with the common good of the music his sole mission.
Bassist John Patitucci needs no introduction. He has been a longtime member of the groups of two of the major figures in the history of jazz, Wayne Shorter and Chick Corea, and a regular collaborator with Silberstein, who was recently featured on the bassist/composer's new recording, Irmãos de Fé (Newvelle, 2017).
Commenting on recording Future Memories Patitucci said, "…everything really clicked with Yotam. He is a very intuitive, very emotional player, he's lyrical, he's also strong rhythmically, he has a voice, and he's also like an encyclopedia of Brazilian music! I really loved the way the colours were flowing all around."
If the guitar is the ideal nomadic instrument, Silberstein's playing has retained, from his travels around the globe, a variety of impressions that are superbly expressed in a rousing and inspired album – his most personal to date, in his own words-and opens like so many windows on the beauties of the world and the memories of the emotions they evoke in each of us.
To support the tour Yotam will be performing in Europe this month. Tour dates are listed below.
March, 8 – Unity Jazz Club – Göteburg, Sweden
March, 9 – Herr Nilsen – Oslo, Norway
March, 11 – Pizza Express Jazz Club – London, UK
March, 12 – Fasching – Stockholm, Sweden
March, 13 – Dokkhuset – Trondheim, Norway
March, 14 – Bimhuis – Amsterdam, The Netherlands
March, 15 – Paradox – Tilburg, The Netherlands
March, 16 – Lantaren Venster – Rotterdam, The Netherlands
March, 18 – Jazz Kongress – Freiburg, Germany
March, 19 – 12 on 14 – Warsaw, Poland
March, 20 – Duc des Lombards – Paris, France
For more information visit his website.
Last modified: April 25, 2020