When one thinks of jazz in the Danish capital it's difficult not to include the name of the iconic venue Jazzhus Montmartre. Throughout history, the venue has played host to almost all post-war jazz legends and the list of classic albums recorded at the venue could single-handedly form the basis for jazz history thesis.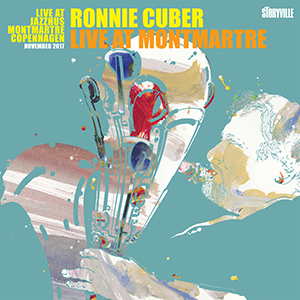 In November 2017, Baritone Sax player Ronnie Cuber once again took to the stage at the Copenhagen venue for a three-night stint with Danish musicians Kjeld Lauritsen (Hammond Organ), Krister Jonsson (Guitar) and Andreas Svendsen (Drums). These concerts were recorded by Danish label Storyville Records and earlier this year the result was released on an album titled somewhat obviously "Ronnie Cuber, Live at Montmartre"
Ronnie Cuber has been on the scene as a leader and sideman for many years and is well known for his work George Benson, Slide Hampton and Maynard Ferguson as well as other legendary artists outside of the jazz world including Frank Zappa, B.B. King and Eric Clapton. Cuber's discography as a leader goes back to 1976 with the release of "Cuber Libre" on Xanadu Records with Barry Harris, Sam Jones and Al "Tutti" Heath. Since this time Cuber has released over seventeen albums under his own name.
Live at Montmartre is a hard-swinging live recording and features a mainstream set comprised mostly of standards along with Cubers tribute to Richard Tee, "Tee's Bag" and organist Kjeld Lauritzen "Jazz Girls". The recording quality is good, however, in my opinion, there are some balance issues but this certainly does not detract from the listening experience as a whole.
Cuber is in fine form throughout the album and the Danish rhythm section are spot on. If your looking for an album that is on the cutting edge of modernity then this is not the album you're looking for, "Live at Montmartre" is a straight-ahead mainstream album that swings hard from the get-go. Highlights include Cubers take on "Cherokee" and medium blues Jazz Girls by organist Kjeld Lauritzen.
I truly enjoyed this album, it unpretentious, honest and swings like you wouldn't believe.
Track Listing:
1. Tee's Bag | 2. Bluesette | 3. Cherokee | 4. Just Friends | 5. Au Privave | 6. Silvers Serenade | 7. Jazz Girls | 8. Four
Line Up:
Ronnie Cuber, Baritone Saxophone | Kjeld Lauritsen, Hammond Organ | Krister Jonsson, Guitar | Andreas Svendsen, Drums
Release Date: 6 July 2018
Format: CD | Digital
Label: Storyville Records
Featured Image © Johan van Eycken
Last modified: December 20, 2018