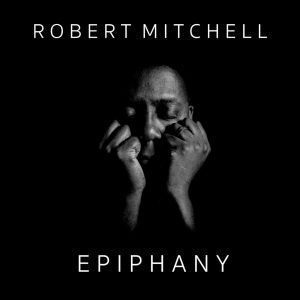 Pianist, composer, innovator, festival creator, and curator, Robert Mitchell is THE artist par excellence. With his latest EP, "Epiphany" released on the Depth of Field label at the end of September and subsequently launched at Pizza Express Soho in London, Mitchell had surpassed all expectations. I was elated by such beauty and compositional talent.
There are only 5 tracks on the album, being an EP of course, and one thing for sure needs to be said: on listening to it over and over, I never want it to stop. From "Close Your Eyes, Make a Wish" to the title track "Epiphany", Mitchell has achieved such levels of poetical perfection, it is, at times, even for this writer, difficult to explain in words how majestic his compositions are!
I don't like comparisons, so, although I love Michell's previous works, I believe "Epiphany" offers so much more. Together with the dulcet tones of HKB Finn as a narrator on the title track, for example, one can lose oneself in those penetrating lyrical notes. Tom Mason on bass and Laurie Lowe on drums are part of Mitchell's "family" playing on the EP, showing once more what an incredible team they are. I have been honoured to meet and chat with Robert Mitchell a few times: his charisma and very modest persona always strike me and make me want to know more about this humble soul.
One track I simply adore is "In The Shadow of your Beauty", the longest track on the EP (over 8 minutes), I love it for its sheer power, for its amazing bass line and for its piano keys which, to me, encapsulate memories of long summer nights out in the open air taking in the beauty of the Universe, a picture I get every time I listen to it.
So I was intrigued but not at all surprised to read the following, as told by Mitchell himself, about one of the tracks on the album "Le Theatre Des Bouffes du Nord": "The first phrase of the melody jumped into this realm during a soundcheck at this fantastic and historic theatre in Paris. History seeping out of the walls, amazingly high ceiling, impressive and imposing seating layout and a superb piano meant this beginning was unexpected, but a pleasure to then develop".
"Epiphany" is like a little uncut raw crystal, like the beautiful and ancient Elestial type… carrying the Universe within its infinite shape and form. This EP is, just like that, spiritually timeless.
Don't miss Robert Mitchell playing at Karamel in London on 24th November!
Artists website: Robert Mitchell
Writer: Erminia Yardley
Photo & Artwork Credit: Carl Hyde
Last modified: November 24, 2018