31st January  – Ronnie Scott's – London.  One word: outstanding!
Orphy Robinson and his All Stars band "start their journey" with "Knucklebean", the 1977 album (on Blue Note, like many recorded by Hutcherson), the track is followed by another piece taken from the same album "So far, so good". Great choices to start with.  Rhythmical and refreshing at the same time, it is clear they are all having fun, playing the music of a hero and amazing vibraphonist and marimba player that was Bobby Hutcherson, who unfortunately left us in 2016.
For the record: Hutcherson who played in 1964 on the magnificent Eric Dolphy's "Out to Lunch!", he who played with great talents like Archie Shepp (when I met Archie at Ronnie's at his June 2016 gig, I was kindly introduced to him and, for days, I was in a trance-like state of adoration!), and these are just a couple of the names Hutcherson played with!
"Tahiti", an original composition by another master of the vibes, Milt Jackson, is performed smoothly and effortlessly.  With talent-a-plenty like Robert Mitchell on piano, Tony Kofi on sax and Rowland Sutherland on flute, the music played on the 1st set flies by.  There is not one moment when on turning around and watching the audience, I see them all attentive, nodding their heads and clapping.
This gig, I would dare say, is a historic one: re-affirming the importance of the vibraphone as a major instrument in jazz and also the celebration of Hutcherson's music which is pivotal. "Recorda-me" (Remember me) from Henderson's debut album "Page One" (1963 – Blue Note), is a beauty.
A little anecdote remembered from 1987 as Orphy narrates it, playing at Ronnie's with Chick Corea and Courtney Pine, but with no space left on the stage for the marimba, a smile on his face, as we, in the audience, are made to realize that, yes, the stage is void of the marimba, but full of incredible musicianship.
The second set arrives in no time at all and it is even better. Sitting at the bar, at my favourite corner, it is so nice to see other contemporaries of jazz like Daniel Casimir and Cleveland Watkiss enjoy the show, too.
"Rio" a jazz fusion which sees Dudley "Deadly" Phillips on double bass performing his solo with nonchalance.   Phillips is one of those musicians, being so "quiet" in his own little corner, he can go unnoticed at times, but not on my radar.  I have seen him play many a times before, with Filomena Campus, for example, and he is always a treat.
I found the second set very powerful and not just because of Hutcherson's tunes, but because the band was electric, pulsating on a higher level of greatness.  Together they brought not just Hutcherson's music alive again, but also jazz, the kind of jazz we want to hear more, and more and more!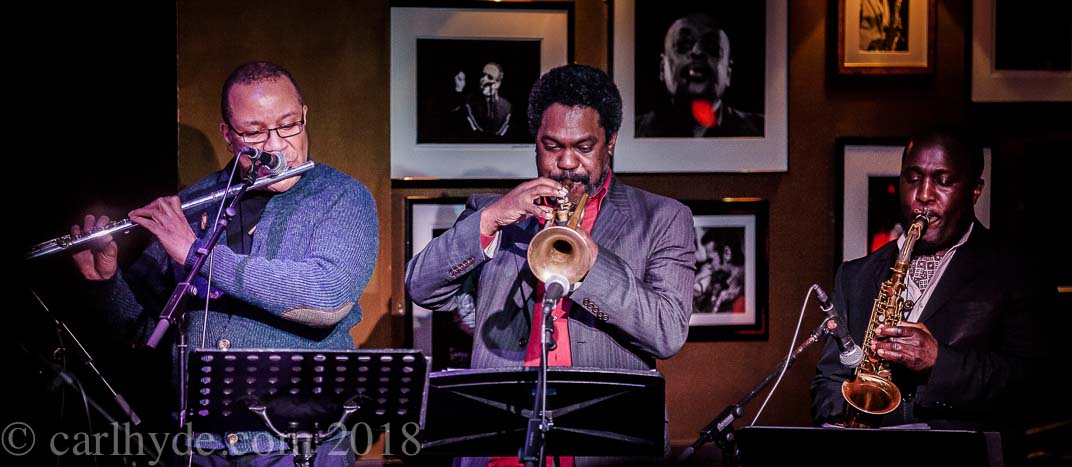 Photos © Carl Hyde
Super line-up:
Orphy Robinson – vibes
Byron Wallen – trumpet
Tony Kofi – alto sax
Rowland Sutherland – flutes
Robert Mitchell – piano
Dudley Phillips – double bass
Mark Mondesir – drums
Last modified: July 15, 2018