Renowned blues-rock guitarist and singer/songwriter Steve Miller continues his blues exploration with Jazz at Lincoln Center on December1–2 in Rose Theater alongside red-hot guitarist Jimmie Vaughan and legendary harmonica master Charlie Musselwhite.
Both Vaughan and Musselwhite have headlined at Jazz at Lincoln Center in the past. Rounding out the band is organist Mike Flanigan and pianist Shelly Berg, as well as other special guests. "The Blues Triangle" covers the contributions of blues hotbeds Memphis, Texas, and Chicago.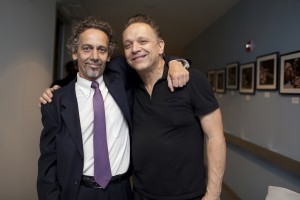 "This show is the third in a series of nine shows (or more) that were put together at Jazz at Lincoln Center to develop a pedagogy for teaching the blues and for studying blues and to codify it. It shows how it combines with jazz," explains Miller in this exclusive interview.
"Generally what we do with these shows is start in the Delta (in this case in Memphis) with acoustic early blues, and we move into Texas blues or electric blues—amplified blues and Chicago blues. Then we combine it with jazz and jazz versions of blues tunes.
"It starts off with acoustic blues, and then we end up in a jazz format with a much bigger band with horns. It's just an exercise in combining the two forms together, which you don't normally see that way. It makes the obvious connection of the development of blues into jazz."
Steve Miller was born in Milwaukee, Wisconsin in 1943 and learned his first guitar chords from his father's friend, the great Les Paul. Miller came from a family of musicians and moved to Texas in 1950, where he met T-Bone Walker at age nine. As a young man Miller later moved to Chicago where he developed his blues chops, playing with Muddy Waters, Howlin' Wolf, Buddy Guy, and Paul Butterfield. Miller went on to help establish the electric blues and reach a rock following that continues to this day. He tours constantly.
On The Blues Triangle shows in Rose Theater, Miller says he will take the audience to blues school. "Basically, our take on the blues is we're playing the music and letting the people make their own connections. You take a 12-bar blues and show how Miles Davis or Cannonball Adderley would play it. There's a little bit of education in it. We know the blues came from Africa. We know about the Ivory Coast, and as soon as the Africans were in America in the South and playing their music, they were influenced by Western religious music and Scottish and Irish folk music. As the radio came on the scene, the Hawaiian guitar came over and guys started playing slide blues guitar. So you see this melting pot developing. We start basically in the Delta and probably in the next shows we'll actually go back to Africa, and you'll get African performances on African instruments. The Africans had instruments kind of like guitars, and in the Delta you can hear some of the same riffs played. It's an aural music."
The main idea is to show—in one concert—a musical journey. This show we may start off with "Birks' Works" by Dizzy Gillespie, and then we'll go from that to the Delta. We're kind of reversing the procedure this time. We'll start off with jazz and drop right into the blues. In this particular show we're illustrating Texas blues and Chicago blues and Delta blues. We'll show how amplification changed it. It seemed a little more sophisticated in Texas, and in Chicago it became a little harder and it turned into rock and roll."
Jimmie Vaughan was born and raised in Texas. He is the older brother of the late, great blues guitarist Stevie Ray Vaughan. He is also co-founder of the Fabulous Thunderbirds. In 1969 Vaughan's band opened for the Jimi Hendrix Experience in Fort Worth, Texas. Throughout the years, Vaughan gained a reputation on the blues scene in Texas, home to blues guitarists Lightnin' Hopkins, Freddie King, and Johnny Winter. Since releasing his first solo album in 1994, Vaughan has risen in the ranks of blues six-stringers. Guitar Player magazine notes, "He is a virtual deity— a living legend. Miller says he will take the audience to blues school.
" Miller speaks of the great contributions from the Lone Star State. "For some reason Texas is just a great musical place. There's always been great music there with great guitar players. When I grew up there, blues was on top-40 radio with Jimmy Reed, Muddy Waters, Bo Diddley, Fats Domino… people like that is what they played on AM radio in the '50s and 60s."
For the Rose Theater Blues Triangle performances, Miller showcases the evolution of jazz in America. "Each one of these three areas (Texas, Chicago, the Delta—or in this case, Memphis) changes the basis of the blues. The actual basis of the blues is improvisation and melody. It's simple, and it's easy, and people can learn to play it. So blues is really the basis of jazz. It was the beginning and then it became more sophisticated. The jazz triangle would be New Orleans and Chicago and New York, where things really got sophisticated."
The Windy City was a fertile ground in the evolution of the blues. Chicago is where harmonica player Charlie Musselwhite prospered at his craft. After 50 years of nonstop touring, performing, and recording, Musselwhite is still going strong. 2016 marked the 50th anniversary of his debut album, the classic Stand Back! He was inducted into the Blues Hall of Fame in 2010, and this year he won the Blues Music Awards' Best Instrumentalist, Harmonica for a staggering 25th time.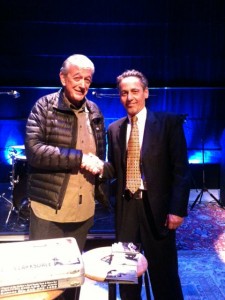 "So much time has gone by," Miller smiles, reminiscing about Musselwhite. "I met Charlie 55 years ago, and we met early in Chicago when we were kids and were playing blues when Muddy [Waters] was alive and Howlin' Wolf and James Cotton and Little Walter and those people. Charlie is really one of the last blues harmonica players and musicians who knew all these blues players. It's just a handful of people that are still around. We happened to be really young when we were in Chicago and there just aren't many people left, so to get Charlie and Jimmie is great. Jimmie spent all that time in Texas playing at Antoine's down in Austin. The Chicago scene started showing up in Austin and playing in Austin more than they were in Chicago! They're two of my favourite musicians and two of my really good friends. To be able to get the three of us together is a special thing and could only be done at Jazz at Lincoln Center. It's the House of Swing, baby!"
Free pre-concert discussion nightly at 7pm.
For more information and the full schedule, visit jazz.org or call CenterCharge at 212-721-6500 for tickets.
The Jazz at Lincoln Center Box Office is located on Broadway at 60th Street, Ground Floor. Hours: Monday–Saturday, 10am–6pm; Sunday, 12pm–6pm. For groups of 12 or more: 212-258-9875 or jazz.org/groups.
Text: Scott H. Thompson  is an internationally published writer and jazz publicist. original article credit: Playbill.com
Featured Image: Watt Casey Jr.  Jimmie Vaughan photo credit: Elizabeth Leitzel 
Sidebar Images: Steve Miller Band website
Center article images of Jimmie Vaughan and Scott Thompson and Charlie Musselwhite and Scott Thompson, and (c) info: all rights go to original recording artist/owner/photographer(s)
Last modified: July 15, 2018