Having been around in the jazz world for close on 40 years I've seen generations come and go. With each changing of the guard we see new players come onto the scene, blending the influences of the current generation with the tradition and expanding the boundaries of this music we call jazz. New York based pianist Christian Sands is in my opinion one of these players that will become a torch-bearer for the next generation.
Already the recipient of five Grammy® award nominations and since 2012, joining the auspicious list of Steinway endorsed artists; Sands released his Mack Avenue Records début "Reach" in April this year. Having met with universal critical acclaim, Reach, as stated on the Mack Avenue website, indeed becomes one more milestone in his already auspicious career.
In October this year Christian Sands will embark on his first European tour as a leader seeing him and his trio play many of the major venues throughout Europe. More than enough reason to take the time to sit down with Christian for an interview.
The Early Days
According to his biography, Christian started playing piano at four years old, composing his first piece of music at age five, starting music classes at the age of eight, and becoming a professional at ten. He attended such prestigious schools as the Neighbourhood Music School and the Educational Center for the Arts in New Haven (Connecticut) however a key moment in Christians career came when his then teacher, noted jazz pianist, composer Dr. Rex Cadwallader, suggested he attend the Jazz in July" summer workshop at the University of Massachusetts and study for a week with Dr. Billy Taylor. As it ended up, Taylor asked Christian to stay on for the second week to which he immediately agreed. Christian said: "We kind of hit it off, after that anywhere he (Taylor – ed) would go to play, he'd ask me to go along with him, whether it was DC, Philadelphia or Jersey, I was able to go along." Christian went on to say that on many of these trips with Dr Taylor he met a number of great pianists including the late Mulgrew Miller. During these trips  and was able to hear them speak about Art Tatum, Teddy Wilson and Erroll Garner etc. and their impact on jazz piano. "It was like getting a history lesson from the source", he said.
Christian's relationship with Dr Billy Taylor was more of a mentor-ship than just your normal teacher-student relationship: "I really got to learn the history of jazz piano through Dr Billy Taylor…. I was very fortunate, you know, when you talk about the history of jazz piano he was it – you know he was born in the time when it was being developed." Hearing Christian speak, it's obvious Dr Taylor not only taught Christian to play piano but also how to be a pianist, a far more holistic and expansive approach.
Some years later Christian went on to earn both bachelor's and master's degrees from the Manhattan School of Music where he studied with Jason Moran. While there, Christian also played with the school's Afro-Cuban Jazz Orchestra, led by Bobby Sanabria. The band recorded an album titled "Kenya Revisited Live" in 2009 that garnered a nomination for a Latin Grammy®.
Bobby Sanabria's band was not the first taste of Latin music that Christian had. In his New Haven days he played in a number of Salsa and Afro-Cuban band's including Los Hombres Calientes and was listening to Latin pianists such as Chano Domínguez and Chucho Valdés. At the same time, he was listing to Fats Waller, McCoy Tyner and Herbie Hancock. Christian said: "…so I had all these things going on in my head, it was kind of weird, you know, almost dangerous…" He went on to say, "When I joined Sanabria's band he also focused on the history of Afro-Cuban music, it wasn't just like reading the charts, you were also learning about what happened in the music."
Festivals and the state of Jazz Today.
We continued our discussion by moving on to the more esoteric subject of jazz music it's self and the eternal question – what is jazz? We spoke about festival programming and the narrative that jazz festivals aren't really jazz festivals any more. On this point Christian said that even though on some of these festivals you have Pop artists, it's no problem, they pull crowds. "With some of these pop artists you can still hear in their music that they know jazz, they understand jazz and while they may not be playing it but you can still hear it and that's OK". On the other hand, you have pop artists who do what they do and don't sound anything like it, you can't feel it, then I ask the question – what are they doing here? I asked Christian if he thought this was a threat to the future of Jazz? He summed it up clearly by saying "So when you get a majority of the festivals saying the last one's jazz, that's when you gotta start worrying."
We went back and forth on this and I finally asked the question all jazz musicians hate to answer – what do you think jazz is in the 21st century? Christian answered: "Well I think to put it plainly, I would say that jazz is the reflection of the human experience. It used to be a reflection of the American experience but with the development of technology, with YouTube, the world is far more connected now. It's now also the European experience, the Caribbean experience, The Asian experience – the African experience! It all blends because we're all connected, It's a worldly experience and that's why jazz sounds the way it sounds today."
With Christian coming from a more roots orientated background I was keen to know how important he considers the jazz tradition to be in moving jazz forward. "Well I think jazz is in an interesting place today. The word jazz is so abstract today and I think the reason it's so abstract is that a lot of people don't know where it's coming from, it's sort of in a limbo. But there are a lot of artists on the scene today that are coming from the tradition and I don't just mean coming from Thelonious Monk, I mean coming from the early masters James P Johnson, Earl Hines, etc. Their coming from the history of it all but still moving it forward. You know, to make jazz better you have to know where you're coming from to know where you're going to."
Reach, The new album.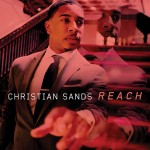 While his current album "Reach" is his first for Mack Avenue Records it's actually his eighth album as a leader. In the album description on the Mack Avenue website they state that the Album is a milestone in Sands career and quotes Christian as saying "I'm reaching from past recordings to bring in the future, which is really all about finding myself. It's a chance to express my experience." I asked him how this album differs from his previous albums.
"Well it differs in a lot ways, it's about where I'm at in my life right now, I've just turned 28 (I was 27 when I recorded it) and going through things as you do. I took the chance with this album to reflect. The whole concept for the album was to reflect while at the same time reaching forward to where I'm going. It's like looking at who you are and what makes you who you are. I'ts also looking at what's needed to make you who you want to be."
Christian also said that his previous albums were nowhere near as deep and reflective as this album. "Reach looks forward, the previous albums just documented where I was at the time."
Reach was co-produced by both Grammy®-Award winning producer Al Pryor and famed bassist Christian McBride. This came as no surprise seeing Sands came to prominence as the pianist in Christian McBride's Trio. When I asked Christian about the choice of having McBride co-produce the album he said that they had built up such a rapport during his time with the trio that it was just a logical choice. He also said that McBride just let's him be himself, especially when it comes to his own music, but also knows when to push and nudge him out of his comfort zone.
On the album Christian brought together a stellar line-up based around the trio with Sands on piano with Yasushi Nakamura on bass and drummer Marcus Baylor. The album also features guest appearances from Gilad Hekselman on guitar, Marcus Strickland on tenor sax and bass clarinet and percussionist Cristian Rivera. McBride also makes a cameo appearance on bass on the ballad "Use Me". Christian said that he hand picked these players, he had worked with them many times a felt comfortable that they would complement his music perfectly. Having heard the album a number of time's (see my review of the album here on Jazz In Europe) I would have to agree.
The Tour
Since the release of the album Christian has been performing constantly throughout the United States as well as a number of dates in Denmark with Danish musicians Thomas Fonnesbæk (bass) and Alex Riel (drums), A trio that he recorded with in 2014 resulting in the live album Take One on Storyville Records. In addition to these dates, just prior to our conversation Sands had just returned from Moscow where he performed at the Skolkovo Jazz Science festival. This was Christians first trip to Russia and I asked him to share a little about his experience. Christian stated "It was awesome, Russia has such a rich cultural history and you can feel it every where you go. It rained all day but the people still came out, it was packed. It was great to see so many young people there. After we played there was a big band on the same stage and I was amazed to see people dancing to a big band. I loved it!"
In October Christian will embark on his first European tour as a leader. The tour starts on October the 10th at the Blue Note in Milan. Christian said he is thrilled that the tour starts in Italy, especially at the Blue Note, having played there a number of times as a side-man he said he feels like home.
After Milan, the tour and will see Christian and his trio visit Germany, France, Austria, Italy, Spain and the UK (Full Tour Dates will be published below). Christian is no stranger to the European jazz scene having toured Europe a number of time as a side-man with Christian McBride, Dave Sanborn and performances with the Sands/ Fonnesbæk/ Riel Trio. When I asked Christian about performing in Europe as compared to the United States he commented on the fact the in Europe you have "a far younger audience, an audience where you can feel the youthful energy." He went on to say that he feels he can experiment far more when playing to a European audience.
I asked Christian what gig's on the schedule will be personal highlights. He stated that he's looking forward to all the gigs and especially the clubs he has not played at before. He mentioned that as a huge art fan he is looking forward to visiting Barcelona for the first time and playing at Jamboree Jazz Club. He added "I also love Madrid, I played Clamores a few times with Christian McBride and Ben Williams, I guess I just love Spain." Other gig's of note on the tour are Ronnie Scott's in London, and the Tourcoing Jazz Festival in France.
During the tour, Christian will be travelling with his own band, however the line-up is not the same as on the album. The trio traveling with Christian on the tour is made up of Eric Wheeler on Bass and Jerome Jennings on Drums.
Bassist Eric Wheeler, a New York resident, has performed with many notable jazz artist's including among other Benny Golson, Curtis Fuller, Delfeayo Marsalis, Pharaoh Sanders and Dee Dee Bridgewater. Drummer Jerome Jennings and Christian are also no strangers, Jennings is the drummer in the Christian McBride Trio along with Christian. Jerome also has a long list of credits as a side-man including Sonny Rollins, Hank Jones, The Count Basie Orchestra and Wynton Marsalis to name just a few.
We finished up the interview with the question "What's next for Christian Sands? He answered "Well, more touring! After I get back from Europe I'll be doing more shows in the States and I have a couple of projects I'm working on with other artists. I can't say who just yet but it's going to be really exciting once you find out. I also have some things I'm working on with some museums – some installation works. We also have some music video's that will be coming out so I'll be working on that. I guess we've got a whole bunch of stuff going on."
With that said, I would have to agree, Christian Sands has a lot going on.
Tour Dates.
Oct 10 Blue Note Milano – Milan, Italy
Oct 11 Jazzclub Q4 – Rheinfelden (Baden), Germany
Oct 12 Bix Jazz Club – Stuttgart, Germany
Oct 13 Jazzclub Unterfahrt – München, Germany
Oct 14 Ferrara Jazz Club – Ferrara, Italy
Oct 16 Ronnie Scott's – London, United Kingdom
Oct 17 Magic Mirrors – Toulouse, France
Oct 18 Tourcoing Jazz Festival – Tourcoing, France
Oct 19 Duc de Lombards – Paris, France
Oct 20 Duc de Lombards – Paris, France
Oct 21 Jamboree Jazz Club – Barcelona, Spain
Oct 22 Clamores Jazz Club – Madrid, Spain
Oct 23 Porgy & Bess Club – Vienna, Austria
More Information at Mack Avenue Records | Artist Website
Christians new album "Reach" is available is available at Amazon | iTunes
Featured Image by Anna Webber
Editors Note: Stay tuned for our London correspondent Erminia Yardley's review of Christians gig at Ronnie Scott's. Also some great photo's from photographer Carl Hyde.
Last modified: May 6, 2020