Gent Jazz Festival 2017 held over seven music filled days between 6th and 16th of July. I was one of the 34, 000 people who came to the festival. I was able to spend six days at the festival; here is my first-hand review. Highlights were the concerts by pianists Herbie Hancock, Craig Taborn, and saxophonist Kamasi Washington.
Day 1 (6 July)
Firstly, It's a rather strange first day at this years Gent Jazz Festival. In the pressroom we have to do without Jos L. Knaepen. He died in October last year. I will miss that famous photographer as a person and as a jazz lover. He was aptly named 'The Jazzman', as he had a great love for and knowledge of the jazz. I will miss the exchange of opinions after a concert.
The large crowd puller today is Grace Jones;  singer and actress.  She wears a skull mask as she comes on stage and sings that she is alive. Is this a tribute to David Bowie, the pop icon who died last year? Or is it in memory of Geri Allen, who would play with fellow pianists McCoy Tyner and Craig Taborn in Ghent. She died of cancer at the end of June. Or am I too sentimental and Grace Jones is just being herself. And is that what her fans expect her to do. Anyway, her voice was in good shape. Her low alt is still a fascinating to experience.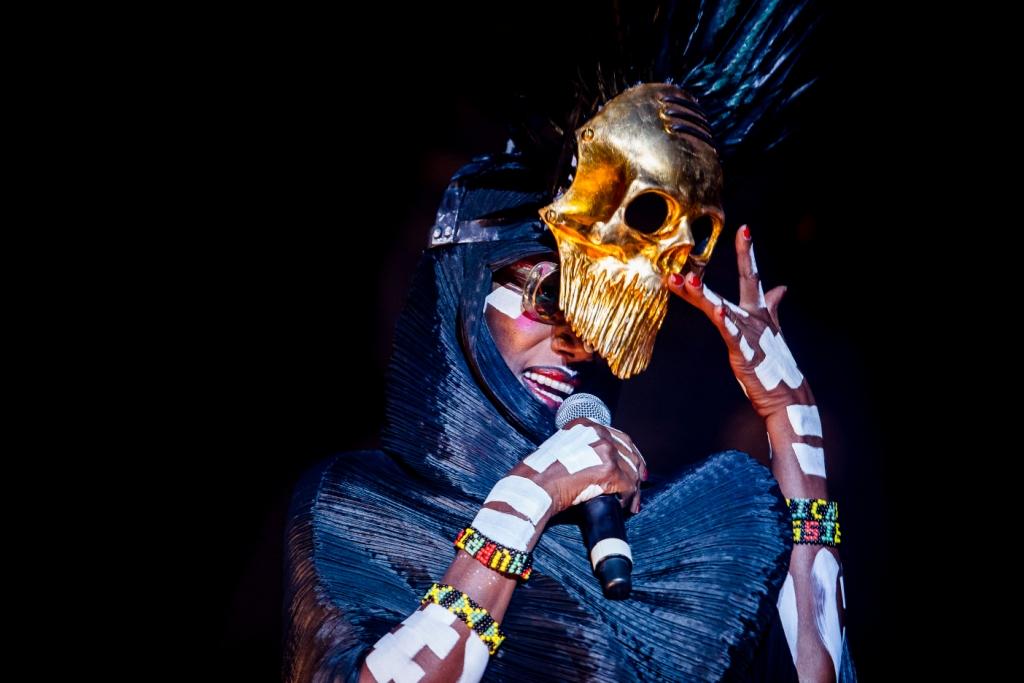 Day 2 (7 July)
There are at least three aces in the game today. On the main stage, playing in succession are; Christian Scott, Christian McBride, and Herbie Hancock. The Group French Quarter, with British singer Hugh Coltman, who could actually be named the fourth ace. After the concert of the French talents with the 'real' jazz singer, Hugh Coltman – no crooner, but an artist who uses his voice as an instrument – I conclude he is deserving of the title of the fourth ace, today!
Christian Nono Adjuah Scott played a sparkling and intense concert as the trumpeter in a leading role. He was well supported by his sextet who also had their individual moments of recognition.
Bassist Christian McBride's New Jawn – plays without piano. Trumpet (Josh Edwards) and tenor sax/bass clarinet (Marcus Strickland) share the stage with the greats McBride with Nasheet Waits on drums. The rhythm section is usually the backbone of a band, but the two also play the role of the harmony instrument piano. That creates a special timbre.
Herbie Hancock has been famous for some 50 years now. The pianist and composer surrounds himself with the best on the stage, among others guitarist Lionel Loueke and drummer Vinnie Colaiuta. Most impressive is Hancock himself. He continues to look for new roads, leading to the highest in the art: a new route to follow. Herbie Hancock is an example for everyone in the music business.
Day 3 (8 July)
Actually, it is a sad day. Geri Allen should have been playing  with fellow pianists McCoy Tyner and Craig Taborn. Geri, unfortunately, passed on from cancer in late June at age 60 years. So… two piano Giants on stage instead of three. Craig Taborn honored Geri Allen with a fantastic performance of her song ' When Kabuya Dances '. He told the audience Geri Allen and McCoy Tyner are the pianists that have inspired him the most. Today their joint talents are manifested by one person. The piano playing of Craig Taborn on day three of Gent Jazz was phenomenal. The audience welcomed McCoy Tyner (78) on stage with a loud applause. The old maestro showed that his playing is still fierce.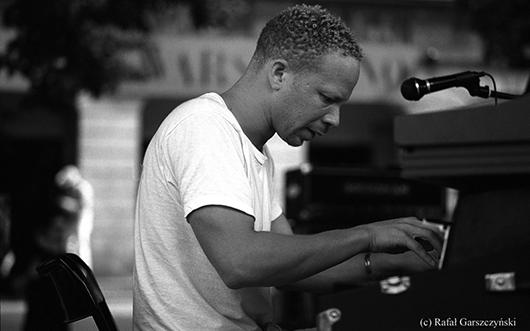 Wayne Shorter (83) got the chance to perform his composition Emanon (also the title of his latest cd) in Ghent. The Casco Philharmonic and Wayne Shorters famous Quartet (with Danilo Perez, John Patitucci, and Brian Blade) were on stage and gave a fine performance. Great fun, playing a mix of classical and jazz. Shorter seemed very tired. He sat down and listened.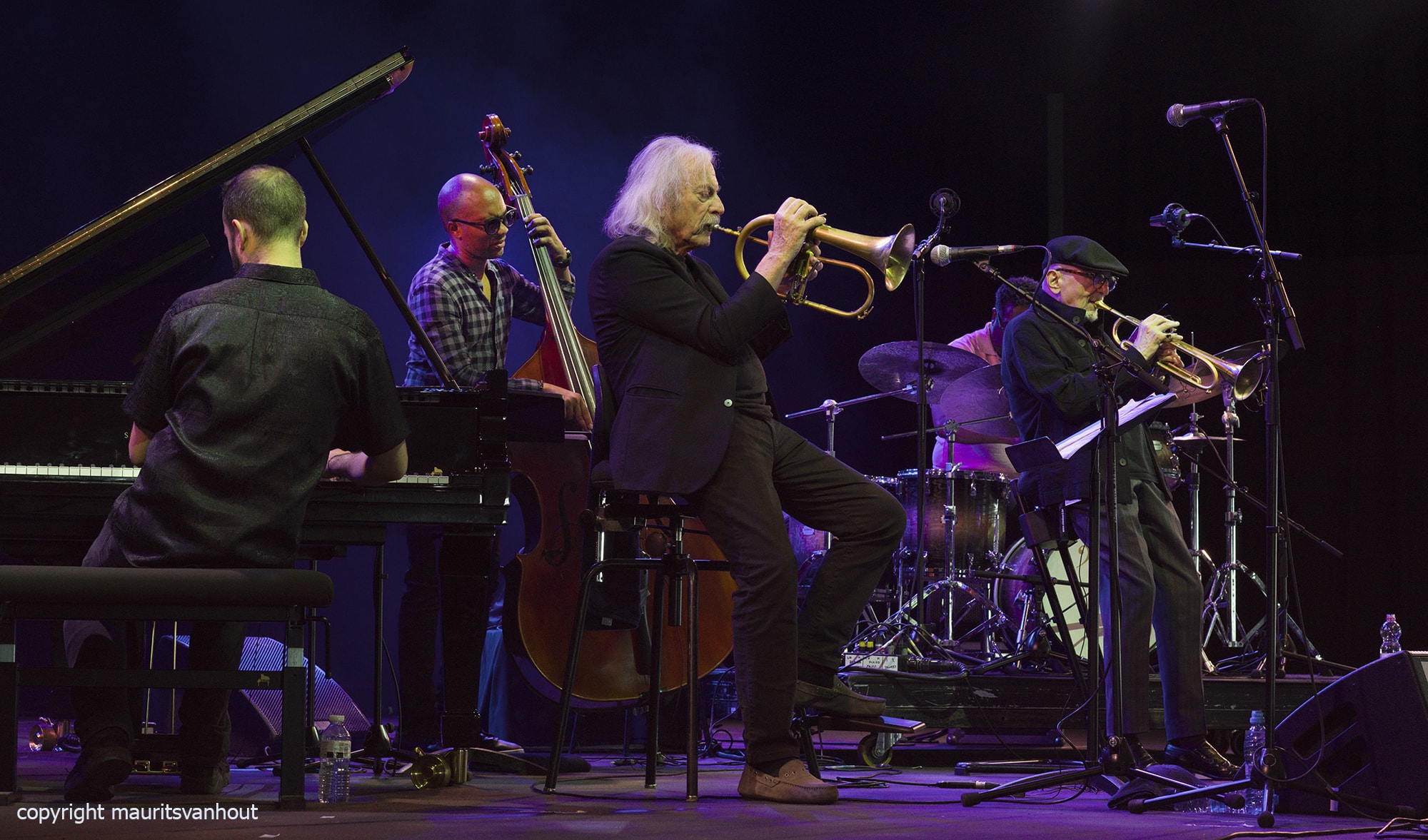 In addition, a fine concert from the two European trumpet veterans Enrico Rava (77) and Tomasz Stanko (74) with their quintet. The sounds of the fluegelhorn (Rava) and the trumpet (Stanko) close harmonising with each other.
Day 4 (9 July)
All of a sudden, she's on stage! Norah Jones walks to the piano, sits down and starts to play and sing. Drums and bass accompany her. Thousands of enthusiasts came to Gent Jazz to see her perform. I'm not too fond of this kind of performances. But for her many adoring fans,  they enjoy their idol.
My vote for best concert of the day was performed a few hours earlier. Bassist Omer Avital and his quintet gave an exciting show. He was born in Israel and has been living in New York for the past twenty years. Omer Avital mixes the music of his homeland with the vibes of New York. That goes into a jazz blender et voila: very tasty music.
Day 5 (13 July)
All is well that ends well. Saxophonist Kamasi Washington creates a swinging conclusion of the fifth day of Gent Jazz. The first three concerts on the main stage were very loud and the bass often drowned out the other (electronic) instruments.
Kamasi Washington also played the festival last year.  He continues to be a rising star of the tenor saxophonists, a true innovator.  I fear that without this breed of great talents, jazz will come to a standstill. Keyboardist Brandon Coleman, trombone player Ryan Porter and father Rickey Washington (flute and soprano saxophone) played fine, but Kamasi Washington was the big star.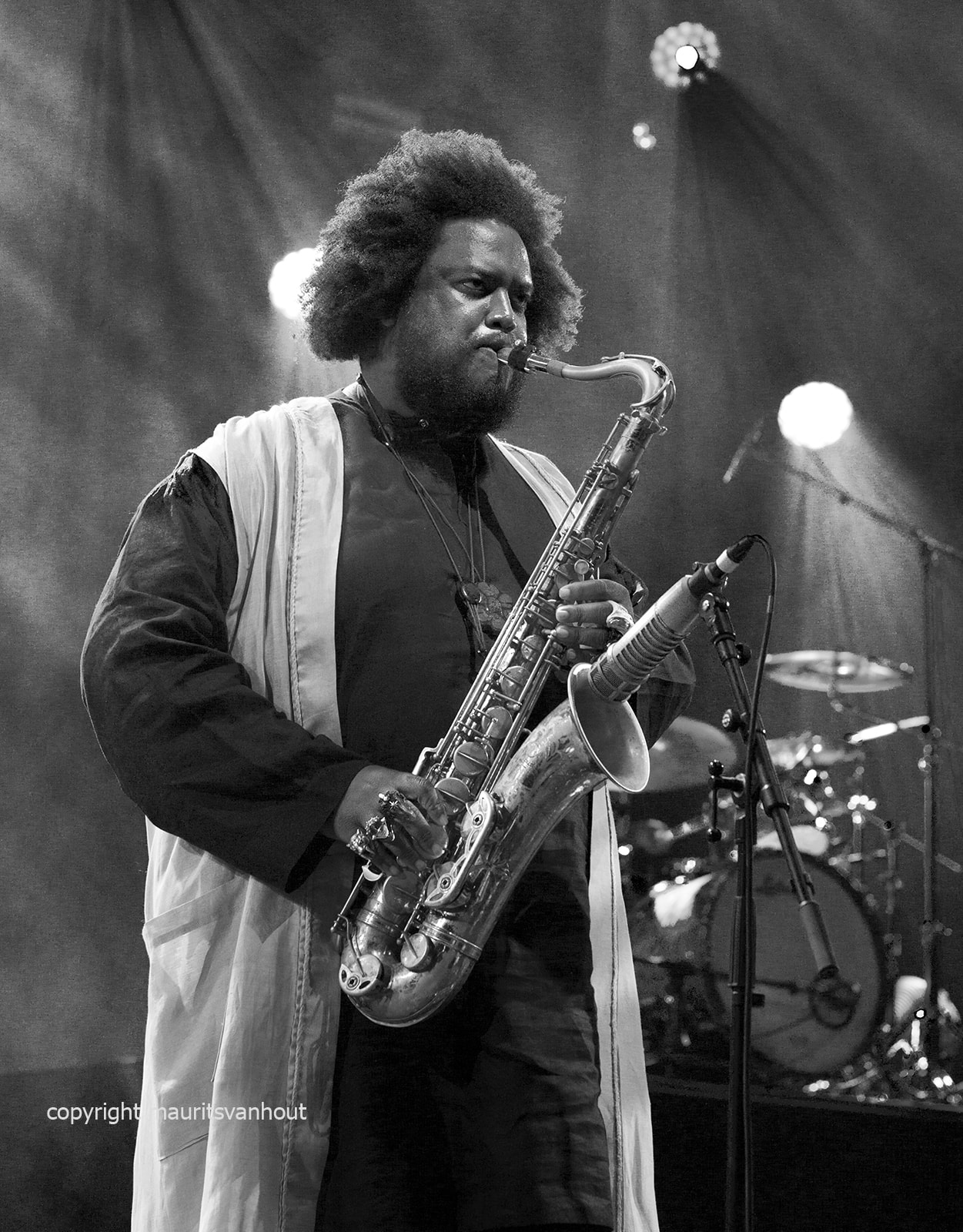 Before the concert, he wandered on the festival grounds. Friendly smiling at the cameras that where focused on him whether or not standing with one or more fans who wanted a picture with him. After the concert, he took his horn, walked to the (smaller) Garden Stage and played with Shabaka and the Ancestors.
Day 7 (15 July)
Chrysta Bell is the exception today. There are very solid men's groups on stage. The singer and actress is a delightful exception. She puts a lot of sensuality in her performance. The singer now also has a career as an actress (Twin Peaks). Her performance on stage is erotic and sensual. In stark contrast to the previous band called Hypochristmutreefuzz. The band's name is the title of a composition by Misha Mengelberg, the late Dutch pianist, and composer who played a major role in the European avant garde scene. He is one of the founders of the famous Instant Composers Pool.
In Ghent, a Unesco Creative City of Music also has another jazz festival at the end of the summer. Jazz in the Park starts on Thursday 31 August and ends Sunday 3 September. The concerts are free of charge.
More information: www.gent.be/jazzintpark
Text: Peter Beije
Pictures:
Maurits van Hout, Gaëlle Vanhaverbeke (Day 7),
Herbie Hancock – Herbie Hancock Media
Grace Jones – Carl Hyde Photography
Craig Taborn – Rafal Garszczynski
Wayne Shorter – Robert Ashcroft
Sidebar images – Gent Jazz Festival 2017 press kit.
YT Video: Gent Jazz Festival Channel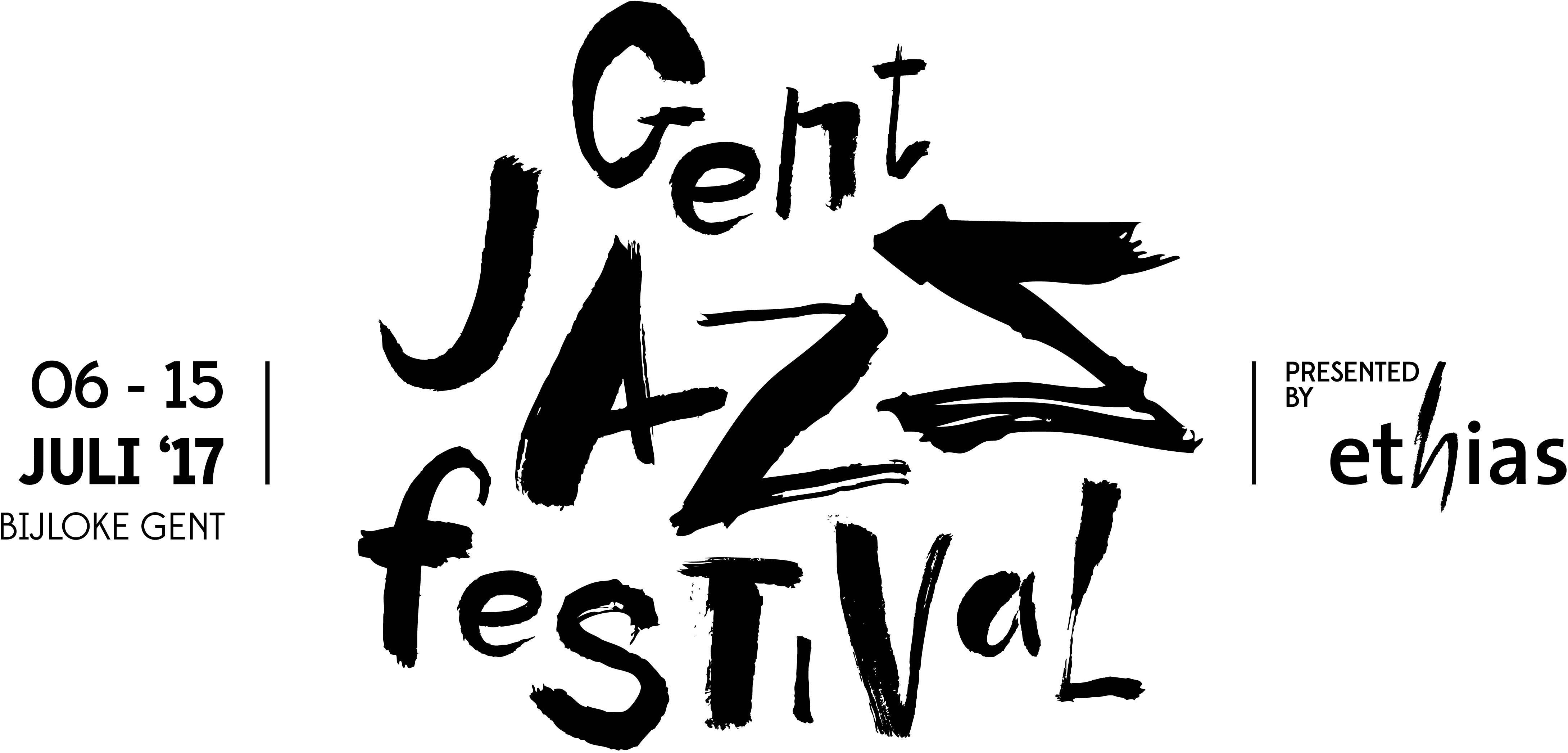 Last modified: July 15, 2018