As a cornerstone of what is now called World Music, the vision and virtuosity of Shakti has inspired generations of musicians from around the world to explore sonic hybrids once thought impossible. Born of the musical and spiritual brotherhood shared by the revolutionary British guitarist and bandleader John McLaughlin and master Indian percussionist Zakir Hussain, Shakti's soulful, organic intermingling of Eastern and Western musical traditions has proven transformative for both the band's members and its listeners. 
Fifty years after the informal conversations and jam sessions that sparked the band into existence, their music continues to resonate and evolve. This Moment – Shakti's first new studio album in more than 45 years, will be released on CD and vinyl LP via Abstract Logix on June 30, 2023. A work of immense depth and radiant optimism, This Moment offers a set of new compositions and performances that burn with a rare intensity born out of passion. With McLaughlin (guitar, guitar synth) and Hussain (tabla) joined by vocalist Shankar Mahadevan, violinist Ganesh Rajagopalan, and percussionist Selvaganesh Vinayakram, the Shakti of now is a powerfully dynamic collective, defined by deft interplay, dazzling unison passages, extraordinarily dexterous improvisations, and the ability to draw from a vast well of global traditions and, miraculously, put them in conversation with one another.
Despite the large gap in their studio discography, Shakti has persisted intermittently over the years as a live proposition, releasing several concert recordings. "Shakti is very much a 'live' band," explains McLaughlin. "A part of the problem with making a studio recording has always been the fact that we live on different continents, and we all follow our individual careers – in addition to working together in Shakti. This Moment is the result of me calling everyone in the fall of 2021 and persuading them to use today's recording technology to realize it." Recorded and mixed in the U.S., Monaco, India, and Great Britain, This Moment is nevertheless cohesive, bound by the deeply held bond shared by the players – a bond that is audibly apparent across the album's eight tracks.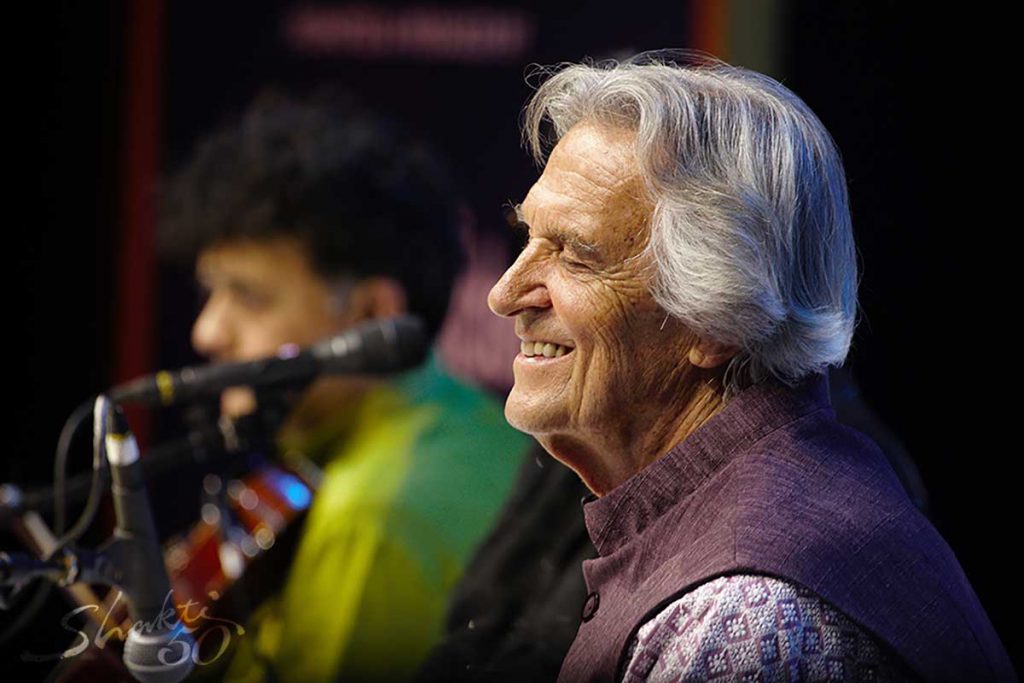 The compositions making up This Moment each pass through a series of connected movements, highlighting different vocal and instrumental sub-groups within Shakti while transitioning between taut thematic statements, riveting solos from McLaughlin and Rajagopalan, invigorating rhythmic shifts, and soaring vocal passages by Mahadevan. The increased use of vocals – both sung and konokol (a Southern Indian tradition of spoken percussion) – gives today's Shakti a new degree of warmth, humanity, and universality. McLaughlin's contributions are remarkable in their ability to reconcile the great Ragas of North and South India with a chromaticism born of jazz and the blues, and the speed and precision of his articulation remains exhilarating. The engine room of Hussain and Vinayakram (son of original Shakti ghatam player T.H. "Vikku" Vinayakram) gives space to allow passages to breathe and resound, while equally capable of fomenting a roiling, galloping underpinning that push the soloists to increasingly ecstatic heights.
Shakti will be celebrating the release of This Moment by undertaking an extensive performance schedule, including their first U.S. tour in eighteen years. Beginning August 17 in Boston, the shows further reinforce Shakti's pan-cultural ethos by introducing jazz and American elements via supporting spots by either Béla Fleck, Bill Frisell, John Scofield or Jerry Douglas – "Truly fine musicians whom I've admired for decades," in McLaughlin's words. The feeling is mutual, with Fleck recalling that "hearing Shakti was a revelation – and I started listening right when they started."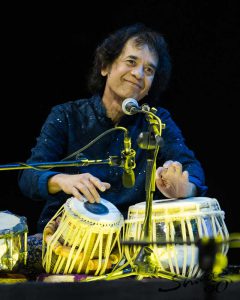 "John McLaughlin is a magnificent guitarist and innovator," adds Scofield. "One can't be a guitarist and not have been influenced by him. I'm as much looking forward to playing on the bill with Shakti's 50th Anniversary tour as simply being there to hear them."
For founders McLaughlin and Hussain, Shakti's astonishing longevity – along with a legacy that has affected musicians and audiences around the world – is met with humility and gratitude. But while recognizing the group's past achievements, Shakti continues to evolve, as demonstrated so compellingly on This Moment.  "You could say that we have returned to elements of an older Shakti sound by bringing back the violin," reflects Hussain. "In some ways it completes the circle. But the musical mindset that the artists in the group bring to the table reveals many layers of creative thought that we in our initial incarnation did not have the time nor the means to explore. And now, the decades of individual music experiences we all have had poured into this gathering's offering has resulted in an extraordinary depth to the sound and interaction of this band."
"I have been working and playing with Tabla maestro Zakir Hussain for 50 years, and with Shankar Mahadevan for 20 years," McLaughlin concludes. "I can say categorically that their influence on me as a musician and human being is without equal. It's really a thrill, and I'm delighted to be part of this marvelous tradition of the Shakti group."
The CD and streaming version of the album is set for release on the 30th of June with the 2LP set being released on the 21st of July.
If you want to catch the band live in Europe this coming summer. The band will be performing a series of dates listed below.
June 27 Hammersmith Eventim Apollo, London, England
June 28 Hammersmith Eventim Apollo, London, England
June 30 Timisoara Jazz Festival, Timisoara, Romania
July 2  Erkel Theatre, Budapest, Hungary
July 5  Kongsberg Jazz Festival Kongsberg, Norway
July 7  Elbphilharmonie, Hamburg, Germany
July 9  North Sea Jazz Festival, Rotterdam, Netherlands
Last modified: June 26, 2023