Chris Potter's "Got the Keys to the Kingdom: Live at the Village Vanguard" (released 17th of February 2023) on Edition Records, opens with a sly and surprisingly epic version of "You Gotta Move" a blues classic by Mississippi Fred McDowell, though more recognizable in its later version by the Rolling Stones from their album "Sticky Fingers."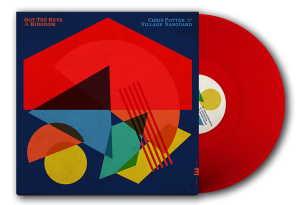 It's a seductive entry (at 14 minutes), though not uncommon for this veteran tenor saxophonist backed by Craig Taborn on piano, Scott Colley on bass, and Marcus Gilmore on drums. Potter's quartet at the Vanguard in Greenwich Village, New York City (recorded in 2022) proceeds with six other covers, including two reconstructed Brazilian folk songs, "Nozani Na" and "Olha Maria," a gospel-spiritual "Got the Keys to the Kingdom," and a couple of forgotten jazz gems: Billy Strayhorn's "Blood Count," and Charlie Parker's "Klact-Oveeseds-Tene."
The slow and sultry swing of Johnny Hodges's saxophone on the original "Blood Count" or the more vigorous and inimitable Parker could be the touchstones for Potter and his "post-bop" group to reach on this recording; however, by also taking much inspiration from bluesy rock or Brazilian folk, Potter and his quartet are pushed to explore more unusual terrain. But Potter has always sought out and savoured such scenarios, and he has been noted for this, for two decades.
After all, Down Beat Reader's and Critic's Polls have been praising him since 2004, and at one point, back in 2008, in a Reader's Poll, he was likened as second only to the tenor sax legend Sonny Rollins. And with consistency Potter stands out for his harmonically-rich and melodically-complex sound, including blistering solos but with a thoroughly modern twist and always noted for the thunderous support of his top-notch bandmates; the longest tracks are also best propelled by Taborn's exquisite solos; meanwhile, overall as a unit, they seek out organic excursions, which can sometimes seem like impromptu jam sessions, but with epic proportions.
Some selected upcoming concerts in Europe for Chris Potter's Quartet are listed below.
Sunday March 12: Porgy & Bess, Vienna, Austria
Monday, March 13: Jazz Dock, Prague, Czech Republic
Wednesday, March 15: New Morning, Paris, France
Saturday, March 18: Fasching, Stockholm, Sweden
Track Listing:
1 You Gotta Move | 2. Nozani Na | 3. Blood Count | 4. Klactoveedsedstene | 5. Olha Maria | 6. Got the Keys to the Kingdom
Line-Up:
Chris Potter – tenor saxophone | Craig Taborn – piano | Scott Colley – bass | Marcus Gilmore – drums
Release Date: 17 Feb 2023
Format: CD | Vinyl | Digital & Streaming
Label: Edition Records


New Release Spotify Playlist
The Jazz In Europe New Release playlist features tracks from the new releases featured on Jazz In Europe. Updated weekly, this playlist is the perfect place to discover new music from the leading jazz musicians currently on the scene. We hope you enjoy this selection.
Last modified: September 10, 2023