Recently Swiss based drummer Dimitri Monstein released his latest album titled "The Cello Sessions" on the Swiss label Unit Records. Equally at home in the worlds of jazz, pop or classical music, Dimitri began his musical journey at an early age, studying classical percussion and drums. This led him to perform with various youth symphony orchestras allowing providing him the opportunity to work with world renowned artists such as Andrea Bocelli and in turn led to Dimitri winning a place at the prestigious ZhDK in Zürich in 2013.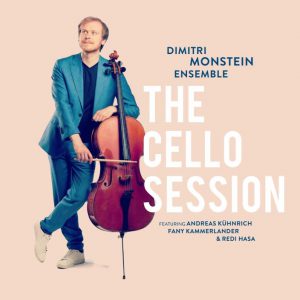 Since 2016, Dimitri has been touring Switzerland and Germany with his new project "Dimitri Monstein Ensemble". In 2017, the Monstein Ensemble released the video clip for the single "Landscape" of the same name. The video attracted worldwide attention thanks to "House Of Switzerland". On May 17th, 2019 the successful debut album "Landscape" was released worldwide. "Landscape" was the NDR's album of the week in July 2019 and the associated "Landscape CD Release Tour" led to club and festival performances in Switzerland, Germany and Romania. "The Monstein Ensemble is rightly considered one of the hottest new discoveries in the jazz scene and one listen to this new release confirms this.
Jazz and Classical music are two musical genres that when fussed can create a highly emotional impact forming both a sophisticated and impressive musical alliance however this requires a substantial musical sensitivity. Monsteins compositions contain this in spades.
The album contains special guest performances from three world class cellists, Andreas Kühnrich , Fany Kammerlander and Redi Hasa who each bring their unique sound to the album. The compositions, arranged for a traditional rhythm section with the addition of violin and viola provide the space and freedom from solo passages and soundscape improvisation. Monstein's music ranges from the melancholy to the up-beat and positive. Monstien explains "I felt like writing and playing something happy in times like now, such as B. the song "Step It Up", a groove number that even encourages you to dance. "Monstein Sonate Adagio" is the 2nd movement to match the "Monstein Sonate", which was released on the debut album "Landscape".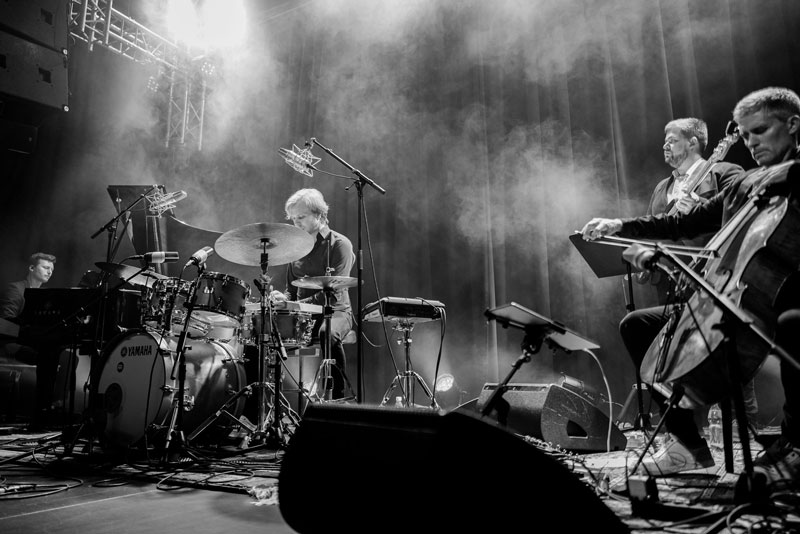 The Cello Sessions is a project that constantly crosses the boundaries' of genre. Speaking of the project Dimitri explained "The Cello. An instrument that has inspired and fascinated me for years. Unfortunately I can't play it… yet! But its sound is still central to my composition. After touring my previous album "Landscape," audience members often expressed their love for the warmth and timbre of the cello so I was inspired to bring this unique instrument to the forefront of the ensemble with some of my favorite players. In a smaller ensemble the cello has an opportunity to shine and, with the unique sound and feel of each musician, this gives each track an individual sound. To me the cello is the instrument that has the greatest similarity to the human voice. Maybe that is why it touches us all emotionally?
The Cello Sessions is available on CD and all streaming platforms.
Line up:
Dimitri Monstein – drums | Mischa Podstransky – piano | Robert Pachaly – bass | Manon Leutwyler – violin | Sorin Spasinovici – viola | Andreas Kühnrich, cello | Fany Kammerlander, cello, | Redi Hasa, cello.
Track Listing:
1. Good Morning World, 4:25 | 2. Little Brother, 4:47 | 3. Step It Up, 4:08 | 4. Monstein Sonate Adagio, 5:14 | 5. Forty-Seven Days Of Autumn, 5:07 | 6. Warum Syt Dir So Truurig, 5:13 | 7. Blue & Yellow, 4:33
Release Date: 17 March 2022
Format: CD | Digital
Label: Unit Records



New Release Spotify Playlist
The Jazz In Europe New Release playlist features tracks from the new releases featured on Jazz In Europe. Updated weekly, this playlist is the perfect place to discover new music from the leading jazz musicians currently on the scene. We hope you enjoy this selection.
Last modified: April 1, 2022