This summer prolific English improvising trumpeter and composer Charlotte Keeffe released her latest album Right Here, Right Now. Lavishly showcasing her accomplishment and versatility, there are nine tracks in all: three have her soloing or in duo; three in her eponymous quartet; and three have Keeffe demonstrating what a great team-player she is in the highly respected London Improvisers Orchestra (LIO). Thus, all in all, this is somewhat of a patchwork quilt of an album.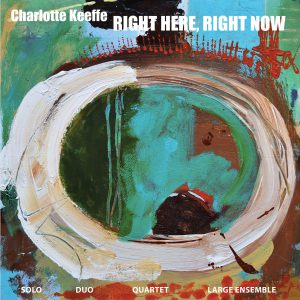 Over the years Keeffe has been active in numerous quality projects and bands, as leader or collaborator, some of the highlights (for this writer) being Andrew Woodhead's recent Pendulums, Calum Gourlays' Big Band and last but not least her role as the Musician in Goblin Theatre's children's production, The Legend of the Jazz Penguin. A mover and shaker in improvisation circles such as LIO, Lonely Impulse Collective and Mopomoso, Keefe also finds time to serve as Improvised Music Trumpet Professor at London Performing Academy of Music.
Of the solo/ duo tracks on Right Here, Right Now, second track OM stands out. A duo with guitarist Diego Sampiri, it begins almost like a relaxation track, but when, with barely summoned energy the trumpet enters, followed by snatches of voice and glimpses of other instrumentation, it becomes almost a sonic depiction of heart-break.  The Melody's in the Post (solo trumpet and flugelhorn) packs a lot of interest into its two and a half minutes, while Noizemaschin's sputtering trumpet fed through echo chamber is a creative delight.
Keeffe's quartet likewise has a confident and evolved sound, the band members seeming secure with each other. In opening track 1200 Photographs Keeffe's trumpet is lyrical and strong, while Frisellian electric guitar segues gorgeously with double bass scrags and perfectly placed drum kit interpolations. Sweet, Corn's chutzpah, pleasing unison trumpet and guitar and bluesy feel leave one wanting more, while in penultimate track, A Horse Named Galaxy, Keefe's burnished tones truly glow.
But perhaps most interesting of all are the LIO tracks.  While sometimes gently dominating the proceedings, Keeffe also demonstrates an exquisite sensitivity to the whole Orchestra: no mean feat when there are between 18 and 36 players on these three tracks. In Mysterious Breath/ This One's For The Bees… the orchestra creates a mildly unsettling ambience with multiple textures within which Keeffe wrings not just bee-noise but multiple timbres, such is her expertise in extended technique. Some heavy electronics add interest, as does the sound of someone, overwrought, slumping across their car horn. (OK I know, but that's what it evoked in this listener).
Meanwhile To Steve Beresford has some hugely fun, Sun Ra-style galumphing and demonstrates that Keeffe is just as happy to contribute judicious chirps and parps as to command the spotlight. The final, title track confirms this, and stands out with its didgeridoo-like sounds at opening and "right here, right now!" exhortations, an emphatic declaration of Keeffe's passion for improvisation.
Right Here, Right Now showcases a highly authoritative voice which can also show tremendous delicacy. A colourful patchwork quilt of an album, this is music that will help keep the circulation moving over the winter, especially for those of us who are energized by improvisation.
Right Here, Right Now was released on 11 June 2021 by Discus Records.
Charlotte Keefe Quartet:  Charlotte Keeffe (trumpet), Moss Freed (guitar), Ashley John Long (double bass), Ben Handysides (drums).
To purchase: Right Here, Right Now
Fiona Mactaggart lives in Edinburgh and writes about music on Scottishjazzspace.co.uk
Last modified: November 1, 2021