As a self confessed fan of jazz vocals and for that matter big band music, when I received the latest album from Fay Claassen and David Linx together with the WDR big Band to review, it went straight to the top of the pile. Claassen and Linx are both vocalists that have a substantial track record and have rightly earned their credentials on the European jazz scene. The WDR Big Band needs no introduction however, the conductor for this project, Magnus Lindgren, I have to admit is new to me.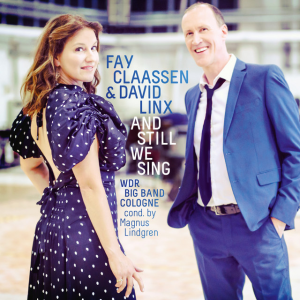 Titled "And Still We Sing" this album is the third production Fay Claassen has released under her name with the WDR Big Band. In the press release accompanying the album, producer Paul Heller provided some context as to how the project took form. "For this album Fay wanted invite her long-time friend and soul brother in singing, the fantastic David Linx. When Fay and I were brainstorming about the repertoire for this new album, three amazing songs of David's immediately came to mind that David and Fay did together some 20 years ago on "One Heart, Three Voices": "Sum It Up", "I Will Build Myself A Nation" and "Along Goes Betty". Another one of my Claassen/Linx favorites is Ivan Paduart's "Waterfalls" that also stems from the "One Heart, Three Voices" period."
Vocalist David Linx has been on my radar for some time now and his most recent solo album titled "Skin in the Game" has been on list of favorite vocal jazz albums ever since it's release in 2020. David is not only a magnificent vocalist but also a great song writer so it was a pleasure to see a number of his songs included on this album. Fay Claassen is one of the Netherlands most prominent jazz vocalists and it's great to see her reputation expanding internationally, I'm sure this album will go a long way in reinforcing this.
The album contains 10 tracks of mostly original material with the inclusion of the Ellington standard "In a Sentimental Mood" and Ivan Lins' song "J'me Prépare" featuring French lyrics written by Linx. While some of this repertoire has been performed in previous projects by the Claassen/Linx duo, the arrangements for the album are new and were written largely by conductor Magnus Lindgren with additional arrangements contributed by the albums producer Paul Heller, Bob Mintzer and Michael Abene.
The album opens with "Sum It Up (Disturbing the Peace)," featuring an amazing unison vocal exposé that leaves the listener in no doubt that these two vocalists possess amazing chops, I particularly enjoyed Linx's rap on this track. "Along Goes Betty' was the second single from the album and is David Linx's tribute to Betty Carter. I was particularly enjoyed the arrangement written by Lindgren with both vocalists trading phrases and the beautiful flute solo played also performed by Lindgren.
Thijs van Leer's song "Tackle and Dabble" is a feature for Linx, who also wrote the lyrics for the piece. His scat chorus is wonderful and rhythmically spot on the mark as is the trumpet solo that follows. Following this is the Ellington classic in an arrangement by Michael Abene. This track shows Claassen at her best as she uses the full range of her voice floating the melody over Abene's engaging re-harmonization of this well trodden standard .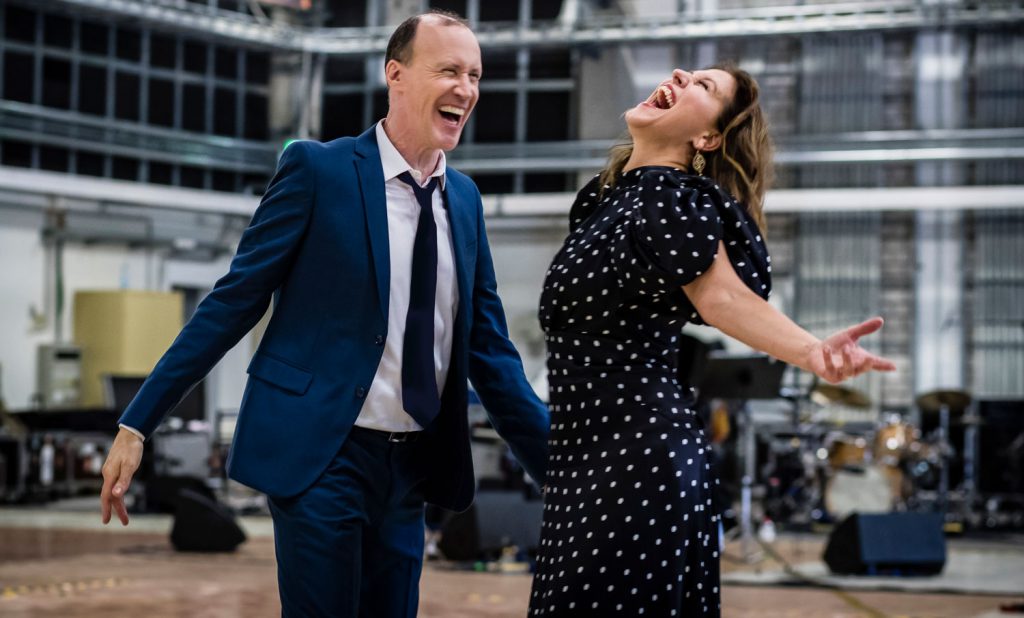 Paul Heller's "Good Times" is, in my mind, one of the most commercial tracks on the album and I don't mean this in any negative way at all. This is a track would be equally at home on commercial radio as it is here on this recording. The arrangement for this tune was done by Bob Mintzer and features strong solo contributions by alto saxophonist Karolina Strassmeyer and Paul Heller on Tenor sax. This song was written especially for Fay and in the press release Fay states "…. as a singer you always have to make a deep connection with what you want to sing; you have to make it completely your own." Well, as you will hear in this performance,  Fay has indeed made it her own.
Possibly one of my favorite tracks on this album is "J'me Prépare". Taken as a ballad, Linx's vocal performance is spectacular demonstrating amazing phrasing and control of his instrument. The album closes with Paul Heller's ballad "Rebirth". I've never understood the idea of closing an album with a ballad however, in this case the track is the perfect ending to the album as it's final crescendo builds to a climax that delivered the same goose bumps as the "Communio – Lux Aeterna" in Mozart's Requiem
This album is a true joy to listen to, Claassen and Linx's voices mesh so well that at times it feels like one vocalist with two voices. The arrangements are top class, as are the performances from the WDR Big Band. I can't recommend this album highly enough.
Line-up:
Fay Claassen, Vocal | David Linx Vocal | The WDR Big Band, conducted by Magnus Lindgren.
Track Listing:
1. Sum It Up (Disturbing The Peace) 5:29 | 2. Along Goes Betty 5:14 | 3. Waterfalls 5:45 | 4. Good Times 5:16 | 5. Tackle And Dabble 5:52 | 6. In A Sentimental Mood 6:27 | 7. Feel The Beat 5:01 | 8. J'me Prépare 6:32 | 9. I Will Build Myself A Nation (Biding My Time) 6:09 | 10. Rebirth 3:43
Release Date: 10 September 2021
Format: CD | Vinyl LP | Digital
Label: Jazzline Records



New Release Spotify Playlist
The Jazz In Europe New Release playlist features tracks from the new releases featured on Jazz In Europe. Updated weekly, this playlist is the perfect place to discover new music from the leading jazz musicians currently on the scene. We hope you enjoy this selection.
The best way to keep up to date with all the latest releases is to follow us on Spotify. Just click the button below.
Last modified: September 10, 2023