There is a certain type of music that, when in the air, evokes a million memories of times gone by.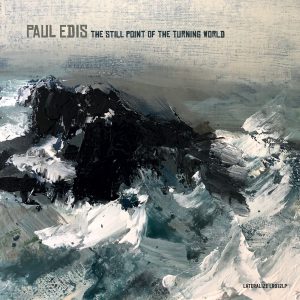 British pianist Paul Edis releases his new aptly titled album "The Still Point of the Turning World" this month on Lateralize Records label (let's all watch out for releases from them by the way, they are getting better and better!).
The release is yet another magical production which sees the light in September 2021.   I am absolutely stunned by this work:  it is both beautiful and dark, colourful and yet so noir.
The first notes of the opening track called "Dig Deep" are certainly evocative of some olden times, but then "Nobody Else by Me" (J Kern) comes on and it is a complete shift in mood, one of the reasons why I love this album.
"The Still Point of the Turning World" is a conceptual work, one that is clearly borne from the deepest of soul journeys.   An album that calms but also makes the listener reflects.  There are so many themes that come to mind, so many layers, and what is good about this creation is that it reveals its sound and lets one ponder, nothing is taken for granted, everything is there to be discovered.
"Start Over" reminds me of those long hot summers I spent in my native Italy, when, as kids, we would just play for hours on end till sunset arrived and we got even more excited when our parents told us we could have a sleepover with our cousins in the golden-lit countryside of my Puglia.
All the songs are written by Edis who also made the arrangements for "Nobody Else but Me" and "Plaisir D'amour".  As well as leading his own sextet, Edis has worked with so many artists, the likes of Nigel Price, Jim Mullen, Julian Siegel, Tony Kofi to name a few.   Edis' writing skills are incredible and I am not surprised to read that Lateralize Records agreed to fund this album earlier this year.  This is so well deserved and a super catch by the label!
I have a favourite track: "Hypnotized".   Simply perfect in its forlorn notes and its mesmerizing spiritual depiction.  Brilliant.
September has come and unveiled some amazing works.   Paul Edis' album is one of them.  Another 5-star work full of originality and sparks.  Do not miss it!
Last modified: September 22, 2021