Collecting Things is the latest release from California based guitarist Mike Scott and forms his third release as a leader and follows Fallen Peach (2011) and Good Place To Be (2000).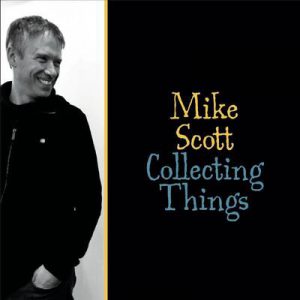 At the age of 18 Mike moved to Southern California to pursue a career in music. After graduating from the University of Southern California with a masters degree in Music Performance Mike has become a mainstay on the Los Angeles jazz scene for over 20 years as well as becoming a regular in the session scene having appeared on many television and film soundtracks, played as a sideman on numerous CD projects, and performed with well-known names in jazz. He is also a founding member of The Los Angeles Jazz Collective, a group of musicians working to build a stronger jazz community in Southern California through education and live performances.
The album includes 10 tracks, nine of which are composed by Scott. The only cover on the album "On a Clear Day" was chosen by Mike for his love of the melody. Couched in 7/4, this track is without doubt one of the albums many highlights.
Joining Mike on this release is Bassist Darek Oles, Drummer Jake Reed and Joe Bagg on Piano and Hammond B3. The music included on this recording ventures across a number of style boundaries from the 6/4 jazz waltz "Sol Minor", the blues infused "Jack's Dilemma", straight swinging tracks such as "Boom Diddle It". Although somewhat eclectic in styles the album is not at all disjointed. While there is plenty of room for all players to step up, it's Scott that is the star of this show, his playing on this album is omnipresent but never overbearing. Joe Bagg seems to be the perfect partner for Scott, it's often a challenge for two harmonic players to provide room for each other without cluttering up the voicings. These two players complement each other beautifully as can be heard on "Dark Bossa".
I really enjoyed this album, excellent sound quality and great performances. Highly recommended.
Line-Up:
Mike Scott, guitar | Joe Bagg, piano & organ | Darek Oles, bass | Jake Reed, drums
Track Listing:
1. Sol Minor Prelude 2:15 | 2. Sol Minor 6:20 | 3. Now And Later 4:34 | 4. Jack's Dilemma 5:47 | 5. Boom Diddle It 5:02 | 6. On A Clear Day 5:35 | 7. Dark Bossa 4:52 | 8. Rondo 4:57 | 9. Coda 4:45 | 10.49 2:39.
Release Date: 22 January 2021
Format: CD | Digital
Label: Self Release


New Release Spotify Playlist
The Jazz In Europe New Release playlist features tracks from the new releases featured on Jazz In Europe. Updated weekly, this playlist is the perfect place to discover new music from the leading jazz musicians currently on the scene. We hope you enjoy this selection.
The best way to keep up to date with all the latest releases is to follow us on Spotify. Just click the button below.
Last modified: February 4, 2021