You have to call Rony Verbiest a multi-instrumentalist. Saxophone and clarinet, accordion, bandoneon and harmonica. These are the instruments with which he sends his messages out into the world. Be kind to each other, appreciate each other and give each other space. That's his message in life. These mottos can also be found in his playing as a musician, especially as a jazz musician.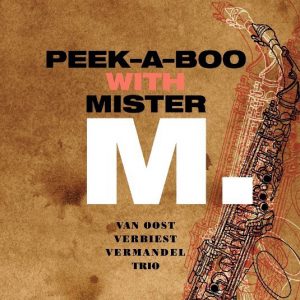 The CD "Peek-A-Boo with Mister M." was created by Rony Verbiest with his friends Mario Vermandel (bass) and Hans van Oost (guitar). He plays baritone saxophone and clarinet himself. The Belgian trio has been around for a long time and this can be heard in the interplay. Arrangements are seemingly played effortlessly. The album features five compositions by Rony Verbiest and one by Hans van Oost ("Peek-A-Boo"). Four traditional ballads complete the pallet.
The first three songs on the CD are by Rony Verbiest and a tribute to Gerry Mulligan ("Gerry"), Ben Webster ("Ben") and bassist Mario Vermandel ("Mister M."). Smooth solos are interspersed with beautiful interplay. The CD is full of music from artists who no longer have to prove themselves. Don't expect a renewal. This is high-level listening music.
"Gerry" is one of the faster songs on the album. Rony Verbiest's baritone sax sounds smooth and relaxed. "Ben" is, of course, a ballad. Ben Webster was a class apart, especially as an interpreter of ballads. "Mister M." is the composer's appreciation for his bassist, who is the engineer in the trio: his music supports guitarist and the reed blower.! But also in solos, Mario Vermandel shows his craftsmanship…
On "Decided" (composition by Rony Verbiest) and "Peek-A-Boo" the reed blower plays the clarinet. On that instrument, too, the musician is distinguished by his own sound. How he always does that… That is the hallmark of a true jazz musician, assisted by two capable compatriots. In short, a CD with just a lot of beautiful music.
Text: Peter Beije
Photos: Hugo Lefèvre
Last modified: September 16, 2020