Last Month ACT Records founder Siggi Loch celebrated his 80th birthday. To mark the occasion ACT published a strictly limited narrative illustrated book "A Life in the Spirit of Jazz" with photos, anecdotes and dedications by his close companions.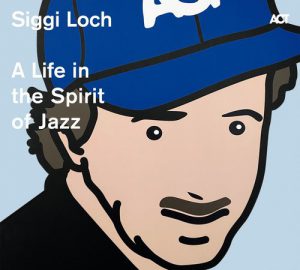 The book published by Edel books, (ISBN 978-3-8419-0705-9) hit the stores on the 6th of August. In addition last week the label released a double CD compiled by Siggi telling the story of a life with and for jazz in a musical way. This album includes music by Sidney Bechet, Klaus Doldinger, Larry Coryell & Philip Catherine, John Lee Hooker, Spencer Davis Group, Nils Landgren, Esbjörn Svensson, Michael Wollny, Bugge Wesseltoft, Vincent Peirani, Iiro Rantala and many more.
Below you will find a sample of what you will find in this book:
Siggi Loch: How I found my way into jazz.
"Music is the language of the soul", said Giovanni Palestrina in the sixteenth century. Today, there are many kinds of music which serve as not much more than wallpaper, but there can also be encounters with it that leave such a profound effect, they stay lodged in the memory forever. There have been several occasions in my life when that has happened, notably in my earliest recollection from childhood. Shortly after the end of the war, I saw a funeral procession from the balcony of our family's bomb-damaged dwelling in Halle (Saale). The body of a Russian general in an open coffin was being borne through the streets of the city to the cemetery, to the sounds of a large military band. The experience was incredibly moving and deeply spiritual.
When I try to recall the music that I heard in the following ten years, I have no firm recollection of any of it at all. My parents' generation was intent on finding its way through the aftermath of the war, with a little help from the superficial pop music of the time. Then, in May 1956 in Hanover, by chance and by gatecrashing, I got into a concert by Sidney Bechet. It was the first time that I was aware of listening to jazz. This music radiated the pure joy of life and a feeling of freedom with no limitations. For me, this was a moment of complete enlightenment.
That encounter with Sidney Bechet and with jazz fundamentally changed my life. And once I had also discovered the story of the founders of the Blue Note label, Alfred Lion and Francis Wolff, in Joachim-Ernst Berendt's "Jazzbuch", I was already starting to dream of having my own jazz label. But at least another thirty years would elapse before it actually happened.
I entered the record industry in 1960 as a sales rep for EMI-Electrola, and after just two years I was offered the opportunity to move to Hamburg to head up Philips' jazz department. There were two events, both of them in 1962, which had a decisive influence on my subsequent career. One was the opening of the Star-Club on Friday, 13 April. I went there out of pure curiosity and heard the Beatles. If the idea from jazz of the freedom of the individual in a group of like-minded people had inspired me, in this instance, it was a pure energy and rebellious spirit of rock'n'roll. I became a regular guest at the Grosse Freiheit and later also made my first recordings at the Star-Club.
The other decisive experience from 1962 was the premiere in September of the new Klaus Doldinger Quartet at the German Amateur Jazz Festival in Düsseldorf, which I had attended as a fan since 1957. This band embodied everything I loved about jazz. Their music was deeply rooted in tradition and the blues, and the irrepressible joy of their playing had an astonishingly immediate and physical effect. In fact, the excitement completely went to my head.
After the concert, I burst into Doldinger's dressing room, and in a sudden and brief fit of megalomania, I went way beyond what I had the authorisation to do and offered him a record deal with Philips. The next morning, sober again and on my way back to Hamburg, I wondered quite how I was going tell my boss what I had done. He was 'not amused', but then I remembered that Stan Getz and Charlie Byrd had just made it to the top of the American pop charts with "Desafinado". So I got the green light for a release featuring Doldinger's band – on the condition that we should put out an album of bossa nova. Despite initial resistance, I was also able to convince the young jazz musician, the result also pleased my boss: Klaus Doldinger became the first German jazz musician to get an exclusive contract and I received the go-ahead to produce a whole album with his band. "Jazz made in Germany" became the first album by a German jazz group to be released worldwide.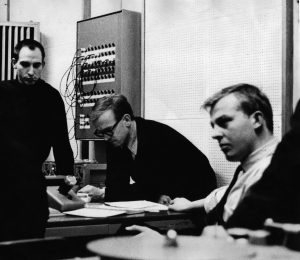 Early on, working with Doldinger, I sought to focus on the interconnections between jazz and the rock music which was the sound of the new youth movement. So, in addition to his jazz group in his own name, there was also the rock band he led under a pseudonym, Paul Nero's Blue Sounds, including his Star-Club debut. In the following years, I produced twenty albums with the Doldinger Quartet and the Paul Nero Band. But the music continued to evolve and we found ourselves looking for a fresh sound concept, a symbiosis of jazz, soul and rock. In December 1969 I went into the studio with Klaus Doldinger for the last time to produce the album "Motherhood – I feel so free". The recording was not a commercial success at first, but it developed into a real cult album and the band became the precursor for Passport, which became the most successful German jazz group internationally.
It would still be another 20 years before I was able to fulfil the dream from my youth and run my own jazz label. In the interim, there were exciting times to be had with major pop labels, first as the head of WEA (Warner) in Germany, and then as president of WEA Europe Inc. in London. With the foundation of ACT in 1992, the most important phase of my musical life began, particularly when seen from the perspective of today. And even though it was always important to me that the label should support itself financially, one thing was and still is very clear to me: an independent jazz label of this kind is not a model for a business, but rather something into which everyone involved puts their heart and soul. Which is why I feel particularly fortunate that I am able to lead my life in the sphere of music, "In the Spirit of Jazz", and together with the ACT family.
Text translated by Sebastian Scotney
Last modified: September 11, 2020