BRUSSELS, JUNE 2020 – A summer without live events:
It's almost unthinkable, but Covid-19 has turned it into a reality. Brussels Jazz Weekend, the free city festival that always takes place in the last weekend of May, usually kicks off the Belgian festival summer. In order to still provide music lovers with a dash of jazz, the organisation is launching a new video series this Friday. In 'Off The Record', jazz aficionado Frederik Goossens highlights 12 must-listen jazz records in English.
Sunday at the Village Vanguard. It's the first record Frederik Goossens zooms in on in 'Off The Record'. A live album, by jazz trio Bill Evans, Scott LaFaro and Paul Motian. "An easy first choice, as this record showcases that you don't necessarily need to leave your house to enjoy live music", says Frederik himself. After this episode, 11 more follow, always passionately presented and accompanied by the best stories. A true pleasure, not just for the die-hard jazz fanatic, but for any music enthusiast.
Living room culture at its best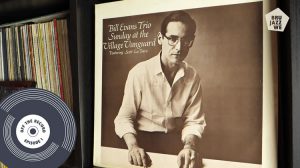 A new 'Off The Record' will appear every Friday on the Facebook page of Brussels Jazz Weekend. With 12 episodes in total, the festival easily covers the entire summer. "After we heard the news that all mass events had to be cancelled up until 31 August, we felt quite hopeless for a while", says Gert Claes, organizer of Brussels Jazz Weekend. "But it soon became clear that we had too much energy left to immediately skip to 2021. That's why all summer, we'll be entertaining jazz and music lovers in general with amazing records, each with its own unique story." Frederik Goossens immediately was on board. "I'll admit that I was a little worried about my English at first (laughs)". But as living room culture is the next best thing this summer, it's the perfect time to bring out some records and enjoy them. Especially now, during the current vinyl revival."
Brussels Jazz Weekend on Facebook
Photo credit: feature image – Steve Harvey
Last modified: June 11, 2020