Tomorrow night, Friday the 13th, Berlin based pianist Tobias Tinker will present his new album titled Still Waters at the Kuhlspot in Weissensee (Berlin).
Tobias Tinker has always seen music as a journey, one that has taken him from his birthplace in the countryside near Toronto, Canada, to the dynamic city of Berlin, Germany, where he now makes his home. The journey between the two has been a remarkable one, crossing innumerable stylistic boundaries and opening countless doors to new expressive spaces. Along the way he has produced a series of strikingly original albums, including the Continuum solo piano series, the Broken Saints soundtrack collection and new this new release with his trio featuring Scott White (Double Bass) and Kay Luebke (Drums, Percussion).
Born into a musical and somewhat eccentric family, Tobias from childhood has preferred the 'road less travelled by'. After high-school, he worked his way across Canada and then backpacked through Asia – a journey that later became the inspiration for the breakthrough CD Passage, a core part of the Broken Saints soundtrack. Finally, feeling the need to solidify his musical education in a more formal setting, he chose McGill University in Montreal, where he studied jazz piano, musicology, electroacoustic composition and recording techniques.
In 2000, Tobias moved to Germany to take a post playing piano, accordion and keyboards for Pomp Duck and Circumstance, a circus/cabaret/dinner-theatre show then affiliated with Cirque du Soleil. After four years and almost 1000 shows with Pomp Duck , Tobias decided to focus on his own music and left the show – but stayed in Berlin. Since then, alongside starting a family, he has formed a number of bands in various styles, played and recorded more solo piano concerts, rejoined the circus world and played over 1000 more shows with Palazzo, Wintergarten, and GOP Theatre, rekindled a long-standing love of electronic music with the Sound Fascination series, and produced an award-winning Cinematic Audiobook with Brooke Burgess, The Cat's Maw. He has also written extensively about the creative process on his blog Fearless Creativity.
In his own words:
"Music is strongly connected to everything else that is important in my life. Music is my spirituality, or at least it is as close as I can get to expressing what I feel about the world spiritually. I tend to put a lot of emphasis on being 'open' in my playing, and on searching for those elusive moments when time stops and I realize I am playing things I have no idea how to play – the lightning rod effect… At the same time, my compositions tend to concern form and structure – while maintaining a focus on finding the 'organic', or (put another way) what the music 'wants to become'. Very often, they bring together combinations of sounds or influences from normally unconnected musical worlds. This process of 'juxtaposing the unexpected' has led me to almost everything I've been lucky enough to learn and experience in this strange and fascinating journey of music and life."
Tobias' Stillness3 is a piano trio specializing in meditative, contemplative "ambient jazz" and the new album, Still Waters features the same mix of spacious, minimalist compositions and improvisations that formed their debut from 2007.
Concert Details:
Date: Friday 13 December 2019
Time: 8:30pm
Venue: Kühlspot Social Club – 74-79 Lehderstrasse, 13086 Berlin, Germany
More information can be found here.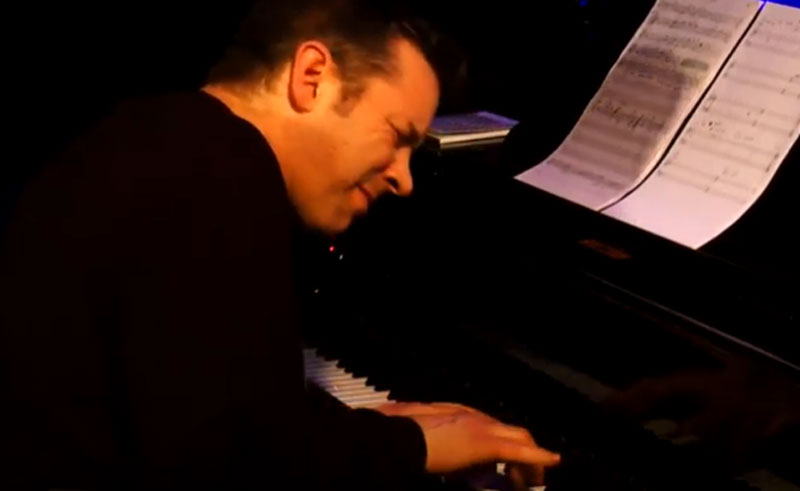 Last modified: December 12, 2019