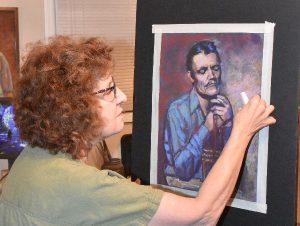 I am a great lover of Jazz art and the work of the soon to be known and appreciated painter Sharon Matisoff.  Her love of art has been a lifetime passion, and now that Sharon has recently retired She can fully focus her energies into her artistic expression. Her latest painting is of the iconic jazz trumpet player and singer Chet Baker.  This painting and a selection of her growing 'Jazz Series' are showcased below, demonstrating Sharon's ability to capture the true nature of Jazz expression and individual character that is synonymous with the musician.
As Sharon continues to paint Jazz musicians, I recommend you read Sharon's artist biography which will give you an appreciation of her talent. As well as view the other pages of her artist website which includes all her contact details. Sharon has a number of options available for purchase and potential commission work. Good Jazz art is both rewarding and a good investment as Jazz music continues its popular revival. Click each image to enlarge the gallery below.
BIO: (abridged)
Sharon Matisoff is a Frankfort, Kentucky award-winning representational artist who paints in an Impressionist/Realism style. Although largely self-taught, she studied head painting at Art Center College of Design under the late Richard Bunkall. She also has taken workshops with some of the nation's top figurative painters including Chinese Master Artist, Shuqiao Zhou, who introduced her to the Russian Realist style, Plein air figurative painting with John Michael Carter, oil painting with Thomas Coates, and figurative painting with Scott Burdick and Daniel Gerhartz.
She has spent a lifetime painting a variety of subjects with a focus on portraiture and figurative work. Music plays a very important role in her life, and she has spent many years paintings of musicians in every genre. Recently, she has begun working on a series of paintings specifically of jazz musicians. Pastel is her primary medium, but she also paints in oil.
Sharon has won numerous awards for her work in local, regional, and national competitions (see enclosed Biography with a list of awards). Sharon is a Signature member of Chicago Pastel Painters, an Associate Member of OPA, an Honorary Member of the New Jersey Equine Artists Association, and an artist member of the Portrait Society of Atlanta.
JazzInEurope hopes to bring you more examples of Sharon's fine Jazz art in 2020. For more information and contact details – please go to her website: Sharon Matisoff
Last modified: December 23, 2019