Editor's note: Bill Evans jazz music continues to enrich my life. The complex infusion of his musical expression of life's grief, grace, and gratitude is to hear his personal truth and the emotions it evokes within me – Nigel J.
Book Review:
Laurie Verchomin, with a song written and named after her by Bill Evans simple titled 'Laurie' perhaps, gives you some insight into how special he felt she was to him in the latter years of his life. On Bill Evans final day on Earth, It was Laurie that kept her tender gaze on Bill, comforting him with Joe LaBarbera ( Bill's drum player) driving Bill's Chevrolet Monte Carlo as they rushed him to hospital in the back of the car. Sadly nobody could save him.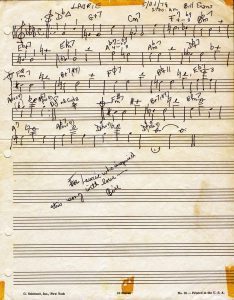 I for one am fascinated by the interplay of life. This book is about a complex, exciting, and finally the gut-wrenching relationship between two people that felt something very special for each other, regardless of their age difference. Bill being nearly 50 when they meet and Laurie being 22 years young.
They quickly became lovers and very close. Did the age gap between them make a difference? Perhaps, I get the sense that the grief of Bill's death and the traumatic moments leading up to his passing took a long time to process and like most of us, was nothing like we expect, even if we know its arrival is close.
Bill Evans was driving himself evermore towards death's door due to his adult substance uses of hard liquor, heroin and lastly cocaine which was so easily accessible. In the final years of his life, Bill also had to contend with the suicidal death of his older brother, and his attempt to process his deep grief.
At 22 years old Laurie had already begun her big adventure, exploring the free love of the 1970s and all that North American society had on offer. Like many, the pull of the Big Apple (New York) was irresistible and I still find it amazing to reflect as did Laurie, that we could just bunk down on someone's couch until we'd exhausted our stay! Laurie returns to her Canadian hometown of Edmonton, feeling she'd perhaps failed to escape small-town girl and boy next door syndrome.
As Laurie continues her searching, she goes on to share and draw you into a period of time when mixing with the likes of Dennis Hopper and other avant-garde characters on the Vancouver, BC scene, and her return to Edmonton. This is where she meets Bill for the first time, and her initial impression of him, and his of her! Laurie gives you an honest no holds barred account of this period of her life giving you a sense of what Bill found attractive in Laurie. 
You're then taken into this fascinating back story that would have never been made public if it wasn't for Laurie's choice to share her story. You get an appreciation of Bill the man, and his personal idiosyncrasy both dysfunctional, yet extremely creative and complimentary to his own feelings and belief in what he called the 'Universal Mind.' The insight's she shares gives you the awareness that these two souls experience a real feeling of unity. Although, interestingly the allure of readily accessible drugs and its continuous use takes a toll that causes paranoia in Bill to the extent, that he is convinced the FBI is watching him and bugging his Fort Lee apartment! Laurie is a counterbalance for him which brings him a deep level of comfort and solace to his inner pain. Supporting him to re-access his very special kenshō, bringing a richness and supreme quality to his music. Alas, Bill is living on a knife's edge, and Laurie's own internal compass knows it's only a matter of time before his physical flame is extinguished.
Laurie is very open and her transition into an acceptance that Bill is still alive, just on another plane of universal existence, helps the reader understand her continuing deep appreciative love for everything Bill Evans and his memory. Whether you're a fully fledged Bill Evans aficionado or want to delve deeper into his life this book should be on your bookshelf.  THE BIG LOVE Life & Death with Bill Evans can be purchased on Amazon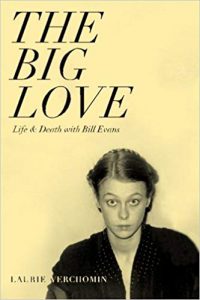 Photo Credits: Francine Tomlin in 1980
YT Video: robrijn
Footnote: This year Laurie's book is being translated into French and published in Paris by Jazz & Cie. You can also get a boxset of some privately recorded and previously unheard music of Bill's in the form of vinyl for this edition which will be released in September 2019. You will also be able to buy the book in Italian, the translation being published by Minimum Fax in Rome and a Ukrainian translation being published by The Old Lion press in Lviv. Laurie Verchomin is hoping to do a small tour of these 3 countries next summer during the Jazz festival season, to collaborate with various pianists to present her writing with Bill's music.
Last modified: January 20, 2021