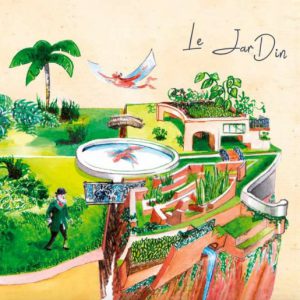 In his album 'Le Jardin', French saxophonist Julien Dubois describes himself as a 'gardener of sounds'. Having planted his musical seed, he carefully nurtures and tends his 'garden of sounds', encouraging each and every musical plant to flourish and grow into its maximum potential. He takes this metaphor further, as we're plunged into his musical vision; 'Le Jardin' has the listener digging right down to Julien's musical roots, witnessing the wondrous growth of chords and rhythms, eventually culminating in reaping the fruits of his labour.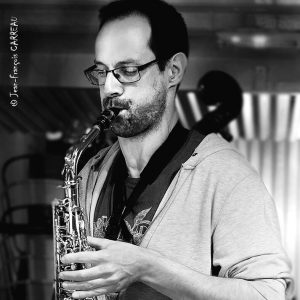 Created by Julien Dubois in 2016 after an artistic residence at the prestigious Bordeaux Conservatoire (where notably Julien is also head of Jazz and Popular Music) 'Le Jardin' has been played at over thirty performances over France and Europe. Exploring the rhythmic vocabulary of Coleman and Lehman, 'Le Jardin' mixes rock, electronic and jazz influences to make a distinctly fresh sound. The organic, unique timbre employed by Julien's expressive saxophone playing, juxtaposed against synthesiser and vocals provides an energetic, exciting take on the standard rhythm section backing. The sound is at once otherworldly, modern, cutting edge yet rooted in tradition. It reminds me in some ways of New York; the juxtaposition of modern skyscrapers against old churches and cathedrals. You immediately get this sense of something new having been grown out of a connection to the past. The explosive energy that comes out of this process is part of the album's irresistible charm.
'Le Jardin' features Sylvain Rifflet on tenor saxophone, Simon Chivallon on Fender Rhodes/synth, Ouriel Ellert on electric bass, Gaetan Diaz on drums and Elise Caron on vocals, all influential artists on the French contemporary jazz scene.
A delight to the senses, 'Le Jardin' is a heady mix of spoken and sung text, rhythmic groove, odd metre, angular, jaunty melodies with a good old dose of rock fusion to balance out its otherwise modern jazz sentiments. Intelligently and expertly crafted, the listener is always left guessing what will come next, whilst being simultaneously bowled over by the virtuosity of all band members. The ideas seem to grow out of nowhere bringing with them endless scope for possibility and growth. The perfect autumnal treat for every musical gardener!
Artists Facebook: Julien Dubois
Album purchase link: 'Le Jardin'
Senior writer: Paola Vera
Photo Credits: Jean-Francis Carreau – and (c) info: all rights go to original recording artist/owner/photographer(s).
YT Video: Julien Dubois
Last modified: October 28, 2019