Boarder less music from top European musicians comes together at the Sound of Europe festival in Breda in the Netherlands on 11 & 12 October. After a successful first edition at the Chassé Theater last year, Sound of Europe will move to the Belcrum on the fringe of Breda that is quickly emerging as a cultural hotspot.
This year the Sound of Europe presents artists from France, Germany, Belgium and the Netherlands for two evenings of cutting edge jazz in Podium Bloos (Friday evening 11 October) and Electron (Saturday evening 12 October).
Sound of Europe is organized by Beaux Jazz, a standard-bearer since 1996 for the development and professionalization of jazz music in the Breda region. Founder and programmer Frank van der Kooij stated "Sound of Europe focuses on artists who take an exciting path between jazz and classical. That is a development that we find extremely fascinating; not limited to specific genres. It is music with an expressiveness that captivates both the experienced and beginning listeners. "
The first evening pianist Franz von Chossy (DE) will perform with his trio and accordionist, vocalist and composer Vincent Peirani (FR) performs with a "chamber rock music orchestra" providing a bombastic mix between rock and classical. Harmonica player Hermine Deurloo (NL) together with jazz guitarist Maarten van der Grinten and bass player Reyer Zwart perform a mix of their own compositions, Americana and songs from various countries ranging from Africa to Brazil and using guitar effects and loops to strengthen the association with film music.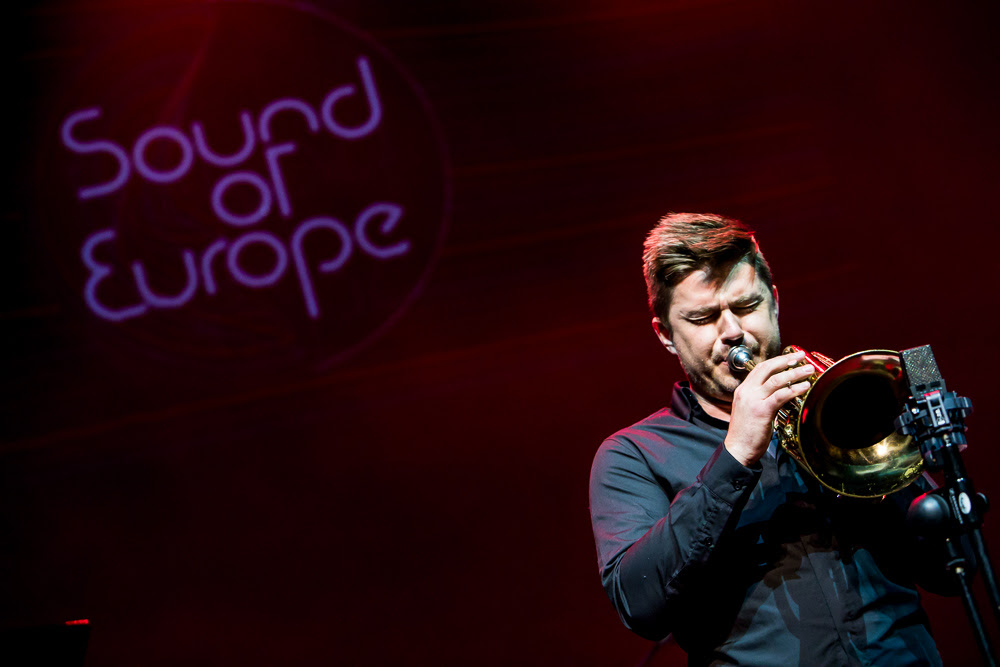 On Saturday evening, baritone saxophonist and composer Tini Thomsen (DE) plays a program energetic jazz-rock, which she plays throughout Europe with her bands MaxSax and Q4. After performances with The Temptations, Metropole Orchestra, Glenn Miller Orchestra and New Cool Collective, among others, she now can be seen in Electron. In addition, Kleptomatics (BE) will play their 'Brass & Jazz' program featuring six wind instruments and drums in a set that provides catchy grooves and surprising arrangements. The evening then continues with a DJ in the cafe of Electron.
An additional Beyond Borders program on Saturday presents young music talent such as Contours Group, the first acoustic jazz quintet by saxophonist and composer Paul van de Calseijde (NL) and trombonist and composer Nabou Claerhout (BE) together with trumpet player Thijs van den Geest, pianist Manuel Wouthuysen, bass player Freek Mulder and drummer Jens Meyer.
Festival Line-Up:
Franz Von Chossy
11 October 2019 18:00-22:00 | Podium Bloos
Hermine Deurloo – Maarten Van Der Grinten – Reyer Zwart
11 October 2019 18:00-22:00 | Podium Bloos
Vincent Peirani
11 October 2019 18:00-22:00 | Podium Bloos
Paul Van De Calseijde's Contours Group Jong Talent (Beyond Borders-Program)
12 October 2019 18:00-22:00 | Electron
Nabou Claerhout Jong Talent (Beyond Borders-Program)
12 October 2019 18:00 | Electron
Tini Thomsen
12 October 2019 18:30 – 22:00 | Electron
Kleptomatics
12 October 2019 18:30 – 22:00 | Electron
More Information can be found at the Beaux Jazz website.
For tickets visit the Podium Bloos website.
Last modified: October 4, 2019