The Music's on Me is the latest album from Pianist/Vocalist Wendy Kirkland and follows her successful début Piano Divas album released in early 2017. The album contains a blend of original compositions combined with arrangements of instrumentals from Wes Montgomery, Michel Petrucciani, Don Grolnick and Russell Malone with lyrics added by Wendy herself.
With her previous release being a homage to the female performers that influenced her musical development, this current album is less thematic in nature yet stylistically similar. In a recent interview published on London Jazz News Wendy said: "With Piano Divas I was focusing on singer-pianists, whereas this time I was really looking to create as much variety as possible…" I would have to agree with this, The Music's on Me provides the listener with a wide palette of feels, ranging from the medium swing of the title track to the more adventurous rendition of Don Grolnick's "Pools".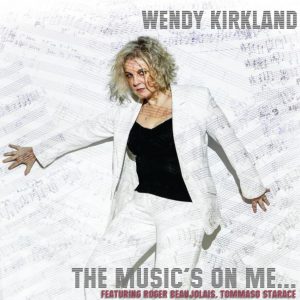 The album features Wendy's regular working band comprising Pat Sprakes (guitar), Paul Jefferies (double bass) and Steve Wyndham (drums) along with special guests Roger Beaujolais (vibraphone) and Tommaso Starace (saxophone) both contributing. Since the release of Piano Divas, the band has been holding down a rigorous touring schedule, and this can be heard in the interplay the group have developed. Sprakes, Jefferies and Wyndham form a formidable rhythm section providing a strong base for Kirkland to weave her vocalese. Vibraphonist Roger Beaujolais makes an appearance on "Pools" with an impressive unisono version of the melody together with Wendy before moving into a well-crafted solo. Italian Saxophonist Tommaso Starace appears on the "September Second" and the closing track "Travelling Home" providing strong solos on both tunes and in particular the soprano solo on the latter.
My personal highlights on the album are "Pools" and the closing track "Travelling Home", Both tracks display a slightly more modern flavour. I particularly enjoyed Pat Sprakes guitar work with wonderful solos on "O Gato Molhado" and "Sunday In New York."
Wendy stated in a recent interview here on Jazz In Europe that she considers herself a pianist that sings and this is evident in the strong piano work throughout the album. This in no way detracts from her vocal ability and in fact, it is the instrumental nature of her vocals that make it so attractive. When listening to this album I keep coming back to Blossom Dearie and yet, while obviously influenced by Dearie it's clear that Wendy has developed her take on it.
I enjoyed this album a great deal. Highly recommended.
Line-Up
Pat Sprakes, guitar | Paul Jefferies, double bass | Steve Wyndham, drums | Roger Beaujolais, Vibraphone | Tommaso Starace, Saxophone
Track Listing.
1. The Music's on Me | 2. Haven't we met | 3. Pools | 4. Sandalia Dela | 5. Playground | 6. Nothing like you | 7. September Second | 8. West Coast Blues | 9. Gato Molhado | 10. Sunday In New York | 11. Travelling Home.
Release Date: 19 July 2019
Format: CD | Digital
Label: Independent
More Information can be found here.
Last modified: July 24, 2019