Barrett Martin's new album 'Songs of the Firebird' sends us on a spiritual journey around the world through twenty wonderful instrumental tracks, each with its own distinct narrative. The album is explicitly linked to his book 'The Way of the Zen Cowboy: Fireside stories from a Globetrotting Rhythmatist' which gives us a fascinating insight to the evolution of the album and the depth behind each track.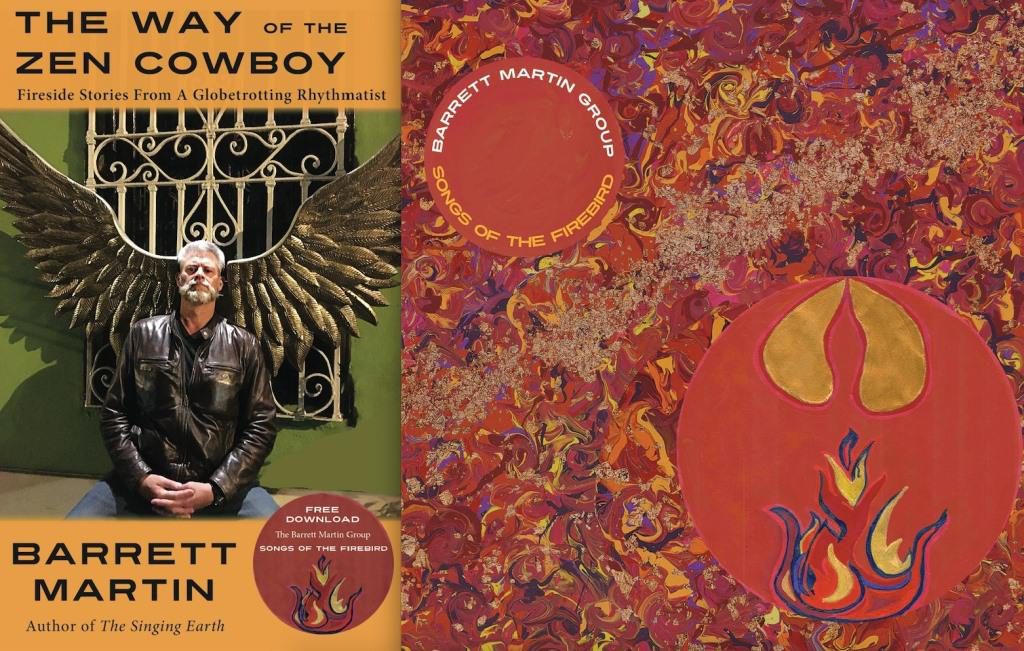 Barrett Martin's exploration and dedication to Soto Zen has influenced his music significantly. Soto Zen (the largest sect of Japanese Buddhism) promotes the five principles of 'green life' and it is these principles that you can hear in the music and I feel it is important to mention them here, to understand – and appreciate Barrett Martins work.
Protect the green of the earth: The earth is the home of life
Do not waste water: Water is the source of life
Do not waste fuel or electricity: they are the energy of life
Keep the air clean: it is the plaza of life
Co-exist with nature: it is the embodiment of Buddha
The album is beautifully crafted with excellent musicianship throughout with his group of musicians, all from Seattle, along with special guests Wayne Horvitz, Peter Buck and Kim Thayil. There is much more variety in this album compared to his last, bringing an inspiring array of grooves to the table. One of the many things I love about his work is the journey it takes me on. It's not an album you just put on and sit back and listen. You feel like you are travelling with him, inspired by his travels across the world and learning along the way. A connection that stays with you.
Peruvian Dance, inspired by dancers in Peru in their colourful costumes and playing Peruvian percussion instruments, is a great track which has a definite nod to Leonard Bernstein's West Side Story – the texture, the groove, the instrumentation develops a fantastic dialogue. Love it. The Greatest Smile in the City is the story behind how Barrett met his wife and how her smile captured him. A smile is an immensely powerful thing when it is genuine and true and this track emulates the emotions beautifully. Down In the Streets featuring Wayne Horvitz is a great track with a cool, funky 'Streets of San Francisco' kind of vibe but with a strong underlying message. Barrett uses a James Brown-inspired beat and explains that this track is his homage to the music of the Civil right Era. It works – there is power and fight in the groove.
Overall, with twenty tracks in this double album, it is really quite beautiful in many ways and well worth taking the time to explore. As with his previous albums, his books work in partnership with his music and it adds an essential layer to truly understanding the man and the music. Highly recommend.
Barrett Martin: Drums, Piano, Vibes, Marimba and Percussion
Lisette Garcia: Latin Percussion
Thione Diop: African Drums
Evan Flory-Barnes and Dune Butler: Upright Bass
Andy Coe: Guitar
Ryan Burns: Piano and keyboards
Dave Carter: Trumpet
Hans Teuber and Curtis Macdonald: Saxophone
Artist website and purchase link: BarretMartin
Instagram: Barret Martin
Senior writer: Fiona Ross
Photo credits – courtesy of artist Facebook page.
YT Video: BarrettMartinVEVO
Last modified: July 8, 2019