It's not a common occurrence that I receive an album that provokes an initial reaction of WOW! Recently this happened when a copy of Paul Jost's latest album "Simple Life" landed on my desk. Although I had heard the name Paul Jost a number of times, I have to admit, I was not that familiar with his work. After hearing Simple Life I've come to realize that I have been missing possibly one of the best male jazz vocalists on the scene at the moment.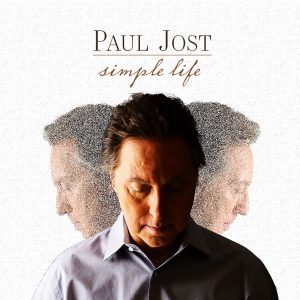 This album is Jost's second as a leader following up on his 2015 début, "Breaking Through". The line-up for the new album features Jost's working quartet along with guest artist Joe Locke. This marks a departure from "Breaking Through" that was recorded using session musicians. In an interview with Nigel J. Farmer on this platform, Jost pointed out that the decision to record with the band was a conscious one "One of the things I love about this quartet is they allow me to talk about what I had in mind with an arrangement; The feelings and journey that I was thinking about with the character. It helps so much with interpretation but only because they're willing to invest in the music that way…so we tell the story together."
Simple Life presents a set of thirteen tracks comprising of original compositions, jazz standards and re-workings of pop and rock classics. The album opens with the Lennon and McCartney's "Blackbird" re-worked by Jost into a swinging statement that leaves no doubt that we're dealing with a musician of substance. The melody is given an up-tempo treatment integrating a number of extra motifs that return throughout the arrangement.
Jost also takes his hand to a number of standards including Ellington's "Caravan, Ray Noble's "The Touch of Your Lips" and Sonny Rollins blues "No Moe". While the arrangements of these tracks may be less adventurous than others on the album they do provide suitable cannon fodder for Jost's superb scatting ability. His scat choruses are one of the aspects of Jost's artistry that truly sets this album head and shoulders above the majority of vocal recordings that cross my desk. His sense of melody, timing and the manner in which he develops a motive are far more reminiscent of a horn player than a vocalist. It's a joy to hear.
Personally, the two stand out tracks on the album come from the pop world. First up is the Fred Neil classic made famous as the theme from the 1969 film Midnight Cowboy, "Everybody's Talkin' at me". I honestly don't know where to start with this, words can't describe the emotion Jost is able to conjure up with this arrangement. In the promo video for this track, Paul said the inspiration for this arrangement is drawn from the misdiagnoses of Mark Murphy with Altzeimers. With this track, Paul imagines what it would be like to "become aware of your own unravelling." The arrangement starts by referencing Murphy's "Stolen Moments" motive as he almost speaks the lyrics before taking us through a journey of emotions ranging from serenity to chaos and back.
The other personal stand out track on the album is Bob Dylan's "Girl From The North Country". Jost takes this as a straight medium ballad, however, while the arrangement is rather straight forward it's the vocal performance that set's this track apart doing far more justice to the lyric than Dylan ever could.
As mentioned above, the album features Jost's regular quartet comprising pianist Jim Ridl, bassist Dean Johnson and Tim Horner on drums. You can feel simpatico between each of these musicians in almost every note on the album, omnipresent but never obtrusive. Throughout the album, these three show themselves to be the perfect foil for Jost providing exactly the right chord or accent at exactly the right time, something only possible to this degree after many nights sharing the stage.
Vibraphonist Joe Locke makes a guest appearance on the first 4 tracks. Jost has performed a number of times guesting with Joe's quartet. Additionally, Jim Ridl is the pianist in Joe's Quartet so it comes as no surprise that Joe merges seamlessly into the ensemble while still retaining his own voice adding an extra dimension to the tracks he appears on.
In Paul's biography the writer described him as a "passionate storyteller", personally I would go further and describe him as a modern-day oracle of jazz vocals. The sonic quality of this recording is top notch as is the presentation of the packaging. Combine this with the quality of the performances and you have an album that deserves to be in every jazz connoisseurs collection. Highly recommended.
Rating of five stars: 

Track Listing:
Blackbird; If I Only Had A Brain; Caravan; Everybody's Talkin'; Give Me the Simple Life; The Touch of Your Lips; Folks Who Live on the Hill; With A Little Help from My Friends; No Moe; Girl from the North Country; Bela Tristeza; Shenandoah; Livin' in the Wrong Time.
Line-Up:
Paul Jost: Vocal, Harmonica, Guitar; Jim Ridl: Acoustic Piano, Synth; Dean Johnson: Acoustic Bass; Tim Horner: Drums; Joe Locke: Vibraphone (1,2,3,4).
Release Date: March 29, 2019
Format: CD | Digital
Label: PJ Music
Simple Life was released in the USA on the 29th of March with the Physical release in Europe set for 15 November. The Album is now available on all the major platforms, you can buy or stream the album here.
More Information about Paul Jost can be found on his website.
Last modified: May 2, 2019