The audience whoop and clap loudly as Michael Valeanu's guitar riffs and Aimee hums her way into the first song, another whoop as they recognise the tune 'It's A Good Day', Dylan Shamat on bass and Dani Danor on drums start up and the band are in full swing. The room is dark, but the stage lights up the faces of the audience, quiet now, engaged as the rhythm pulses, heads nodding, feet tapping, glasses chinking…as Aimee, resplendent in red (as I see her on the cover) fizzes through the first song. I'm not there by the way, but 'live' albums always have this effect on me, I feel like I am. I'm so glad in the mixing process they decided to keep in the audience cheers and shouts and Aimee's engaging patter. This is what being 'live' is all about after all and it really feels like you're part of the night and a very special night at that.
It's a great song to start the set with here at New York City's Le Poisson Rouge. Aimee's vocals are strong, confident and expressive and this is a tight band, Shamat on bass and Danor on drums form a solid rhythm section, Valeanu's guitar solo displays an easy brilliance. There's a little gypsy vibe with this track and even a cheeky little Nashville quote on the guitar from Moignard and I'm sure I can see them smiling! This band are confident and cool. They're having fun and lots of it. It's a lively, vibrant opener and the audience love it!
Of course, it's a highly appropriate opener for other reasons too. Cyrille Aimee hails from Samois-Sur-Seine in France, where gypsy caravans gather for the annual Django Reinhardt Festival. Aimee would sneak out of her bedroom to join them, discovering the joys of Gypsy Jazz, learning about their music-filled, nomadic way of life and it was here where she first began to sing with the musicians as they jammed into the night.
Aimee moved to Brooklyn, New York to study jazz at SUNY Purchase College. She soon made a name for herself on the jazz scene in the clubs, winning The Montreux Jazz Festival Vocal Competition in 2007 and The Sarah Vaughn International Jazz Vocal Competition which led to her major label debut with 'It's A Good Day' on Mack Avenue.
The 10 songs in the setlist draw on Aimee's strengths from her two studio recordings but also telling the story so far in her musical and creative journey. 'Live Alone and Like It' she tells us was performed as part of a tribute to Stephen Sondheim by the Wynton Marsalis Orchestra and Aimee was asked to perform with another great female singer, the wonderful Bernadette Peters. This version has a great, atmospheric, bluesy vibe, and ends with a scat happy jam, between Aimee and the band.
There are two originals in the set, my favourite is 'Nuit Blanche' written by Aimee and sung in French. It begins with voice and bass, going into a pleasing rhythmic, body swaying, funky vibe (yep, I can see them, they're re-filling glasses, having a great time). Aimee heads into the second chorus of scat. She weaves in and out with rhythmic expertise, leading the building musical tension with her vocals. Aimee's scat is a real highlight throughout the set, she is incredibly rhythmic and inventive and her scat vocals are natural, completely un-stylised and unique to her. It's exciting and fresh. The audience agrees!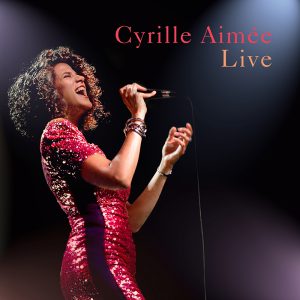 Aimee's 'Si Tu Ma Mere', Sidney Becket, translating to 'If You See My Mother', is a different vibe altogether. A wistful, mesmeric, expressive performance with a childlike fragility. Perhaps thinking of her own family some miles away? Yet there is also a deep strength in singing a Lullaby to one's own Mother, a tenderness, a warmth and beauty that Aimee is unafraid to explore. She's wide open, she lets us in and it's part of her natural charm that perhaps comes across more in a 'live' album.
In fact, I'd say that Aimee is a true vocal explorer, not only with the vibes and arrangements of songs but also exploring the textures, nuances, subtle and complex sounds of her own voice. I love to hear singers versions of songs that are not in the standard repertoire and Aimee's Michael Jackson medley definitely doesn't disappoint. Using vocal sounds to replicate the beginning of 'Wanna Be Startin' Something', she layers up the voice, looping sounds and harmony. Using her voice as the diverse and intricate instrument that it is. It's effective and thrilling (no pun intended)! I particularly enjoyed the audience participation on 'Yeah, Yeah,' and I was with them.
Aimee's interpretive skills shine throughout this album, the arrangements have her own unique stamp and personality on them. Thelonious Monk's, 'It's Over Now', has a unique flavour, Dylan Shamat's bass set's the scene with an inspired intro, Aimee sings over dream-like guitar harmonics by Moignard and Valeanu and Moignard displays some exceptional guitar over a cool, funky vibe.
'It's not over now…' Aimee jokes with the audience and although this is an end of an era for Aimee and the close to this particular chapter with these fantastically talented musicians, this free-spirited singer has recently re-located yet again, to New Orleans and it's easy to get not just a little excited at the prospect of the potential creations and collaborations this may bring.
The set ends with 'Each Day', a beautiful melodic tune written by Aimee and Valeanu and the audience stand, whooping, cheering, clapping, eyes bright. (I can see this very clearly)!
It's been a great night at New York's Le Poisson Rouge and as I step out into the bracing Yorkshire air I'm sad it's over but excited about what's next for Aimee!
Track Listing:
It's A Good Day
Nuit Blanche
Si Tu Voix Ma Mere
Live Alone and Like It
Wanna Be Startin' Somethin'
Off The Wall
Day By Day
It's Over Now (Well, You Needn't)
Three Little Words
Each Day
CD Review: Beverley Beirne
Artist website: Cyrille Aimee
Cyrille Aimee LIVE is Released on Mack Avenue
Last modified: November 6, 2018