Grammy® nominated vocalist Cyrille Aimèe has been soaking up diverse, musical communities since an early age. Born in Samois-sur-Seine, in Fontainebleau, France – the same village where Django Reinhardt spent his final years and in which the annual festival carrying his name takes place – the Gypsy Jazz way of life is clearly in Cyrille's heart and soul. It was so incredibly refreshing to discuss her eclectic musical experiences and how they have influenced her music and way of life.
Cyrille has explored and experienced many places, having lived in France, New York, the Dominican Republic and now New Orleans. An incredible musical map of an exciting range of distinctive musical energies and characters. I asked Cyrille firstly about her upbringing in France and the impact that Gypsy Music had on her.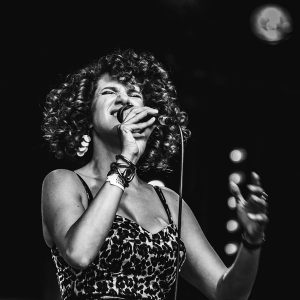 CA: What I fell in love with about the gypsies is how "in the moment" they are. Not just musically but culturally as well. That's the way they live their life. Their house is on wheels, so they can just take off at any moment. They don't look further ahead than a week and they really live each day like it was their last and that's very much translated into their music. It's full of improvisation and really comes from the heart and it changes depending on what's happening around them. I think that's what I took the most from the Gypsies, being in the moment when I'm on stage and being open to anything. It's just all fun.
Speaking to Cyrille, you can absolutely feel the energy and excitement in her voice and the openness to soak up new experiences. It was infectious and exhilarating. I asked her if this is why she has moved around a lot.
CA: I go to a place to soak up all the energy and get inspiration from it. Then, when I feel attracted to a different place – because of the energy and inspiration there – I go there and check it out!
Cyrille ended up living in New York for over ten years, having moved there when she had just started singing and was interested in studying formally.
CA: In my mind I wanted to be in New York because I was just falling in love with the American songbook, the standards, and I just wanted to study it. It was grand mutiny, because, as you know, I came from a Gypsy background in France! So, I came to study and then I stayed and ended up gigging all over town. I learnt so much! How to be a professional and also just how to be in the Jazz world, especially as a woman and as a singer. I kind of had to learn how to be one of the cats, you know? That's the best way I can think of to put it. It's a very male dominated world and so, you just have to prove yourself twice as much if you're a woman, thrice as much if you're a singer. I learnt how to do that.
When I first arrived in New York, I'd go to jam sessions and things like that. It was very important to be in the moment. If you go there hoping that it's going to go the way you think it's going to go, you'll be very disappointed!
While in New York, having very clearly made an impression, Cyrille was cast to appear in a Stephen Sondheim tribute concert to be performed at the New York City Centre. This experience opened her eyes to a new world – Musical Theatre.
CA: Their [the producers'] idea was to do a tribute event, played by the Wynton Marsalis Orchestra. It was going to be Sondheim with a Jazz big band. Their goal was to get two female singers and two male singers – both Jazz and Broadway. They asked the Lincoln Centre, who were putting together the Jazz portion of the event, to select a few Jazz singers and then have Sondheim pick his favourite. So, Sondheim picked me!
Now, I need to explain a few things here. For those of you who are not familiar with the Musical Theatre world, Stephen Sondheim is a legend. He is considered one of the most important composers and lyricists in Musical Theatre history and has won Tony Awards, Grammy Awards, a Pulitzer Prize, an Oscar – and the list goes on. His work is a staple part of Musical Theatre study and is highly regarded. You could say he is the Godfather of Musical Theatre. If you like, the Musical Theatre equivalent to our Jazz legends – Duke Ellington with a bit of Miles Davis.
For anyone in theatre, to have been selected by Stephen Sondheim himself would be an absolute lifelong dream in itself – a moment you have always dreamed of – but to perform alongside Bernadette Peters, a Goddess of Musical Theatre and in fact Sondheim's muse, was again a lifelong wish come true. To try and put all this into a Jazz context would be a bit like Duke Ellington selecting you to sing with Ella Fitzgerald. The big difference here being that Cyrille knew nothing about Sondheim or the world of Musical Theatre…
CA: I was thrown into this world that I didn't know. I didn't even really know who Bernadette Peters was, but I realized very quickly that she was a legend. I didn't just learn about it, I felt it! Working with her was incredible. Her professionalism, her power, her force. She just gives everything, every single time.
It's a very different world to the world I came from – Jazz. In Jazz we rehearse one day and then go on tour for two weeks. On Broadway you rehearse two weeks for a one-day show! Having so many rehearsals and seeing how she was into it, every single time…I was like… really? Do we have to rehearse this again? Ha. It's such a different world. The performers just listen to the director and do what the director says. I'm used to being the director and I didn't know the ethics of this world. Sometimes I would say, I think this would be better, and people would look at me like I was crazy…I learned it was really not good to do that! I wish I hadn't done it, but, I didn't know any better.
In so many ways the world of Jazz and Musical Theatre couldn't be further apart. The freedom and collective feel of Jazz is absolutely not allowed in Musical Theatre. The director is basically your Lord (and yes, Lord not Lady. Sadly there are very few female directors in the theatre) and you must do everything that you are told or all hell will rain down on you. You don't suggest things, or question directions and there is certainly never any improvisation. If you think I am exaggerating, just speak to anyone who works in the West End or Broadway. I cannot begin to explain how incredibly brave Cyrille was being.
This experience clearly had a significant impact on Cyrille as her latest album is called 'Move On: A Sondheim Adventure'. We talked about her process of turning Sondheim's songs into her own.
CA: When I did the show I fell in love with his music and his lyrics, but I didn't know anything about that world. I didn't know that when you sing this music you are supposed to read the ink and sing it exactly that way and that it's blasphemous to change it! So with this album, I really took every single liberty that I possibly could. I didn't want to know the history. I didn't know who the characters were and I didn't want to know where these songs came from or what the context was. I wanted to make them my own. I really wanted them to be my story. I'm glad I did it this way because I think I would not have permitted myself that many liberties, if I had been concerned about changing this and that and hoping he was going to like it or that maybe the Broadway world were going to scream "blasphemy" at me. I didn't care because I didn't want to know.


Jazz In Europe Magazine – Spring 2020 Edition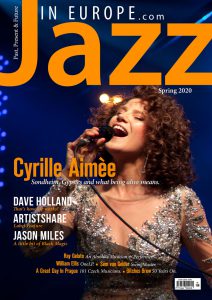 This article is an abridged version of the full interview that appears in the Spring 2020 edition of the Jazz In Europe print magazine.
Also included in this edition are interviews with Ray Gelato, Dave Holland, Jason Miles and Sem van Gelder. We take a look at Bitches Brew, 50 years on. We have a label feature on ArtistShare Records and Tony Ozuna presents us with a look at the Czech jazz scene from it's origins behind the Iron Curtian to the present day. This editions photo feature spotlights British photographer William Ellis.
You can purchase a copy of the magazine here.

Last modified: May 3, 2021