Today sees the release of British vocalist Beverley Beirne's first single from her upcoming CD "Jazz Just Wants to have Fun". Raised on a diet of Jazz and 80s pop Beverly's album is set for release on 15 June and contains Beverley's take on a collection of 80's pop hits, all given her unique jazz treatment. Recently George Cole sat down with Beverly to find out more about this project.
Interviewer: George Cole (GC)   Artist: Beverly Beirne (BB)
British jazz singer Beverley Beirne released her debut album, Seasons of Love in 2012, which garnered many positive reviews. In June, Beverley releases her second album, Jazz Just Wants To Have Fun, featuring covers of tunes from the 1980s. The album – produced by Jason Miles – puts a new spin on the songs of the 80s.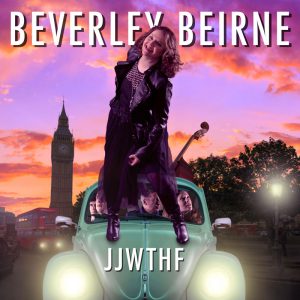 GC: Was the album title, Jazz Just Wants To Have Fun a reaction to the fact that jazz is sometimes seen as being too serious or too earnest?
BB: Initially, it was because of how much fun I had doing the album. I'm a child of the 80s, but I love jazz. Getting to play with these tunes was a lot of fun and something I've been doing at live gigs. The first song I had performed live was Slade's "Cum On Feel The Noize" – I did it as a swinger and it went down well. Because I had had so much fun making the album, the title seemed a natural fit. But in retrospect, it could be interpreted that jazz can be taken too seriously, and it can sometimes alienate people a bit. If I can reach out to people, and they find the music more accessible, then that is all to the greater good. But to answer your question: no, it's not something I deliberately went out to do.
GC: The 1980s is often viewed as a terrible time for music – synthesisers, drum machines, MIDI and overblown productions. But there was a lot of good music about, much of it socially conscious.
BB: Absolutely. [The Specials'] "Ghost Town" is one of them. I remember people out of work and sitting in cafes in Yorkshire – the places were literally ghost towns. They were very poignant songs as well. Songs from the 80s are sometimes dismissed as a lot of fluffy nonsense, but have a good listen to the lyrics. Another thing I remember about the music of the 80s is that there are some absolutely stunning melodies.
GC: You started with a list of 100 potential songs to cover and ended up with a dozen songs including, Adam and the Ants' "Prince Charming", The Specials' "Ghost Town", Kajagoogoo's "Too Shy", ABC's "When Smokey Sings", Slade's "Cum On Feel The Noize", M's "Pop Muzik," Foreigner's "Waiting For A Girl Like You," and Cyndi Lauper's "Girls Just Want To Have Fun." How did you choose the final twelve?
BB: The 80s were an amazing time and I was lucky to be there. I figured if I could get a song to swing it was going to work, and from there, I could move to Latin or whatever. If I got it to full-on Jazz, I could play around with the time signatures, so that was one way of whittling the list down. The other way was the lyrics – not all the lyrics were going to work in the way I wanted to sing. So, I might think, 'That's a great song, but the lyrics don't work.' "Waiting For A Girl/Man Like You," is a good example of what worked, because the arrangement had a bluesy, Aretha Franklin, gospelly vibe, so I started to sing it like that.
GC: You have really reinterpreted these songs – how did the arrangements come about?
BB: I knew I wanted double bass and I wanted certain musicians. I whittled the song down to the raw bones of how I wanted it. The pop arrangements were huge, so I whittled them down to a lead sheet. [Pianist and band member] Sam Watts and I met in London and we worked on my initial arrangements. What we needed to work on were the harmonies and Sam is a phenomenal young London musician. We both knew at the end of the first morning that it was going to work – we were very excited.
GC: Tell us about the band on the album.
BB: They're phenomenal. We've been playing together for a couple of years, with some gigs in London. Sam Watts had been recommended to me for a gig and he brought along his trio, with Flo Moore on double bass and Ben Brown on kit. I needed a sax player and my husband had seen Rob Hughes performing at the 606 [Club in London] and thought he would work really well with me. I approached Rob. He's so versatile – on [Billy Idol's] "Hot In The City", Rob is the horn section – we layered it. He played flute, baritone and tenor on the album, and he's played with ABC! It was his suggestion that we play "When Smokey Sings."
The band pretty much does everything I throw at them, and they're very creative as well. I'm not a dictatorship and when I go into rehearsal, I'll have my own ideas, but I'm open to other ideas. That's where the creativity comes in – not being rigid, but being open to everybody having input.
GC: How did Jason Miles get involved with the project?
BB: It was very random! I had been advised to have a producer on my first album, but didn't have one, although it was a good experience. I wanted a producer for my second album, but didn't know how to get the producer I wanted. My husband Mark was a friend of Jason's on Facebook, although he didn't really know him. Mark saw a post that Jason had done about how the modern generation don't appreciate producers, and asked Jason if he knew of any UK producers we could contact. Jason chatted to Mark and asked him to send some of my stuff, adding that he was planning to come over to Europe to promote his Kind of New album. I had a Skype call with Jason and we got on really well. Jason came over and we made two albums – it worked out beautifully.
GC: How did Jason Miles work with you in the studio?
BB: Jason would watch us in the studio and encourage us, "Why don't you try this?" It was easy and comfortable and he got the best out of the musicians. Jason came into his own when he went back to New York and worked on the tapes. He asked Jimmy Bralower to mix it and Mike Fosenkemper to master it. Jason asked Romero Lubambo to play guitar on "Cruel Summer" and Jason played Hammond on [Right Said Fred's] "Deeply Dippy" and "Waiting," which was brilliant. These are the things that a good producer does – they hear an extra element to a song and lift it to a different level.
GC: Was the music recorded live?
BB: It was all recorded live, except when Rob was layering up a horn – he's good but not that good! We had about three takes of each song and did them all in one go because I wanted to perform live with the band. Live performance is what jazz is all about for me. Working with the band live means I can hear the joy of the moment and it's just blissful.
GC: This is a bit like asking you to name your favourite child, but do any of the songs really stand out for you?
BB: I love "Too Shy" – the high speed of it and I loved singing it. I love "Waiting For A Man" because it resonates in a different voice – my gospel voice, which I don't always use, so it was nice to explore it. "Cruel Summer" – to be honest, they are all my favourites and are special to me! I remember buying an album in the 80s and I liked every song on it – that's how I feel about this one.
GC: Can you tell us about the second album you made with Jason Miles?
BB: It's called Dream Dancer and it's a more straight-ahead jazz album.
GC: What reaction have you had with Jazz Just Wants To Have Fun?
BB: Most people have been pleasantly surprised and raved about it, which is fantastic. I can't wait to get it out there. Limahl [from Kajagoogoo] liked the version of "Too Shy" and Robin Scott, who wrote "Pop Muzik" liked it and asked how we put it together. [Slade's] Noddy Holder said some lovey things about my cover and was really supportive.
GC: What do you hope your album achieves?
BB: The 80s were a phenomenal time and there was a lot of different music going on. I hope people get behind the album and I hope it encourages people to reengage with the music. If they don't know the songs I hope they get into the vibe and the joy of the album and maybe revisit some of the 80s themes, because it's not a lot of fun in this day and age, and perhaps we need to inject a little bit of fun.
Jazz Just Wants to Have Fun is released 15 June 2018 on Nova/Universal.
The first Single from the album "Too Shy" is now available – You can stream it here on Spotify.
You can download the track on iTunes here.
Beverley Beirne website: www.beverleybeirne.com 
All photo's courtesy of the artist. All Rights Reserved
Last modified: August 1, 2018