Label: Ruf Records
Release Date: 27 October 2017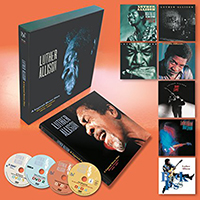 With 7 Cd's, 4 DVD's & a Book, the box set from Ruf Records celebrating the 20th anniversary of the passing of blues legend Luther Allison will be released officially on 27 October. This release contains the essential albums Luther recorded after his Motown years. In addition to the albums, Art Tipaldi has written a 88-page coffee table book featuring Luther's inspiring story, comments from his friends and associates, as well as many rare and private photos.
Allison's big break came in 1957, when Howlin' Wolf invited him to the stage. Freddie King took Allison under his wing, and after King got a record deal, Allison took over his gig in the house band of a club on Chicago's West Side. He worked the club circuit in the late 1950s and early 1960s and recorded his first single in 1965. He signed a recording contract with Delmark Records in 1967 and released his debut album, Love Me Mama, the following year.
After touring regulary in the USA in 1972, he signed with Motown Records, one of the few blues artists on that label. In the mid-1970s he toured Europe and in 1977 settled in France. Allison's manager and European agent, Thomas Ruf, founder of Ruf Records brought Allison onto the label. Signing with Ruf Records, Allison launched a comeback in association with Alligator Records. Alligator founder Bruce Iglauer convinced Allison to return to the United States. The album Soul Fixin' Man was recorded and released in 1994, and Allison toured the United States and Canada.
During his tour in the summer of 1997, Allison checked into a hospital for dizziness and loss of coordination. It was discovered that he had a tumor on his lung that had metastasized to his brain. When the news broke that Allison had been diagnosed with inoperable lung cancer, the blues world was shocked. When he died just four weeks later, they were devastated. Without a doubt, Luther Allison's death robbed music fans of one of the most exciting and popular blues performers ever. With Live In Chicago, Allison lives on, as he tears through the songs with the single-minded desire to give everything he has to his audience. While listening to the album, fans can immerse themselves in the explosive power of Luther Allison's music and experience the redemptive force of his legendary performances.
At the time of his sudden death, Allison was finally reaching the mainstream popularity he had always desired. Allison began his major American comeback when he signed with Alligator in 1994, following 12 years of living and performing in Europe, where he had grown from a club artist to a major headliner. 1994's Soul Fixin' Man and 1995's Blue Streak provided a launching pad to American stardom for Allison and his searing brand of hard blues. With the Grammy-nominated Reckless in 1997, Allison soared. He won three W.C. Handy Awards in 1998, five W.C Handy Awards in 1997 (including the coveted Entertainer Of The Year award), scored a total of 15 Living Blues Awards in the same period, and was featured on the covers of the three major national blues publications: Living Blues, Blues Access, and Blues Revue. He appeared on Late Night With Conan O'Brien, National Public Radio's All Things Considered, and The House Of Blues Radio Hour. Even People magazine ran a rave review of his new CD. He was performing in theaters and concert halls rather than small clubs. And no matter where he played, he left audiences open-mouthed in amazement. In just three short years Allison had gone from the latest rediscovery to, as Blues Revue magazine declared, "The New King Of The Blues."
In addition to the 7 Cd's, theset also includes four DVDs. The DVD's include performances from 1997 (Live in Paradise and Zoo Bar), 1991 (a concert in Germany where Luther plays alongside his son Bernard), and 1987 (a show from East Berlin). This compilation is a feast for the eyes, ears, and heart of any blues fan. If you don´t have time to experience the entire box set, I highly recommend watching Luther's performance during the 1996 W.C. Handy Awards. In it, the energy and love of a typical three-hour Luther Allison show compresses into a 15-minute relentless blues showcase that will leave you feeling astonished and gratified. This particular performance was the climax of his incredible career. Luther stole the show by performing and then by taking home five awards (including Blues Entertainer of the Year).
Luther Allison is a genuine blues hero with an incomparable expanse of energy and love for his music and for the people who loved it. I hope you enjoy every bit of this celebratory Luther Allison collection.
Last modified: July 15, 2018