Vocalist Victoria Kaunova and saxophonist Ilya Morozov first met while studying at the Rostov College of Arts (Russia). At this time they had already expressed the desire to collaborate, however it wouldn't be until 2015 the two formalised the arrangement and the Victoria Kaunova – Ilya Morozov sextet was formed. "The First" is the band's début release and was recorded in Moscow in January 2016 and features Alex Sipiagin on Trumpet.
The album features nine tracks, some standards including an interesting arrangement of Billy Holidays "Lady Sings The Blues" and a mix of compositions from Herbie Hancock, Chick Corea and New York based saxophonist Seamus Blake.
For one so young Victoria Kaunova's vocals are mature and display a control of her instrument often only seen in vocalists with far more life experience. Her scat chorus on "Get Out of Town" shows excellent timing and structure bouncing confidently off the backgrounds before passing the ball to Alex Sipiagin and Azat Bayazitov to fill out the other solo's.
Of note is the vocal version of Herbie Hancock's "Butterfly". First recorded by Hancock on the 1974 album "Thrust", there have been a number of vocal recordings of this track with the most well known version by Kimiko Kasai from her album "Butterfly". Kaunova and Morozov's version however stray's from the Kasai version substantially lending more from Gretchen Palarto's arrangement featured on her "Live In NYC" album. This track features exceptional solo's from Sipiagin (Flugelhorn), Bayazitov (Tenor Sax) and Ilya Morozov (Flute) culminating in an a polyphonic cacophony (ed: meant in a positive manner) prior to the re-entry of the vocals.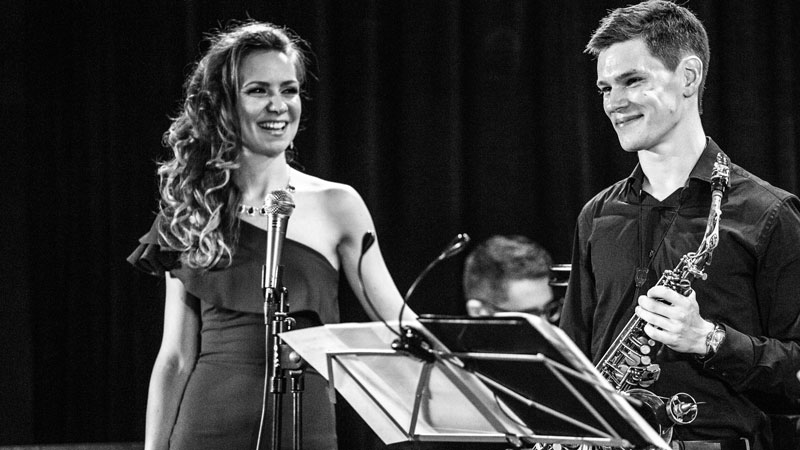 Before summing up it's important to point out that throughout this album the rhythm section comprising; Evgeny Lebedev – Piano, Daria Chernakova – Bass and Alexander Kulkov- Drums, play with impeccable taste and provide a pivotal role in making this album work as well as it does.
I enjoyed this album a great deal. While rooted firmly in the mainstream tradition the arrangements work well however are at times a little obvious. Performances throughout the album are excellent and the recording quality is top notch. "The First", as the name suggests, is the band's first outing in the studio and is a strong début worthy of attention.
Track Listing:
1. Nobody's Song But His Own (Seamus Blake, lyrics by Victoria Tsapina) 08:34
2. Get Out Of Town (Cole Porter) 05:38
3. East Village lnamorata (Spike Wilner) 05:35
4. Lady Sings The Blues (Billie Holiday & Herbie Nichols) 08:06
5. Amuse Bouche (Seamus Blake) 08:50
6. You're Everything (Chick Corea) 10:24
7. Butterfly (Herbie Hancock) 09:09
8. You Happened My Way (Horace Silver) 06:57
9. Filthy McNasty (Horace Silver) 05:11
Line-Up
Victoria Kaunova – Vocal
llya Morozov- Alto sax, flute (track 7)
Alex Sipiagin -Trumpet/ Flugelhorn (tracks 2, 4, 7, 9)
Azat Bayazitov- Tenor sax
Evgeny Lebedev – Piano, electric piano (track 6)
Daria Chernakova – Bass
Alexander Kulkov- Drums, shaker (track 7)
You can Purchase the album at iTunes or Amazon
Photo's by Photo by Dmitriy Semyonushkin, Anna Kladova
Last modified: July 15, 2018