Prior to hearing this album I was unaware of Tom Haines however after some research it became clear that Tom is no stranger to the world of Big Band composition. Tom is a multi award winning composer having recently won the 4th Annual European Big Band Composer Competition with his work 'Elegantly Ella', the 28th Barga Jazz Composition Award for his work 'Yitzoid' (featured on this album) and the inaugural 'Eddie Harvey Jazz Arranging Award' for his work 'Mystery Dog (Mr E Dog)' also featured on the album.
The Birmingham Jazz Orchestra was founded in 2014 by director Sean Gibbs, with an aim to showcase the composing and improvising talents of some of the best jazz musicians from the Birmingham scene and beyond.
Prior to writing this review I posed a few questions to Tom to get an idea as to how this project and collaboration came about. Tom stated:
"My association with the Birmingham Jazz Orchestra started with the musicians before the band had actually been established. A number of the players took part in a series of rehearsal sessions that I ran to workshop a bunch of my works; both old ('Remembrance') and brand new ('Yitzoid')."
Tom went on to say that the inspiration he received from winning the Brussels Jazz Orchestra International Composition Contest in 2013 rekindled his desire to focus on jazz composition. After receiving an invitation to perform at the 30th anniversary of Stratford Jazz in December 2016, Tom needed to find a band that could perform his music. Tom went on to say:
"By this time the Birmingham Jazz Orchestra was established, which included a lot of the musicians who were involved in my rehearsals a few years earlier; such as leader Sean Gibbs (trumpet), Jonathan Silk (Drums), Stuart Barker (Bass), John Fleming (Tenor Sax), Richard Foote (Trombone) and Alicia Gardner-Trejo (Baritone Sax). I had seen them live, and heard their debut album 'Burns', so, with funds quite low for rehearsals etc, I decided that I would aim to produce a 45-minute set of my own music for the concert, but would need a band who were able to perform another 45-minutes of their own material.  Hence, I enlisted the Birmingham Jazz Orchestra for the gig."
This album is not your average Big Band album, the compositions are intriguing and superbly crafted in fact one could say there's never a dull moment. Performances are strong throughout and the recording quality is top notch.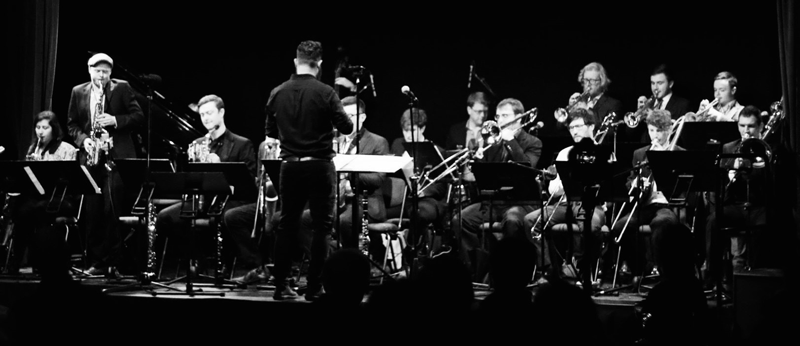 The first track on the album is the award winning composition "Yitzoid" and set's the tone for the entire album. The track opens with a stacato motive played by the brass and reeds forming an ostinato that reoccurs throughout the arrangement. Featuring strong solo's by Chris Young (Alto Sax) and Sean Gibbs (Trumpet) the track holds your attention from start to finish. Next cab off the rank is "Mystery Dog (Mr E Dog)". Another award winning composition (and the longest tack on the album) opens with an extended intro played by Piano and Soprano Sax. The band once again enters with a rhythmically complex motive Laying down an odd meter groove in 7/4 for the solo's.
"Remembrance is" a totally different kettle of fish from the previous tracks featuring a lilting groove and rich harmonies while "Strange Utopia" featuring vocals from Rosie Harris includes elements equally at home in the modern classical and prog rock genre. Closing out the album is "Whistleblower" the only track on the album written in common time features inspiring solo's from Vittoria Mura (Tennor Sax) and Davis Ferris (Piano).
Live recordings are always a gamble especially when the material is this complex however the The Birmingham Jazz Orchestra rose to the occasion performing almost flawlessly throughout the recording. Haines compositions are firmly rooted in the language of modern big band composition however have a distinct voice. I can recommend this album to all lovers of modern Big Band music.
Track Listing:
1. Yitzoid; 2. Mystery Dog (Mr. E Dog); 3. Remembrance; 4. Strange Utopia; 5. Whistleblower.
Personnel:
Tom Haines: composer, arranger, conductor; Tom Syson: trumpet; Sean Gibbs: trumpet; Mike Adlington: trumpet, flugelhorn; Hugh Pascall: trumpet; Elliot Drew: alto, soprano sax, flute; Chris Young: alto sax; John Fleming: tenor sax, clarinet; Vittoria Mura: tenor sax, clarinet; Alicia Gardener-Trejo: baritone sax, bass clarinet, flute; Richard Foote: trombone; Kieran McLeod: trombone; David Sear: trombone; Andrew Clennell: bass trombone; Ben Lee: guitar; David Ferris: piano; Stuart Barker: bass; Jonathan Silk: drums; Rosie Harris: vocal (4).
Title: Tom Haines Live | Year Released: 2017 | Record Label: Self Produced
The Album is available at iTunes and Bandcamp
Last modified: July 15, 2018