Alex Skolnick Trio—Jazz Rock On
Text: Tony Ozuna
Alex Skolnick is the veteran guitarist of Testament, a long-standing speed-metal outfit from the Bay Area, in California, but in his other life he leads the Alex Skolnick Trio, which seems to feed his jazz guitarist alter ego. On his first three albums, Skolnick (born 1968) masterly reconfigures rock anthems of his lifetime into tenderly effervescent jazz arrangements. And for those certain songs that can't or should never be brought to such a calm, he is more than happy to unleash the requisite guitar fury.
Their debut album, "Goodbye Romance: Standards for a New Generation" (2002) has the best range of solid rock hits from the 70s or 80s, including  "Detroit Rock City" by KISS, "Pinball Wizard" by The Who, "Dream On" by Aerosmith, and two songs by The Scorpions–"Still Loving You," and "No One Like You." But "Goodbye to Romance" by Ozzy, and "War Pigs" by Black Sabbath are the trio's apex.
For their second album, "Transformation" (2004), just over half of the songs are covers, combined with originals by the trio. The standout covers "transformed" on this one include "Money" by Pink Floyd, "Highway Star" by Deep Purple, and "Electric Eye" by Judas Priest. There is also a colorful original  "Scorch" with jazz guitarist Charlie Hunter, an irrepressible groovester, also from the Bay Area, who studied guitar in his youth with Skolnick under the mentorship of Joe Satriani in Berkeley, California.
By their third release, "Last Day in Paradise" (2007), the covers are reduced to only a few, but they are brilliant renditions including "Tom Sawyer" by Rush, "Revelation (Mother Earth)" by Ozzy, and "Practica Lo Que Predicas (Practice What You Preach)" by Testament. While "Tom Sawyer" has been covered already in a regal, progressive jazz arrangement, by The Bad Plus, this version instead has a thumping drum & bass rhythm section, with the mind-boggling drumming speed of Matt Zebrowski at par with Jo Jo Mayer, matched by the accompaniment of Nathan Peck on upright bass. While Testament's "Practica Lo Que Predicas (Practice What You Preach)" becomes a surprising high-speed Spanish jazz eruption, as if Joe Pass had just gotten up from his chair and went all jazz-metal one night.
The trio's most recent album, "Veritas" released in 2011 has only one cover of a modern standard. The cover of Metallica's "Fade To Black" is a furious and still yet more intricate version of this speed-metal standard. The other songs tend to be longer excursions, and a few have an ethnic or world music influence such as "Bollywood Jam." Their official video for this one even has sultry belly-dancers, which seems to make this one a 21st-century call to bring back dance to jazz and rock for our times.
When John Coltrane unveiled his interpretation of "My Favorite Things" back in 1961, on Atlantic, the bar was reset for reinvigorating popular standards. Skolnick's Trio can't match this, but surely they're on the same track to push the transformation of newer classics into fresh jazz marvels, on their terms.
Images: TomCoutures.com
Artist website: Alex Skolnick Trio
The Alex Skolnick Trio will be on its Europe Unbound Tour (presented by Guitar Magazine) in March.
Breaking News: Two special guest to the London shows at Dean Street Pizza Express jazz club. Sitting in with the band for one night only are legendary bass players, Stu Hamm (Steve Vai, Joe Satriani) and Yolanda Charles (BB King, Eric Clapton, Paul Weller).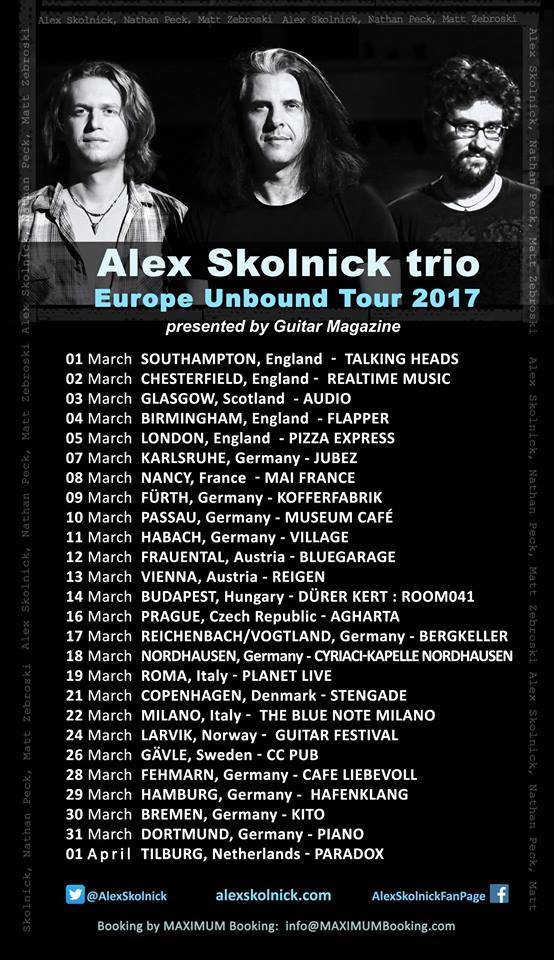 Last modified: July 15, 2018