Text: Lori I. Hutie | Photos: Rolf Schoellkopf
The type of instrument (voice) a singer has, is identified by certain qualities or characteristics of vocal range,  weight, tessitura, timbre, and vocal transition positions (known as Passaggio), which include the breaks and lifts within the voice. In this manner, a process known as voice classification, we tend to designate or label a singer into a particular voice type. We like to assign singers to a specific type, especially solo singers who are classified by their tessitura, where they are most comfortable. Unfortunately, the system is often rigid, limiting the singer's marketability as they are cast or labeled as such.
On a rainy, windswept winter night in Bremen, Germany this Thursday past, Ola Onabule's remarkable vocal performance brought an early spring to his audience. Highlighted by the acoustic properties of Bremen's famous Sendesaal, his 12 song, 75 minute set was a lesson in how to control vocal properties, a solo endeavor, nothing but a microphone and a stool, no piano, no ensemble, no quartet, no big band,  in other words…RAW!
The set list was a banquette for those in attendance. Ola was quite clear from the start that he was sharing the experience, his first solo endeavor, with you. He ruminated about many of the songs he chose, highlighted by a veritable buffet of scat, body percussion, and vocal range nuances. Each song had its own highlights, yet there were those moments that Ola elevated his audience to rapture. His blues take on T-Bone Walker's Stormy Monday included a brief but well place gospel lilt, Motherless Child was soul stirring, giving rise to a Simon Estes style, the slight essence of Sir Williard White was found in Old Man River, sung so passionately it brought audience members to tears. Ola's mocking My Funky One Man Solo Jam was pure gold, whose focal point was an audience enthused brass section. Audience inclusion in We Are Waiting, a song that Ola snagged from his youth, was filled with the warmth but turmoil of a bullied child waiting for the security of his school bus in Nigeria. Consistent vocal instrumentation ala Bobby McFerrin, stirring vocal expression and tone akin to James Cleveland, Paul Robeson, were punctuated by his charismatic stage presence that portrayed even the devilish smile of Cab Calloway.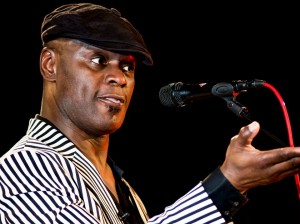 His encore rendition of the Sam Cooke classic You Send Me illuminated the monumental properties of his vocal range. But the audience wasn't through, demanding Ola to return with Nobody Knows, the traditional spiritual.
It is no easy task for any singer to leave the security and comfort of their usual modus operandi and perform vocally au naturel. For all of Ola's work with Big Bands, Ensembles, Quartets and Trios, the Sendesaal Artistic Director, Peter Schultze invitation to strip Ola of his normal elements, clearly demonstrated that Ola's vehicle isn't just his vocal talent, it's his genius of not restricting himself or his instrument. I truly hope that Ola offers us a seat at this type of vocal banquette again.
Set List
So they Say – Ola Onabule
Motherless child – Traditional
The Girl Thet She Was / Ola Onabule
Stormy Monday – T-Bone Walker
Who are you?  – Ola Onabule
Tender Heart – Ola Onabule
We are Waiting – Ola Onabule
Old Man River – Jerome Kern
My Funky One Man Solo Jam – Ola Onabule
Unchain – Ola Onabule
You send me – Sam Cooke
Nobody Knows – traditional
Website: Ola Onabule
Last modified: July 15, 2018