On 15 may the 3rd annual Big Band Festival in Hengelo, The Netherlands will take place. The festival feature 8 concerts performed on the outdoor stage in the Schouwburgplein and feature performances by the ARTEZ Conservatorium big band, Big Band Exposure, Apollo Big Band and many more. The high point of the festival will be the performance of the The Millennium Jazz Orchestra in the Rabotheater.
The featured guest for this performance is Deborah J. Carter. With the title 'Singing Dizzy' the program will feature compositions by Dizzy Gillespie with Lyrics and vocalise's by Deborah J. Carter. These pieces have been arranged specially for this concert by Joan Reinders.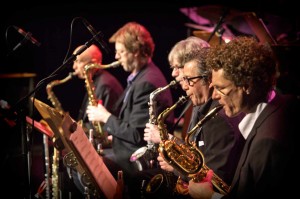 The Concerts at the Schouwburgplein are free to attend and begin at 12:00pm. The The Millennium Jazz Orchestra will perform in the Rabotheater. The concert begins at 8:00pm, tickets cost €15- and are available here.
More information and the complete program click here.
Last modified: May 12, 2016