On Thursday August the 6th, London's 606 Jazz Club will welcome back one of the finest pianists in Europe, Jason Rebello, for an intimate gig that will be a rare chance to hear Jason performing in an acoustic piano trio setting.
A multi-award winner and ferociously talented musician, Jason has been at the forefront of the international music scene for the last 20 years. His extraordinary ability is highlighted by the fact that he was already an established performer by the age of 21, being described by Jazz FM as "[one of] the most gifted and fluent pianists to emerge in Britain [today]…" and by 1993, at the age of 24, he already had three highly successful albums under his belt.
As well as promoting his own groove/crossover music he also found time to work with the likes of Wayne Shorter, Gary Burton, Branford Marsalis, Des'ree, Mica Paris, Carleen Anderson and Omar. However, it was in 1998 when he was invited to replace the late Kenny Kirkland in Sting's band that Jason found international recognition. He toured the world with Sting for more than six years before moving to the band of guitar legend Jeff Beck, with whom he still performs.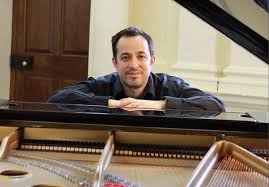 A combination of remarkable technique and musical adaptability has enabled Jason to work with many artists across the musical spectrum including the likes of Peter Gabriel, Phil Collins, Pee Wee Ellis, Joss Stone, Madeline Peyroux and Manu Katche. In 2007 he embarked on the Jazz Rainbow project in a belief that expression through music is an important part of a child's development, the project resulting in "Jazz Rainbow" on Jumby Records, a charming reinvention of much loved children's tunes.
Jason also continues to teach adults, lecturing at various music colleges including the Guildhall School of Music and Bath Spa University. In 2013 he released his first solo album in 13 years, "Anything But Look", that received universal critical acclaim, with AllAboutJazz saying "Rebello proves that music can be entertaining and sophisticated on a delightful recording that marks the pianist/composer's triumphant return to the spotlight."
For the concert at the 606 Club, Jason will be going back to his roots with a classic jazz piano trio set with the support, not unsurprisingly, of two of the finest rhythm section players in the country, Tom Farmer (Empirical) bass and Martin France (Loose Tubes, Yellowjackets) drums. When asked about what the public can expect, Jason replied "New and old Trio" which we decided to call "Something old, Something new, Something Bluesy"! This promises to be a very special night featuring this amazing line up. According to club management booking is definitely advised.
Details:
Artist: Jason Rebello
Date: Thursday August 6th | 8:30pm
Venue: 606 Jazz Club
Address: 90 Lots Road London | SW10 0QD
Phone: +44 (0)20 7352 5953
Website: www.606club.co.uk
E-Mail: jazz@606club.co.uk
For More Information Click Here
P.S. If you are unable to make down to the 606 on the 6th, Jason will also appear on September with Tim Garland's "Electric Lighthouse" (also feat. Ant Law, guitar & Asaf Sirkis, drums)
Last modified: July 15, 2018