By PETER BEIJE | Gent Jazz 2014: seven days music
Peter Beije continues his summer Festival Flashes series with a quick rap up of day one at the Gent Jazz Festival. Keep an eye out over the next few days for a days 2 & 3.
Gent Jazz 2014 means seven days of Jazz music in Gent within a ten day period. From Thursday 10 July to Saturday 19 July there are dozens of concerts on the two stages in the Bijloke. Gent Jazz Festival is one of the most prestigious in Europe and is characterized by a broad programming, with an emphasis on jazz especially in the first four days, while in the "Triptych" on the second weekend other music genres are highlighted.
In the prizes
On the opening night of the Gent Jazz Festival the annual Belgian Sabam jazz awards are presented. This years awards went to trumpet player Bart Maris and the young talented pianist/composer, Chris Gebruers who respectively received 10,000 and 5000 euro to spend on music projects.
The prize for the person who contributes significantly to the look of jazz in Belgium was awarded to photographer Jos l. Knaepen. Known as 'The Jazzman', Knaepen is one of the most prominent jazz photographers in the world.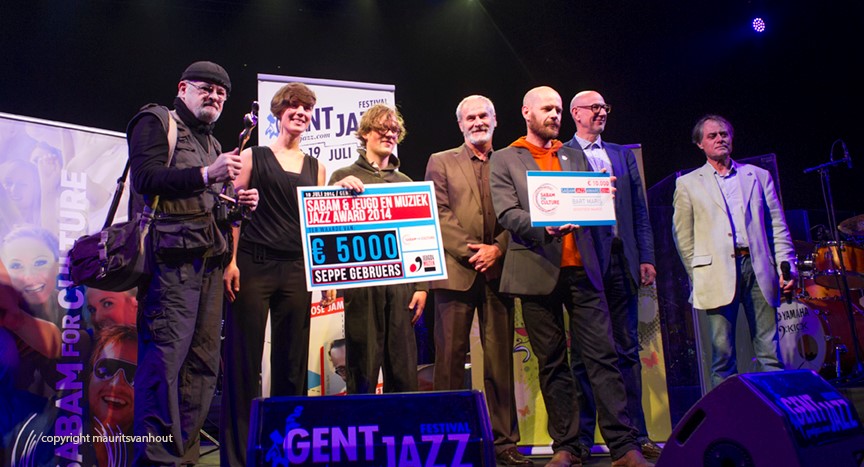 (Photo Credit : Maurits van Hout)
Maniac
The LAB Trio surprised with a energetic concert. The three Young Belgian musicians were the fist to perform on the mainstage Thursday. Bram de Looze (piano), Anneleen Boehme (bass) and Lander Gyselink (drums)  played mostly own numbers but surprised with a colorful interpretation of 'She 's a maniac', a Hall & Oates hit.
Passion
Following singer Zara McFarlane on the smaller Garden Stage for the first of her three performances, rising star Kellylee Evans gave it a shot on the main stage. The Canadian singer had no problem at all geting the audience to stand up and dance at the end of her 75 minutes on stage. Quiet a difference McFarlane and Evans on stage are completely different however both full of passion.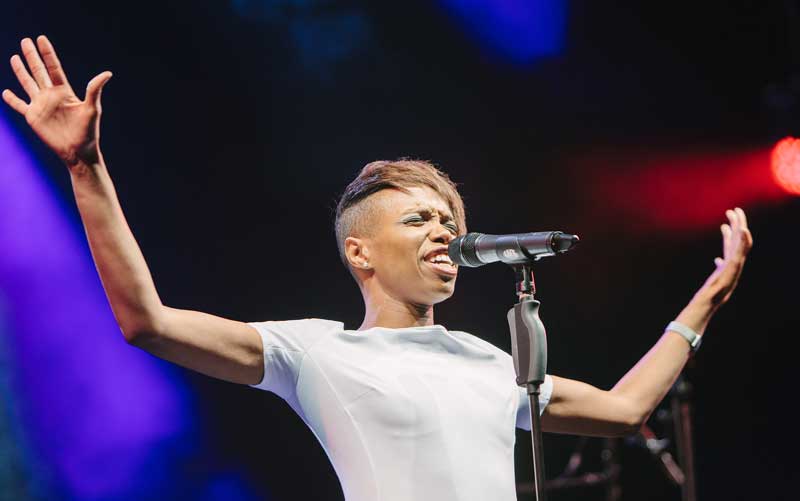 (Photo Credit Bruno Bollaert)
Fireworks
Manu Katché, Richard Bona, Eric Legnini and Stefano Di Battista travel to a number of distinguished jazz festivals this summer. They have made a big impression In Ghent. Drummer, bassist/vocalist, pianist and saxophonist (gorgeous sound from both alt and soprano saxophone) are among the top in their field. In doing so they have visible pleasure in to act together. Fireworks, passion and love of music (and the public) are the base of these great talents. A worthy end of the first day of Ghent Jazz. With the version of St. Thomas (Sonny Rollins) for me as highlight.
Last modified: July 15, 2018