Candas Jazz Festival, is a multidisciplinary festival encompassing jazz music and jazz fusion music in a beautiful town by the sea in Northern of Spain.
The festival features a slightly different set-up to most festivals where equal emphasis is placed on both education and concerts. Running from the 4th to the 9th of August, the festival consists of an intensive jazz improvisation course; several workshops that covers topics such as: working with sound systems, vocal technique, song writing and a drawing workshop that explores the interaction between drawing and music.
The Concert program features one open air concert nightly and includes performances by the mythical Max Sunyer, pioneer of fusion rock-jazz music during the 70's in Spain.  Hernan Hock's Quintet, a multi-ethnic formation that plays modern jazz inspired by Argentinian and other Latin American folk music.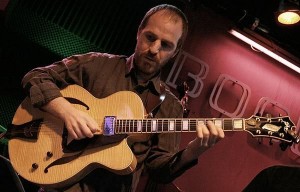 Also performing is the Carlos Pizarro Quartet, with the project "La Voz del Árbol" (The Tree's Voice), that explores from an intimate point of view chacareras, lullabies, waltzes and, of course, the blues. Last but not least, we will hear Jacobo de Miguel, one of the most well-reputed pianists from the North of Spain, together with Kin García and Iago Fernández, this group will perform jazz music influenced not only by jazz or folk musics around the globe, but also by classical music.
To top this all off there will also be a number of conferences with reputed scholars and several exhibitions around the town including a jazz music history exhibition and a art contest in which the inspirational thread is music.
The Candas Jazz Festival will take place in Candas (Asturias) from the 4th to the 9th of August. For more information check out there website www.jazzcandas.es.
Last modified: July 15, 2018