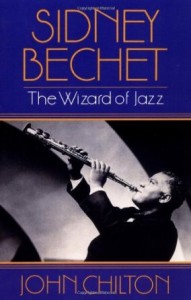 Sidney Bechet is a legendary figure in the history of jazz. A larger than life character, he was perhaps the only man who could hold a candle to the extraordinary talents of Louis Armstrong.
Both were natives of the melting pot that was turn of the century New Orleans. Both found themselves in Chicago, the hot bed of jazz in the early 1920's. Both of them could probably lay claim to being the first to record influential, improvisational jazz solos. Yet it was Armstrong that went on to worldwide fame. Bechet's life took a different route. It seems he was consumed by wanderlust and found himself in Europe playing his style of jazz to great acclaim. With his travels came the legends and tall tales – travels to Moscow, gun duels on the streets of Paris, jail time, deportation back to the States and even finding time to open a laundrette. Bechet was a complex and private figure and was a suspicious man by nature. Therefore pinning down his story when he was alive was not an easy task
And so it is in this remarkable biography that John Chilton attempts to reveal as closely as possible the real story of Bechet. The detail and the amount of research that has gone into the book is astounding as he tries to get under the skin of his subject. Yet Chilton is more than an astute historian. He is also a professional musician and therefore brings a certain amount of gravitas in his meticulous dissections of Bechet's important recordings. It's for this reason that you will want to have this book on your shelves long after you've enjoyed the story and followed Bechet's journey.
By Kevin Lowe
Last modified: July 15, 2018