Supporting and providing platforms for the Creative Arts is essential to its survival and I am always thrilled to hear of new initiatives across the world to ensure its longevity. I was therefore unsurprisingly, very excited to accept an invitation to attend the launch of the new Ladbroke Hall Friday Jazz Series in London, on Sept 22nd.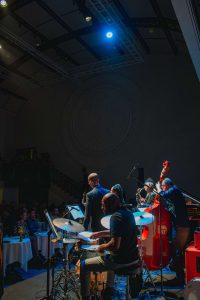 This was my first time at Ladbroke Hall, and I have clearly been missing out on a fantastic hub of creativity. Built in 1903 and a Grade II listed building steeped in history, the hall was one of the first purpose-built car factories in Britain and used as a car assembly plant – the Clément-Talbot factory. It is a truly gorgeous venue; beautiful arched windows showcasing the many Edwardian features embodying a contemporary yet classic vibe.
Founders of the inspired Carpenters Workshop Gallery in 2006, French artists Loïc Le Gaillard and Julien Lombrail have taken the hall under their entrepreneurial wing and created something really quite wonderful.
'A meeting place for innovation. Ladbroke Hall is the beating heart of a living community, an ecosystem, born of shared values: a passion for the arts and the natural environment. It is here to treasure creativity in our visitors, friends and patrons and strive to achieve the eclectic artistic expressions we embrace through art and design, music, theatre, dance, food and learning. Ladbroke Hall endeavours to join in building a fairer planet, showing care and resilience in the face of immense challenges'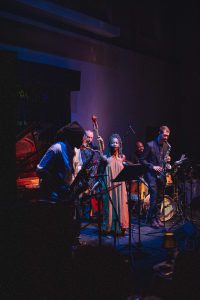 On arrival, I was immediately greeted by helpful and friendly staff, met the brilliant Executive Director Laurie Field and could see and feel a significant buzz instantly. It was absolutely packed. The lighting was stunning, the champagne was flowing and the energy in the room was palpable, this was clearly a night of celebration.
Introducing the launch was Loïc Le Gaillard, an avid jazz fan who took to the stage to share stories about his father taking him to jazz clubs in Paris and his love of Frank Sinatra. He is clearly very passionate about this venture, and it was really wonderful to see someone so excited about jazz! He almost burst into song, but maybe that will come on another night.
Leading the programming for the new jazz nights, and performing on this opening night, is saxophonist Zhenya Strigalev, who started with the classic Chattanooga Choo Choo. Written by Harry Warren and made famous by Glenn Miller in the 1940s, the performance quietened the hustle and bustle and prepared us for a night of classic jazz standards and outstanding musicianship. The stars of the night were undoubtedly, the brilliant award-winning saxophonist and MC Soweto Kinch and newcomer, vocalist Lucy Ann Daniels.
Soweto Kinch, as I expected, was exceptional. This was a night of jazz standards and I have only ever seen Soweto perform his original compositions, but he never disappoints and is always exciting and captivating. (Do check out his last album, the brilliant The Black Peril,) Joining Soweto was a vocalist who is starting to make a name for herself in the UK and beyond, Lucy Ann Daniels. I actually saw Lucy perform about a year ago, having not heard of her and realised very quickly that she was one to watch and it was an especially welcome touch to have an award winning, established artist, Soweto, along with a new talent for the opening night. Lucy recently made her international debut at her Dizzy's Jazz Club in New York and if that was anything like her performance tonight, they would have been blown away. Inspired interpretations of jazz classics including 'Tea For Two' and 'After You've Gone' her vocals were stunning. Supported by a stellar group of musicians, Tim Lapthorn, Sean Payne, Oli Hayhurst as well as, of course,  Zhenya Strigalev, this was a fantastic start to this new Jazz series.
It was such a wonderful night – great music in a beautiful setting. This looks set to become one of the go to places in London for a great night of jazz. I highly recommend a visit!
Photos provided by Ladbroke Hall.
Upcoming Ladbroke Hall Friday Jazz Series events: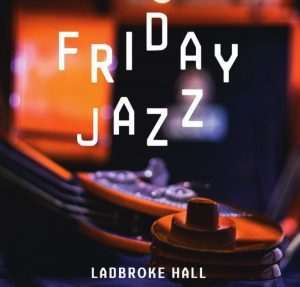 October 27th Jean Toussaint Quartet 
November 3rd Leon Greening & Steve Fishwick
December 1st Radhika de Saram Quartet
December 15th Francesca Tandoi Trio
Last modified: October 19, 2023