The EFG London Festival is a huge highlight in the jazz calendar and after the past few years, we are all more than ready to celebrate the power and beauty that jazz brings.
 In its 29th year, and known for its innovative approach, the festival brings a ten-day programme of incredible events. The brainchild of Serious, a pioneer in the UK music scene and an organisation known for creating brilliant opportunities for musicians and being a true advocate for musical community, the festival is a highlight in their impressive event calendar. You will find established and emerging stars, bringing a mixture of jazz and an eclectic selection of other genres which take inspiration from jazz and improvisational music.
'The aims of today's Festival still remain the same as in the beginning; celebrating the breadth of jazz, presenting a mix of new work from international and British artists and a commitment to education activity, in a city which is at ease with its rich cultural diversity. The Festival collaborates actively with a multitude of venues and producers across London who present the music, week in, week out, throughout the year, and creates a moment for putting jazz in the spotlight for the 10 days of the festival'
 Well, we are all about putting jazz in the spotlight! There are a wide range of great venues hosting events throughout the festival to suit everyone and I wanted to take this opportunity to catch up with Nolan Regent and his team at Toulouse Lautrec.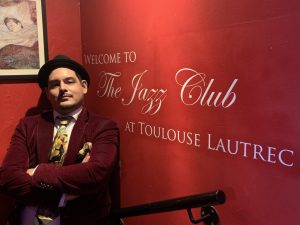 Toulouse Lautrec is one of the key London Jazz venues – can you tell us a little bit about how jazz become part of your work?
My brother and I took over the venue 13 years ago. Henri Toulouse Lautrec, the artist was someone we both admired for their passion and love of entertainment – depicting a Golden Age of Paris in their paintings. As we were reopening, the jazz community was really coming alive and grew as we were – it seemed like the perfect chance to combine our love of all things Parisian including Jazz. So, we tore down the upstairs flats, and completely renovated – from the lighting, acoustics, and the beams turning it into the venue you see today, a space transporting you to Montmartre,  and all you have to do, is order a drink and let the music whisk you away.
Why is the EFG London Jazz Festival such an important event? 
The EFG London Jazz Festival puts an international spotlight on an art which has the ability to transpire postcode and nations, while still honouring its history. The U.K. truly does have some of the most exciting talent out there and if you haven't been, you should definitely check out the extensive list of gigs. I see as a city-wide festival, representing the various communities that have kept the music alive; and we are very excited to be one of its venues.
Diversity and gender balance are obviously important for you and you are working with Women in Jazz Media for this years festival. Is this an area you are keen to develop? 
Over the years, we have definitely worked to create an arts venue where people are encouraged to walk in the doors and feel welcomed – performers and audience alike. When it comes specifically to the gender balance, we put on events for International Women's Day, have given stages to the She Can Jam back in the noughties, nurtured the careers of top musicians such as Migdalia Van Der Hoven and work with brilliant female promoters. Even our piano room has an array of talent in varying stages of their development.
More recently, the injection of Jazz and Poetry/Burlesque combined events – like the wonderful Nowhere Nights by Oliver Cable; Groove Verse by Henry Beckwith; and Big Band Burlesque, have ushered in a younger crowd – a crowd that leads the way in discussions regarding diversity through their art. This has certainly been inspiring – even leading to new events being booked like the upcoming Sarah Calaghan and the Freethinkers gig. Looking to the future, it is important not rest on our laurels, continue to listen to dialogue and program acts that you aren't going to find in any old jazz club, with Cabaret, Burlesque, Comedy and Theatre, there truly is something for everyone.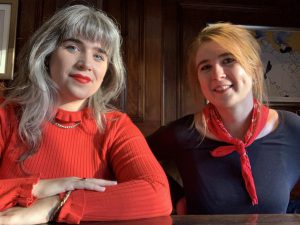 What sort of experience can people expect by coming to Toulouse Lautrec? 
Toulouse Lautrec is a venue that is constantly being inspired by the talent that is out there. We want to offer the best night out for anyone on or off the stage. May sound like a cliché but expect the unexpected! You take the steps up to our almost hidden jazz club and there's no knowing what you will find on any given night. Come and find out for yourself!
The EFG London Jazz Festival runs from November 12th to the 21st.
To find out more about Toulouse Lautrec: Toulouse Lautrec Website
To find out more about Serious: Serious Website
To find out more about the EFG London Jazz Festival: EFG LJF Website
To find out more about the Women in Jazz Media Event at Toulouse: WIJM at the EFG London Jazz Festival
Last modified: February 27, 2023