Recorded live at the Barbican during last year's London Jazz Festival, White Juju is award-winning British saxophonist and rapper Soweto Kinch's powerful new work for jazz quartet and symphony orchestra, written in response to lockdown, BLM, British history and the culture wars. The album, set for release in conjunction with LSO Live on December 3rd 2022, melds Kinch's distinct approach to jazz and hip hop with classical music—it draws broad inspiration from European folklore, the African Diaspora and divisive national myths to create a uniquely contemporary tone poem.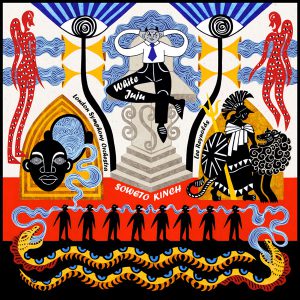 Kinch is one of the most exciting and versatile musicians in both the British jazz and hip hop scenes. With an impressive discography that has covered a wide range of themes from the Seven Deadly Sins to slavery/emancipation, Kinch's music has seen him tour extensively with his own ensembles as well as forging lasting collaborations from the US, India, to Australia and Sudan to Brazil. In 2013, Kinch presented a stage performance of his concept album The Legend of the Mike Smith at Birmingham Repertory Theatre. Nonagram, his 2016 release, explored sacred geometry and the healing properties of sound in an age of increasing division.
Kinch returned with a brand new studio album and live tour in 2019. The Black Peril debuted at a sold-out EartH, Hackney during the EFG London Jazz Festival 2019. A politically and racially-engaged body of work, historical inspiration for the record can be traced to the episodes of civil unrest that erupted across the western world throughout 1919. Despite the restrictions of quarantine, Kinch continued this work by staging an online festival #BlackPeril2020. It combined bespoke artistic collaborations with exciting black British musicians, choreographers and dancers such as Jade Hackett, Nathanial Cross, Hannah Mbuya and Tyrone Isaac-Stuart as well as lively discussions with established artists such as Lowkey, Jason Moran, Nicholas Payton.
In many ways, 2020 gave us all the opportunity to see our lives from a fresh perspective. From appreciating the natural world, to reassessing our work life balance and de-cluttering our homes, the nation began an overwhelming cleanse. A summer of racialised police violence, the murder of Sarah Everard and discussions around 'essential' workers meant the nation was beginning to draw causal links between, racism, misogyny, class and environmental degradation. This reassessment, contrasted starkly with government mismanagement, disinformation and a noisy and disorientating culture war—all provided rich inspiration for Kinch's work, White Juju.
Towards the end of the first lockdown, Kinch visited Liverpool, Salford, Hull and Cardiff with a small group of musicians and dancers, staging a socially distanced version of The Black Peril as an online festival. As he walked the streets, then denuded of pedestrians, he was immediately struck by imperial emblems, flags and statues in these British port cities—innumerable mock Elgin marbles, Queen Victoria statues, Union jacks and military monuments that, in the previous bustle of city life, went relatively unnoticed.
"It fascinates me how we're all acquainted with an unspoken architectural and symbolic language of power" says Kinch. "How do these monuments or myths affect how we see ourselves as a nation? Naming the piece White Juju deliberately inverted ideas of the 'savage' or primitive. Perhaps the bizarre fetishes and obsessions of a cult religion are more visible in modern Britain than third world countries."
A big facet of Kinch's music is the presence of humour, and through White Juju he invites listeners to join him in poking fun at these hypocrisies as he confronts awkward truths about a nation, but also to feel the catharsis of being truly freed from a spell.
White Juju will be released digitally on Friday 2 December 2022 via all major streaming and download services and will be available to pre-order from Friday 4 November.
Following the release of the digital album, White Juju will be made available on vinyl on Friday 14 April 2023 to coincide with Record Store Day on Saturday 15 April.
Last modified: October 13, 2022